Fentanyl, ghost gun, thousands of dollars found in Oakland home bound for Tenderloin
SAN FRANCISCO - San Francisco police recovered several pounds of narcotics, thousands of dollars, a ghost gun and additional pieces of evidence in an Oakland home Wednesday evening, officials said. A majority of the narcotics found was fentanyl and was "earmarked" for the Tenderloin neighborhood in San Francisco.
Around 6 p.m. in the Southern District of San Francisco, officers with SFPD's Narcotics Detail found the vehicles involved in a search warrant for an ongoing investigation about the sale and possession of narcotics. In the vehicles, they found three adult men and a 16-year-old boy. The group was discovered in the 900 block of Howard St. near Minna and Julia Streets, according to authorities. All four were arrested.
Police identified the suspects as 25 and 32-year-olds Olvin and Darwin Ochoa-Cruz of Oakland and 29-year-old Carlos Rivas. The teenager was not named because he is a juvenile, police said.
RELATED: California drug bust: $4 million in narcotics seized by border patrol agents in one day
During the arrest, additional officers searched two homes listed in the warrant believed to be associated with the group and discovered a ghost gun, 28 pounds of narcotics with 21 pounds being fentanyl, over $28,000 and additional, undisclosed items.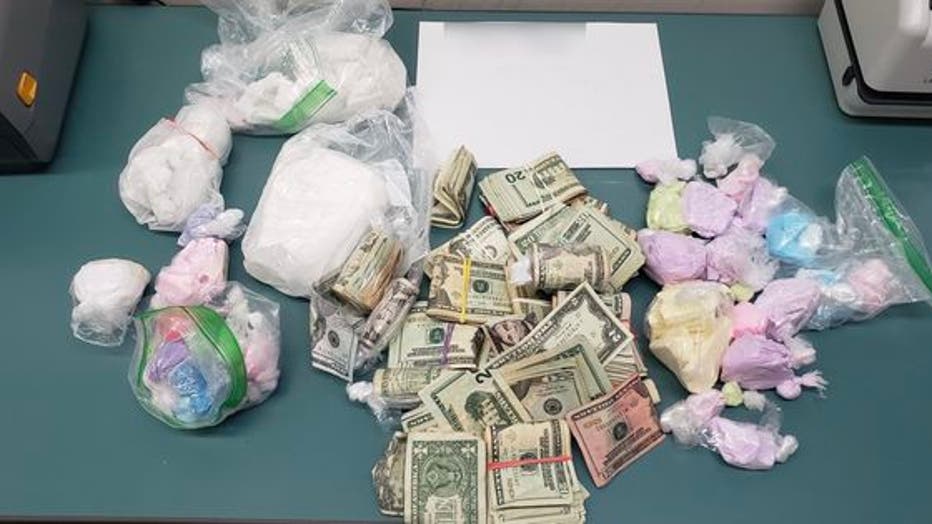 Police said the homes were in the 1800 block of East 24th St. and the 2500 block of 61st Ave of Oakland. The other narcotics seized were not disclosed.
The 16-year-old was taken to the Juvenile Justice Center and booked for multiple narcotics and gun-related charges. Rivas and Darwin and Olvin Ochoa-Cruz were taken to the San Francisco County jail for similar charges.
Police said while arrests have been made, anyone who may have information on the incident is asked to contact the SFPD 24-hour tip line at (415) 575-4444 or Text a Tip to TIP411, starting the message with "SFPD." Anonymous reporting is available.