Flying taxi experts come to SFO's world conference
SAN FRANCISCO - Science fiction movies often shows us futuristic cities with vehicles flying through the air, not mired in traffic below on the streets.  
It was 61 years ago that the Jetsons cartoon first introduced audiences to the concept of flying cars.
Well now, that science fiction may soon be a reality.
San Francisco Internation Airport is hosting the International Airtaxi World Conference, with the latest in electric-powered VTOLs: Vertical Take Off and Landing taxis.
A new technology that may soon to been seen above many big cities. 
"For airports, it's really important for us to understand what are all the implications that goes with this technology, because we need to be ready because it's coming," said SFO spokesperson Doug Yakel.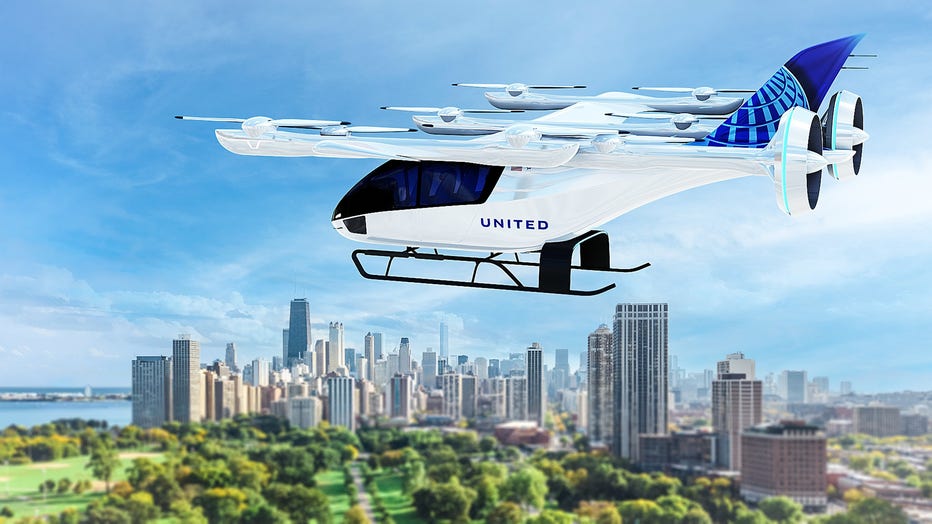 United signs purchase agreement for up to 400 eVTOL aircraft (Photo: United)
There could become flying airport buses In 2025. United Airlines plans to airtaxi passengers from downtown Chicago to O'Hare Airport in just 10 minutes, and in other cities soon thereafter.
A flight from SFO to Napa, even in the worst traffic, would be 25 minutes in an airtaxi, much shorter than the two hours it takes on the ground.  
The airtaxis, are being supplied by Archer Aviation. 
"They're a hundred times quieter than helicopters. They're far more affordable than helicopters. They're fully redundant which means they're far more safer than helicopters," said Archer Aviation executive Nikhil Goel.
The airtaxis are so safe, so forgiving and so automatic, they would not necessarily need to have a full pilot's training and license. 
"It's akin to flying a plane in a video game," Goel said.

Companies such as Quantum 3D Simulators say operators can learn all the necessary skills on simulators with final check and qualifications on the airtaxis themselves. 
"You do so much simulator, as soon as you get into the flight and automatically, it's just like, you are home. You know everything," said Quantum 3D CEO Murat Kose.
KTVU's Tom Vacar tried the simulator and after some very hard landings, finally got it to land safely with harm to no one. 
Vacar learned that there's going to be a learning curve here. But, this is something you can do time and again, make lots of mistakes and, by the time you're really competent at it, you could actually fly the aircraft.
"It's coming much faster than people think," said Jim Duthovny of the Alef Flying Company. 
He says that with mass production, aircars would cost under $40,000 per vehicle. This technology is more advanced, and it's more safe that almost anything that is flying today, Duthovny said.