Former 49ers star McDonald charged with domestic violence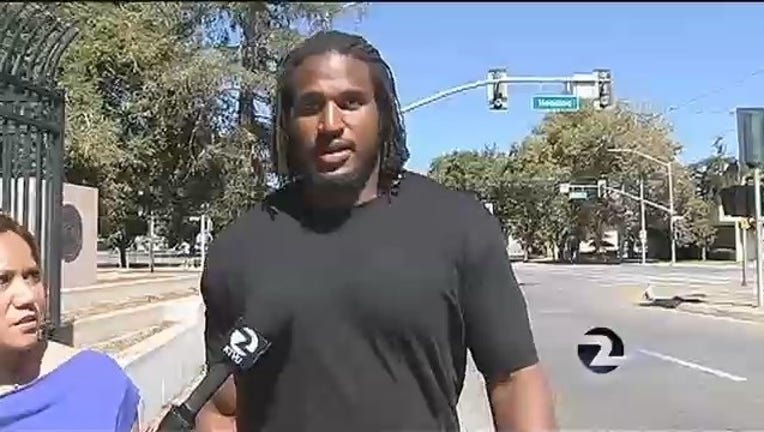 SAN JOSE,  Calif.  (KTVU and wires) -- Former San Francisco 49er Ray McDonald was arraigned Thursday on charges in an alleged assault on his former fiancee as she held their baby in Santa Clara in May, according to the Santa Clara County District Attorney's Office.
McDonald, 30, was arraigned in Santa Clara County Superior Court in San Jose on a felony count of false imprisonment and misdemeanors of domestic violence, child endangerment and violating a court order, Deputy District Attorney Jim Demertzis said.
He faces up to three years in prison if convicted on all charges, Demertzis said.
Accompanied by his attorney Steve Defilippis, McDonald wore an untucked gray button-up shirt and gray slacks Thursday in court before Judge Sunil Kulkarni.
Kulkarni issued a protective order between McDonald and his ex-fiancee that will expire a year from today.
McDonald remains out of custody and his bail was set at $40,000.
He did not enter a plea and his next court hearing on the case was set for Aug. 4.
On May 25 around 4 a.m., Santa Clara police officers were called to a reported domestic disturbance at a home on Carlyle Court, prosecutors said.
McDonald allegedly broke into a bedroom where his ex-fiancee was sleeping and assaulted her while he was intoxicated, Demertzis said.
At one point during the alleged assault, the woman was holding their 2-month-old infant, according to Demertzis.
She videotaped a portion of the alleged assault on her cellphone, which Demertzis said provides a better account of the incident but Defilippis asserted that the recording doesn't show anything different from the police report.
McDonald's driver attempted to stop McDonald from assaulting the former fiancΘe, who was able to flee, prosecutors said.
McDonald eventually left the scene but returned to the home while the woman spoke with officers, according to prosecutors.
His driver sped away from the home after seeing police cars at the residence, prosecutors said.
McDonald was found later that morning in the 2200 block of Terra Nova Lane in San Jose and arrested, police said.
He posted $15,000 bail later that night and was released, Santa Clara County sheriff's officials said.
Two days later, McDonald was arrested again for allegedly violating a restraining order, but posted bail later that night, according to prosecutors.
By coming forward, McDonald's ex-fiancee "not only removed herself from a dangerous situation but she put the safety of her infant child first," Demertzis said.
McDonald had been arrested Aug. 31, 2014, in an alleged domestic violence incident involving the same woman, who was pregnant and engaged to him at the time, the district attorney's office did not file charges because there wasn't enough evidence against him, prosecutors said.
The court may allow prosecutors to refer to previous instances of domestic violence with the current charges McDonald is facing, Demertzis said.
On Dec. 17, San Jose police searched McDonald's home as part of an investigation into an alleged sexual assault, police said.
McDonald, who stands 6 feet 3 inches tall, was a defensive end for the San Francisco 49ers from 2007 to 2014 but was released because of the alleged sexual assault.
He signed a one-year deal with the Chicago Bears in March but was released in late May because of the domestic violence allegation.