Former Proud Boys leader says extremist group failed to carry out 'revolution'
WASHINGTON - Proud Boys leaders plotted to violently prevent President Joe Biden from taking office because they were trying to "save the country" from what they feared would be a tyrannical government, a former member of the far-right extremist group told a jury on Wednesday.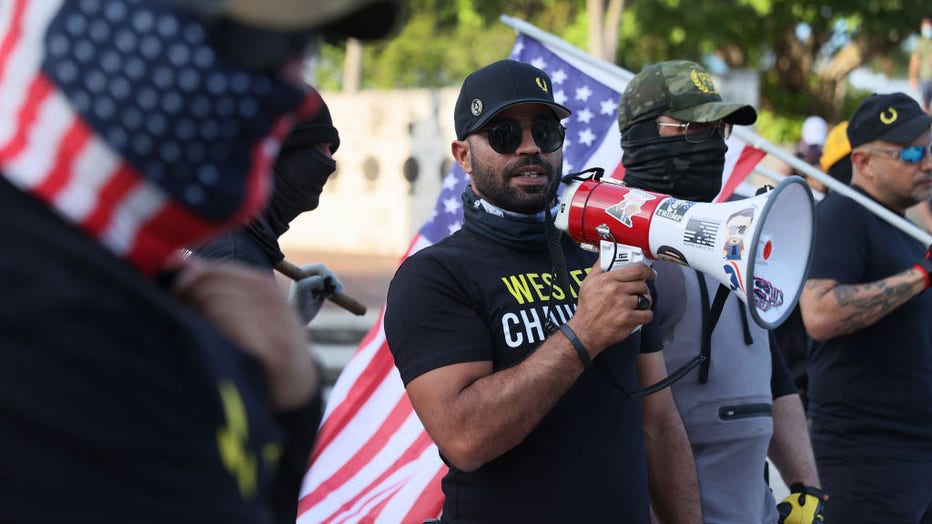 FILE - Enrique Tarrio (C), leader of the Proud Boys, uses a megaphone while counter-protesting people gathered at the Torch of Friendship to commemorate the one-year anniversary of the killing of George Floyd on May 25, 2021, in Miami, Florida. (Phot
Jeremy Bertino, a key government witness in the seditious conspiracy case against former Proud Boys national leader Enrique Tarrio and four associates, said he believed an "all-out revolution" was brewing in the days before a mob of Donald Trump supporters attacked the U.S. Capitol on Jan. 6, 2021.
Bertino said he thinks the revolution ultimately failed because law-enforcement officers quelled the deadly riot and Congress reconvened to certify Biden's 2020 electoral victory.
"Going halfway through a revolution doesn't give you a revolution," he said during his second day of trial testimony.
Bertino, 43, of North Carolina, is the only Proud Boys leader who has pleaded guilty to seditious conspiracy for what prosecutors said was a plot to stop the peaceful transfer of presidential power from Donald Trump to Biden.
READ MORE: Proud Boys protest Drag Story Hour at Silver Spring bookstore
Bertino, a regional leader for the group, acknowledged that he never heard of any plan for Proud Boys members to storm the Capitol on Jan. 6. But he testified that he and other Proud Boys had reached an agreement related to the events of that day.
"What was your understanding of that agreement?" Justice Department prosecutor Erik Kenerson asked.
"That we had to do anything that was necessary to save the country," Bertino said.
The indictment against Tarrio and his co-defendants alleges that they conspired to forcibly oppose the lawful transfer of presidential power after the 2020 election. All five defendants are charged with seditious conspiracy, a felony punishable by a maximum prison term of 20 years.
The co-defendants on trial with Tarrio, a Miami resident, are Ethan Nordean, Joseph Biggs, Zachary Rehl and Dominic Pezzola. Nordean, of Auburn, Washington, was a Proud Boys chapter president. Biggs, of Ormond Beach, Florida, was a self-described Proud Boys organizer. Rehl was president of a chapter in Philadelphia. Pezzola was a group member from Rochester, New York.
Kenerson asked Bertino why he pleaded guilty to seditious conspiracy — a rarely used charge dating back to the Civil War era — "if you didn't know of a plan."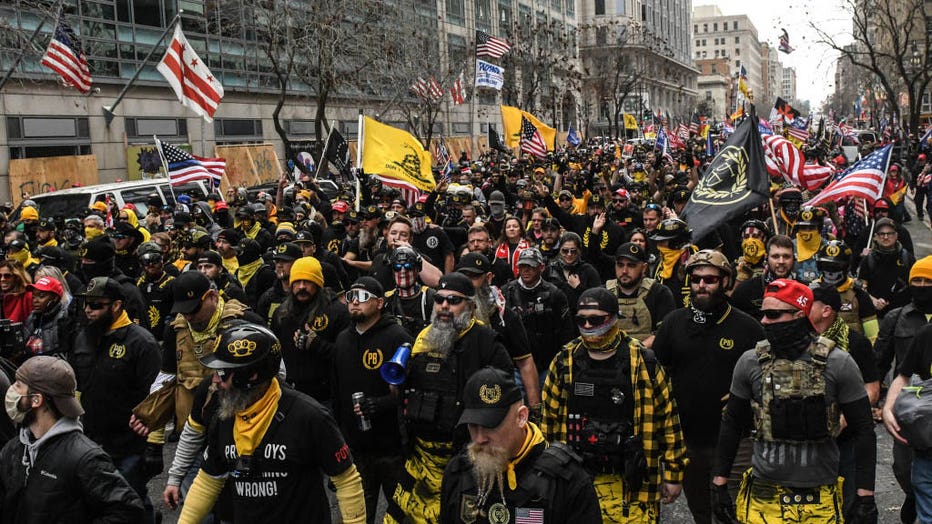 Members of the Proud Boys march towards Freedom Plaza during a protest on Dec. 12, 2020 in Washington, D.C. (Photo by Stephanie Keith/Getty Images)
"Because there doesn't have to be a specific plan for an objective," Bertino replied.
Defense attorney Nicholas Smith, who represents Nordean, pressed Bertino to explain how they could have had an agreement but no plan.
"I didn't need to know exactly where (Proud Boys members) needed to go to achieve the goal," Bertino said.
RELATED: Riot plea: Proud Boys member admits to seditious conspiracy
Bertino started testifying on Tuesday and is expected to continue Thursday.
Bertino is the second former Proud Boys member to testify at the trial. The first, Matthew Greene, testified in January that group members were growing increasingly angry about the outcome of the 2020 presidential election and were expecting a "civil war."
Tarrio and Bertino weren't in Washington, D.C., on Jan. 6. Bertino was stabbed during an altercation after a Proud Boys rally in the capital in December 2020 and was still recovering from his injuries on Jan. 6.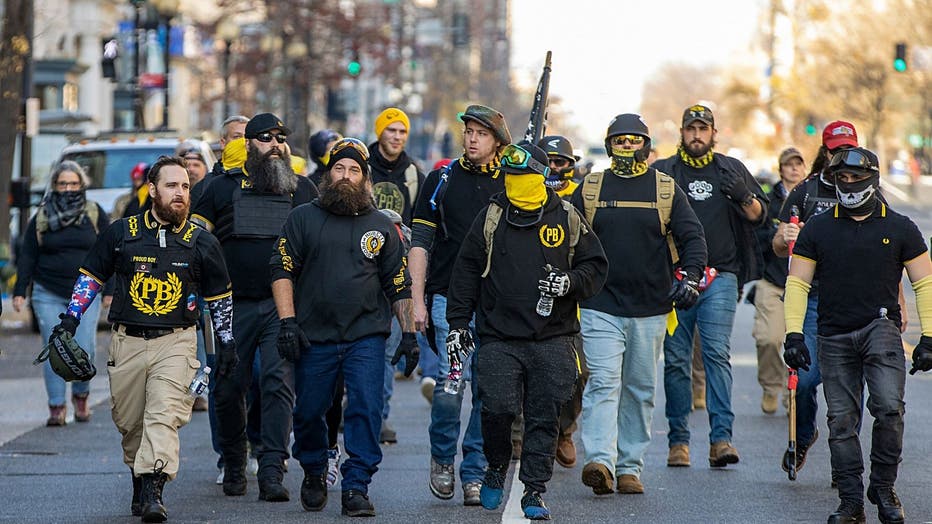 Members of the Proud Boys gather in support of President Donald Trump and in protest the outcome of the 2020 presidential election near freedom plaza on December 12, 2020 in Washington, DC. Thousands of protesters who refuse to accept that President-
Police arrested Tarrio in Washington, D.C., two days before the Capitol riot and charged him with vandalizing a Black Lives Matter banner at a historic Black church during a December 2020 protest. Tarrio heeded a judge's order to leave the city after his arrest.
Bertino pleaded guilty to seditious conspiracy in October 2022 and agreed to cooperate with prosecutors. He hasn't been sentenced yet.
The House committee that investigated the Jan. 6 insurrection featured video testimony by Bertino at its first hearing last year. The committee showed a clip of Bertino saying that the group's membership probably tripled after then-President Trump's comment during a debate with Biden that the Proud Boys should "stand back and stand by."
On Wednesday, jurors saw a string of messages in which Bertino cheered on Proud Boys members as the mob stormed the Capitol.
Around 1 p.m. on Jan. 6, Bertino posted a message on the encrypted Telegram app urging Proud Boys to "form a spear."
"Storming the (Capitol) building right now!! Get there," he wrote.
Bertino recalled how excited he was to see images of the riot scroll across his screen, and was angry that he wasn't able to be there.
"I thought it was historical," he testified. "I thought this is where the revolution was starting."
At 2:39 p.m. that day, Bertino sent a message to Tarrio in which he wrote, "I'm so proud of my country today."
"I know," Tarrio replied.
"We did it!!" Bertino wrote.
Around 4:30 p.m., another Proud Boys member posted on Telegram that anyone still in the Capitol building should get out before National Guard troops arrived.
"Don't be pushed out," Bertino replied, adding that they were on "the cusp of saving our nation."
Bertino said he began feeling less patriotic when he learned that Congress would be reconvening that night.
"The revolution had failed," he testified.
Bertino said other group leaders and members shared his view that a revolution was coming. A message that Tarrio posted on his Parler social media account on Jan. 1 said, "Let's bring this new year with one word in mind ... Revolt."
"I don't think the police could survive a war with society," Nordean posted on Parler on Jan. 3.
A day earlier, Biggs posted a Parler message that said law-breaking lawmakers "should be dragged out of office and hung."
Bertino said he believed a tyrannical government was getting "installed" rather than fairly elected. Bertino said he and other Proud Boys felt increasingly desperate and angry after the U.S. Supreme Court declined to hear lawsuits challenging the election results.
"I thought that was our last hope," he testified. "(Tarrio) felt the same way, that time was running out to save the country."
The Associated Press contributed to this story.