Foster Farms suspends 5 after undercover video shows abuse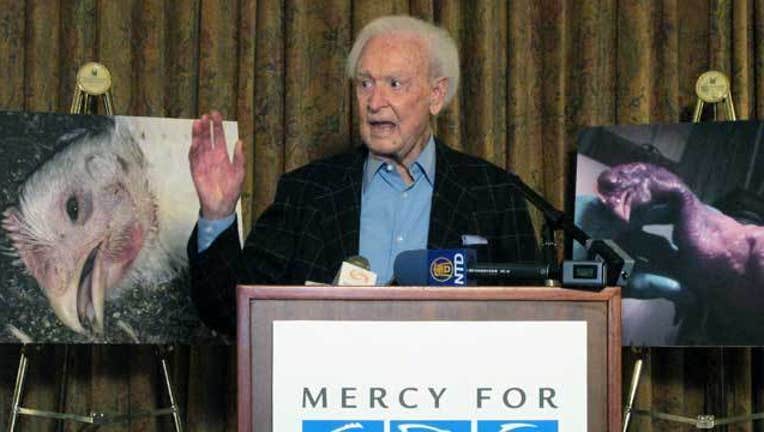 article
LOS ANGELES (KTVU-AP) — Poultry producer Foster Farms suspended five employees Wednesday after an animal-rights group released undercover video showing live birds being slammed upside-down into shackles, punched and plucked.
The suspended employees were either directly involved in the abuse or failed to report it to management, the California-based company said in a statement released through a public relations firm.
"The behavior of the individuals in this video is inappropriate and counter to our stringent animal welfare standards, procedures and policies," the statement said. "We believe raising chickens humanely is simply the right thing to do, and we take our commitment to humane values very seriously."
The company said it is reinforcing animal welfare training companywide.
The undercover video, obtained by The Associated Press in advance of its release Wednesday, was shot by Los Angeles-based Mercy for Animals, which advocates against eating meat.
The group said the footage was taken between April and June at a Foster Farmsslaughterhouse in Fresno and the company's nearby farms.
Tony Botti, a spokesman for the Fresno County Sheriff's Office, said the agency is investigating the allegations after receiving a complaint from Mercy for Animals last week. He declined to release further details.
In the undercover footage, workers are seen throwing bins of live baby chicks onto the ground, after which some are shown apparently unable to move. It also shows what Mercy for Animals said are the bodies of chickens that were boiled alive after missing an automatic knife that's supposed to slit their necks.
Nathan Runkle, president of Mercy for Animals, said he believes the video shows there's "a culture of cruelty, neglect and violence" at Foster Farms and that the company's management took no corrective action after an undercover employee reported abuse.
Runkle spoke at a news conference in downtown Los Angeles with Bob Barker, former host of "The Price is Right" and a longtime animal-rights activist.
Some Foster Farms chicken is labeled as being certified by the Washington, D.C.-based American Humane Association.
Founded in 1877 and recognized by the U.S. Department of Agriculture, the American Humane Association is most known for its "no animals were harmed" disclaimer at the end of movies and TV shows.
Runkle criticized the association's standards as being too low for companies to get the "humane" label, saying the group should ban production facilities from using scalding tanks and automatic blades during slaughter, and instead require that painless gas be used.
"The humane-certified label is little more than a scam," Runkle said. "It dupes well-intending consumers into buying meat from factory farmed animals."
Mark Stubis, a spokesman for the association, said the group has stringent standards and is dedicated to the humane treatment of all animals.
Government statistics show that hundreds of thousands of chickens are accidentally dropped alive into scalding tanks every year, but that represents a small fraction of those slaughtered. Last year, the rate at which chickens were improperly slaughtered plummeted to a low of 0.008 percent, according to the Agriculture Department.
Mercy for Animals has been shooting undercover videos at various animal production facilities across the country for years.
Last year, the Winchester Dairy in southern New Mexico fired a group of employees after a Mercy for Animals video showed cows being whipped with chains and wire cables, kicked, punched and shocked with electric prods.
Employees in other cases have faced criminal charges.