Full wolf moon rises Friday night, here's what you should know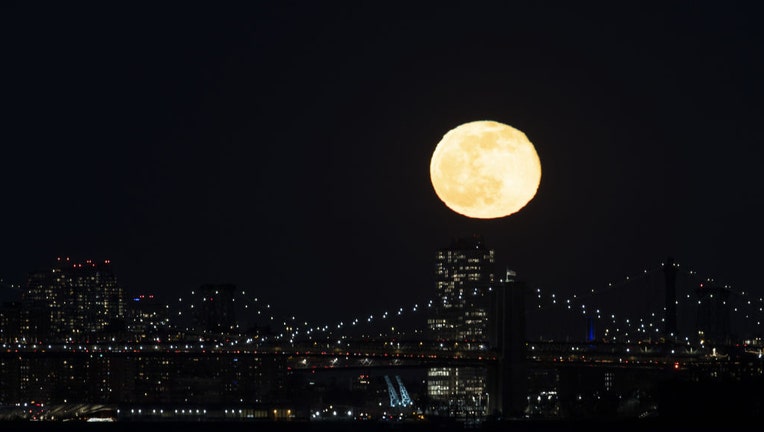 article
If you are out later to enjoy the evening, this will be an ideal time to see the first full moon of 2023, known as the "wolf moon," which appears at 6:08 p.m. ET. Friday. 
The moon will appear full for about three days from Thursday evening through Sunday morning. For west-central Africa and central European time zones and eastward across Africa, and the mid-Pacific the wolf moon will appear on Saturday, according to NASA. 
The wolf moon's name originated from an increase in the activity of wolves howling hungrily outside villages on winter nights, the Farmer's Almanac noted. 
RELATED: Wolf moon: What is it?, First full moon of the year
According to NASA, the Maine Farmers' Almanac started publishing names for full moons in the 1930s. Citing the almanac, NASA explains that the wolf moon is also called the "Ice Moon." Europeans called it the "Moon after Yule," a 3-day winter solstice festival in pre-Christian Europe, and another English name for this moon is the "Old Moon."
In the Hindu calendar, this full moon is Shakambhari Purnima, the last day in the 8-day Shakambari Navratri holiday that celebrates the goddess Shakambhari, NASA explains.
For the Buddhists of Sri Lanka, this is Duruthu Poya, which commemorates Siddhartha Gautama Buddha's first visit to Sri Lanka.
And in Myanmar, this full moon occurs around the Ananda Pagoda Festival, a week-long celebration of a Buddhist temple built in 1105 AD in the city of Bagan, according to NASA.
Here is the list of remaining full moons for 2023, according to the Farmer's Almanac:
February: Snow moon
March: Worm moon
April: Pink moon
May: Flower moon
June: Strawberry moon
July: Buck moon
August: Sturgeon moon
September: Harvest moon
October: Hunter's moon
November: Beaver moon
December: Cold moon
Blue moon (A blue moon takes place when there are two full moons in one month)
This story was reported from Washington, D.C.