Germany beats France in shootout to reach World Cup semis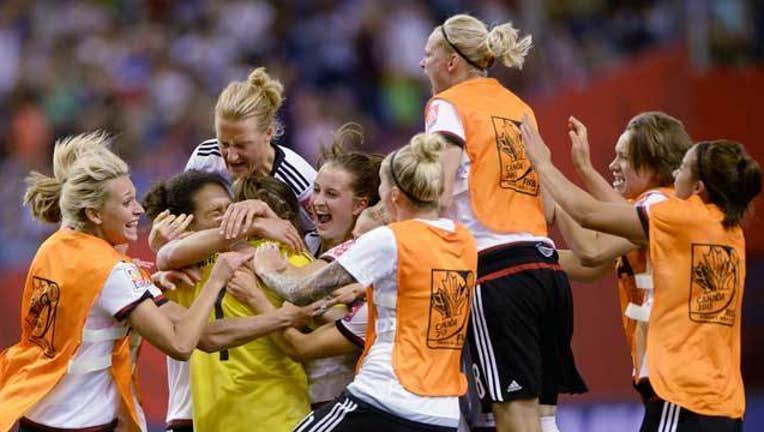 article
MONTREAL (AP) — Celia Sasic tied the score in the 84th minute, Nadine Angerer stopped Claire Lavogez in the final attempt of a shootout and Germany beat France 5-4 on penalty kicks after a 1-1 tie Friday to reach the Women's World Cup semifinals.
The 2003 and '07 World Cup champions will play Tuesday against the United States or China.
It was the first World Cup win on penalty kicks for the German women. And the eight-time European champions have a chance to add another trophy after their win over No. 3 France in a match that was seen as an "early final."
"Everyone says, 'You had a great game. You are at the level of Germany,' But we lost," France coach Philippe Bergeroo said. "So what matters is to learn, to learn that to dominate doesn't mean that you'll win. They need to learn what will allow them to win games in the future."
Louisa Necib put France ahead in the 64th minute, but Sasic scored the equalizer on a penalty kick after a hand ball in the penalty area.
Germany entered as the No. 1 team in the FIFA rankings. But the Germans were dominated by Les Bleues early.
Still, the match remained scoreless until French defender Jessica Hourara lofted the ball in from midfield to the penalty area, where Germany's Babett Peter was waiting. She headed it away from the goal but right to Necib, whose shot from just outside the area was deflected to the right of Angerer's outstretched hand and into the net.
Germany tried to respond with physical play, and Lena Goessling and Dzsenifer Morozsan were given yellow cards in the 68th minute. But it could not muster an attack until the 84th, after Leonie Maier kicked the ball off defender Amel Majri's raised arm just inside the penalty area.
Sasic booted the spot kick to goalkeeper Sarah Bouhaddi's right when the keeper guessed left for her sixth goal of the tournament; Germany has been awarded 12 penalty kicks in World Cup play and converted them all.
Its proficiency showed again in the shootout.
With Germany shooting first, Melanie Behringer, Simone Laudehr, Peter and Marozsan all converted kicks for the Germans, and Gaetane Thiney, Camille Abily, Necib and Wendie Renard tied the score for France.
Sasic put the Germans back ahead and Lavogez, at 21 France's third-youngest player, ran up to the spot and kicked the ball to the Angerer's left. The 2013 FIFA Women's Player of the Year — the first goalkeeper, male or female, to win the honor — dove and blocked the ball with her left knee, setting off a German celebration in this French-speaking city.
Germany will be back at Montreal's Olympic Stadium, where the East German men won the 1976 gold medal, for the semifinal.