Girlfriend outraged after prosecutors announce SJSU officers justified in deadly shooting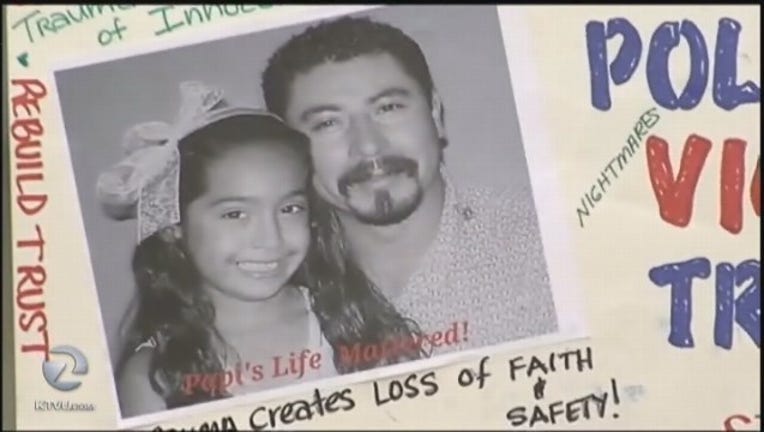 article
SAN JOSE, Calif. (KTVU) - San Jose State University Police officers will not face any charges in the shooting death of an armed man last February. The Santa Clara County District Attorney's office made the announcement Friday. This sparked a protest by the man's partner and her supporters.
They don't think the DA's office reached the right conclusion. They're calling for authorities to publicly release the video from the officer's body camera and for a federal investigation into what happened.
After more than a year of waiting, hoping, and protesting, this decision was not what Laurie Valdez wanted to hear.
"I'm hurt. I'm sad and I'm very angry. And I lost faith in the system," says Laurie Valdez, partner of Antonio Guzman-Lopez.
The Santa Clara County District Attorney's Office issued a 46-page report. In it, there are still frame images from a body camera worn by one of the officers.
They show police arriving at the scene and finding Antonio Guzman-Lopez on his knees. A later image shows him walking, carrying a large saw blade. And after a Taser failed to stop Guzman-Lopez, another frame shows the officers with weapons drawn. He was shot twice and killed.
Officers say he appeared to be under the influence and they considered him to be a "huge threat."
"I don't want to see Antonio's last breaths gasping for air," she says.
The DA's office offered to show Valdez the body cam video, but she declined. Instead, she chose to have several representatives watch for her.
"I didn't see Antonio make any aggressive move toward any police officer, when I watched it. I just saw him walking down the street," says Richard Konda with the Asian Law Alliance.
"Did he have the weapon in his hand, the knife, whatever they saw? Yes. Was he pointing it at anybody? No," says Rev. Jethroe Moore, a community activist who also watched it.
They believe there could have been a better way to resolve the situation.
But legal experts say, determining that was not the District Attorney's job. They say there is a strict legal standard.
"The way the District Attorney's office was looking at this was not, how were these officers trained, but how they reacted to a man coming at them with a weapon," says Christian Picone, an attorney with Berliner Cohen who is also a former prosecutor.
In this case, the Santa Clara County DA's office had both the San Mateo County DA's office and the state Attorney General's office review their work. They say, since one of the officers had previously interned for the DA, they wanted to make sure there was no conflict of interest.
Still Laurie Valdez plans to ask the Department of Justice to do an investigation as well.
She says she'll continue to fight for a different result, though she can't bring herself to watch that video just yet.
"I think that will re-victimize me, traumatize me and maybe throw me over the edge. And I got to stay sane to go for the next battle against them," she says.
San Jose State released a statement saying the findings speak for themselves.
But a spokesperson says the family has filed a civil suit in this case, which limits their ability to comment further.