Group demands end to seizure, destruction of belongings of San Francisco's homeless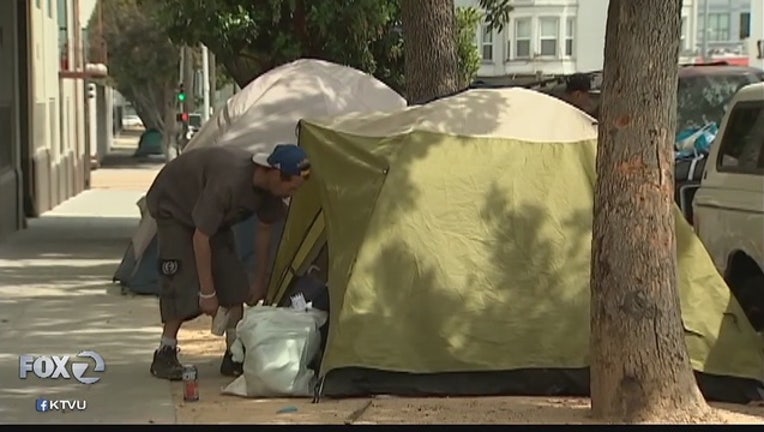 article
SAN FRANCISCO (BCN) - Civil rights activists and legal groups critical of San Francisco's recent treatment of its homeless population delivered a demand letter to the mayor's office Thursday asking for a change in policies.
   
The letter, delivered to Mayor Ed Lee's office, requests that the city put an immediate moratorium on the practice of confiscating and destroying the belongings of homeless individuals during sweeps while implementing a policy "that conforms with well-established law."
   
The demands come from a coalition that includes the Lawyers' Committee for Civil Rights, the American Civil Liberties Union of Northern California and the law firm known as WilmerHale.
   
In an announcement Thursday, the coalition argued that in February, March and April homeless encampments were cleared out on Division Street and in the Showplace Square area in an "unconstitutional" manner.
   
"The United States and California constitutions protect all persons, including persons who may not have a permanent address, from the seizure and destruction of their property by the government," Keith Slenkovich, a partner at WilmerHale, said in a statement.
   
The coalition also characterized the sweeps as unethical, pointing to alleged examples of city workers throwing away a disabled individual's walker and trashing many tents used for shelter by transients.
   
"Seizing and destroying people's property causes irreparable damage to an already vulnerable population, particularly when ... they lose the clothing, shelter and medication they need to remain healthy or the tools they may use to make a living," said Michael Risher, a senior staff attorney for American Civil Liberties Union of Northern California.
   
The coalition's officials said the city is legally required to store property it takes from residents, but its Department of Public Works only accounted for 19 items stored between Feb. 23 and April 23.
   
The mayor's office did not immediately respond to requests for a response to the coalition's demands.