Harbormaster's quick thinking assists San Rafael Canal rescue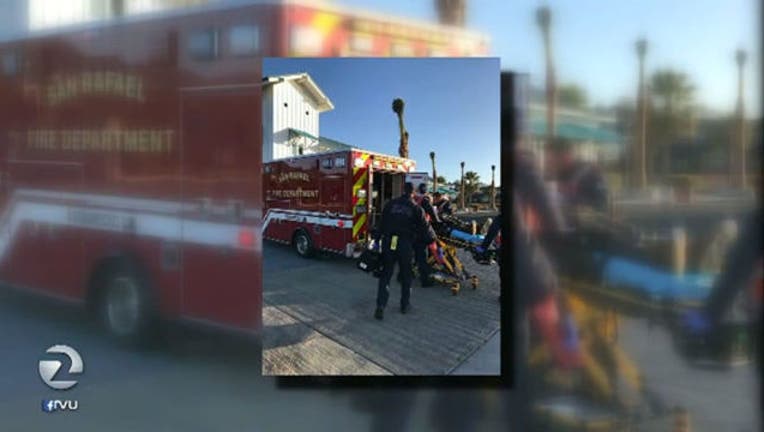 SAN RAFAEL, Calif. (KTVU) - The San Rafael Fire Department usually keeps its fire boat docked in the Loch Lomond Marina.
Unfortunately, it was in the repair shop Thursday when rescuers needed it most.
Firefighters say they received an emergency call at about 8 a.m. that a boater had fallen into the San Rafael Canal, about five minutes from the Loch Lomond marina.
Firefighter rescuers typically would have hopped into their fire boat called Confidence...Which is berthed at the marina.
But confidence is in the shop.
"It had some gear problems. So we had to replace some parts in the motor," said San Rafael Battalion Chief Jason Hatfield. 
While San Rafael police were sending one of its two boats to the canal, the quick thinking harbormaster knew it would be faster if he ferried the rescue team to the man in his own skiff.
"It probably saved us five minutes. But when you are talking life and death, five minutes can be the difference between the two," said Hatfield. 
By the time rescuers got there. other people from the boat had gotten the unidentified man out of the water. But he wasn't breathing and his heart had stopped. He had been underwater for five minutes.
"Three of our firefighter paramedics arrived. They took over CPR quickly. They got the patient off the boat and onto the skiff and brought him back here," said Hatfield.
An ambulance was waiting at the marina and rushed the man to Marin General Hospital.
Firefighters say they don't like not having their fire boat available but boats require lots of maintenance.
"We try to minimize the time it's down. But it is a boat. And boats are expensive. Boats break," said Hatfield.
No word on what caused the boater to fall into the canal. Rescuers say he was not wearing a life jacket.
The fire boat is scheduled to be back in service on Monday.