Family wants sheriff, CHP to release body camera video after 20-year-old Hayward man killed
HAYWARD, Calif. - The family of a 20-year-old man is demanding answers from law enforcement after their relative was shot to death, either by an Alameda County sheriff's deputy or a California Highway Patrol officer.
Those answers would include formally identifying him to the public. 
For nine days, the coroner had a "press hold" on releasing the name of the young man killed by police on July 3. 
Relatives identified him as Juan Diego Bernal Yuriar, a graduate of Mount Eden High School in Hayward. 
"We want transparency," said his aunt, Donna Yuriar. "We are receiving no information. Nothing is being shared with us." 
That would also include releasing the body camera video of the officer-involved shooting about 2 a.m. in the 1600 block of 163rd Avenue, an unincorporated area near San Leandro called Ashland. 
KTVU has also requested this video, which has not been supplied. The law states that police have 45 days to release video deadly shootings, unless they request unlimited 30-day extensions citing ongoing investigations. 
"We are not releasing body worn camera footage at this time, as the investigation is still ongoing with the Department of Justice, et al.," Alameda County Sheriff's Lt. Tya Modeste said in an email on Monday. 
The state Attorney General's Office, so far, has been taking about two years to complete its investigations into police shootings of unarmed civilians. The AG began investigating the death of Bernal Yuriar on the day he was killed. 
At the time, Modeste said a CHP officer was following four suspects in ski masks — ages 20, 17, 16 and 15 — in a stolen Hyundai when a deputy arrived to help. 
Despite several commands from both the CHP officer and the deputy, the 20-year-old failed to comply, Modeste said. Both law enforcement officers opened fire. She said that it appeared as though the young man was trying to disarm the CHP officer.
"CHP shot, and we shot," Modeste said.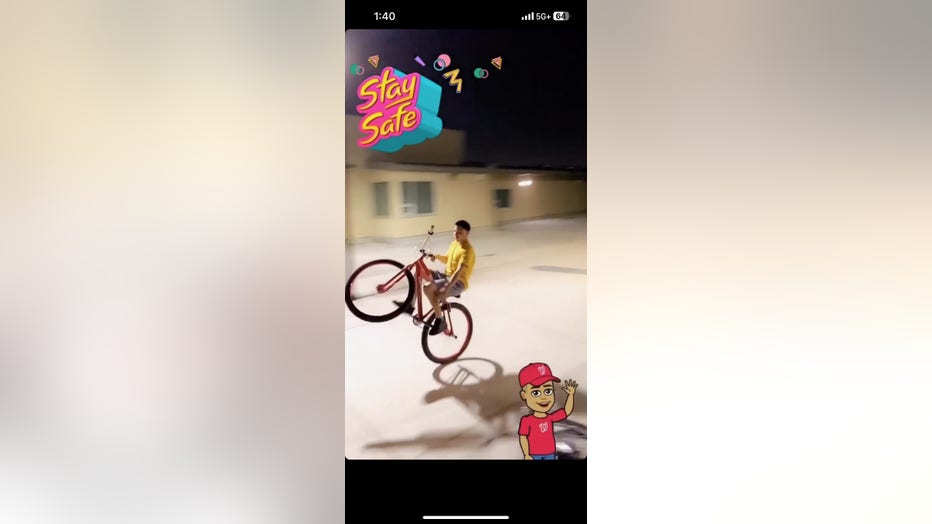 Juan Diego Yuriar rides a bicycle. He was killed by law enforcement on July 3, 2023. 
Donna Yurirar has spoken to one of the three friends who were in the car that night. She acknowledges the boys were "joyriding" in a stolen car. And she acknowledges that her nephew was struggling with the CHP officer.
"His friend said he was punching him," she said, "but that he wasn't reaching for his gun."
None of the other teens were in custody, according to the sheriff's office, although their exact legal situation wasn't spelled out. 
The family's civil attorney, Sandra Romero, added: "He was not armed and there was no reason to have shot him." 
A witness to the shooting wrote on the sheriff's Facebook page that she noticed the officers did not handcuff the suspects, which allowed them to break free. She blamed police inexperience for that. And to her, she said it looked like the "deputy was pumped, ready to shoot." 
As for the ski masks, Yuriar said that her nephew and friends often wore them to protect their faces from the cold when they rode bicycles at night. 
She said the family is open to the possibility that Bernal Yurirar — who she said had no prior criminal record — was in the wrong. 
But the family wants police to release pertinent information, so they can decide for themselves. 
Family and friends buried Bernal Yuriar on July 10. 
They remembered him as a son who worked at the 99 Cent store to help his mom, as a wonderful chambelan at a friend's quinceañera, and an avid bike rider. 
"He shouldn't have been fighting the police officer," Yuriar said. "But he shouldn't have had to die."