Houston-area couple now parents to 1st set of all-female quintuplets in U.S.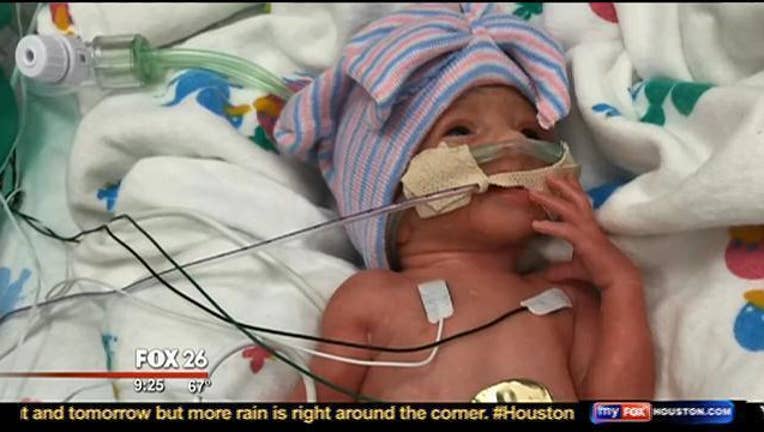 article
HOUSTON (FOX 26) -- Adam Busby is 32 years old, married, and a ladies man.
"I guess we can go one by one," he said in a video posted to the blog he shares with his wife (www.itsabuzzworld.com). 
His wife, 31 year old wife Danielle, wouldn't have it any other way. The Busby's are now 'mom and dad' to the first set of all female quintuplets born in the United States. Ava, Olivia, Hazel, Riley and Parker are also the world's first set of all girl quintuplets born since 1969. And if that's not enough girl power, America's first set of all girl quintuplets also have a four year old big sister.
"Blayke got to come meet them, which was so cute," Danielle said in the video blog. "She had her big sister shirt on."
Yep.
Adam has seven girls, including Danielle. Like a lot of young couples, the Busby's had trouble conceiving. According to their blog, they used fertility drugs with a procedure called IUI (Intrauterine insemination) and had Blayke. They waited a few years, tried again, and last week Danielle delivered five tiny baby girls in just four minutes at The Woman's Hospital of Texas in Houston.
"Danielle is a trooper, and her positive attitude definitely shined through the pregnancy and the delivery," said Dr. Alexander Reiter, Maternal-Fetal Medicine Specialist with Houston Perinatal Associates. Dr. Reiter delivered the quintuplets with help from more than a dozen other medical personnel. Additionally, seven board-certified neonatologists were among the five medical teams assembled to provide care after the babies' arrival.
Dr. Jayne Finkowski-Rivera, The Woman Hospital of Texas NICU Medical Director, assisted during the delivery.
"The baby girls did well during the delivery and are currently requiring only modest support of their breathing," explained Dr. Finkowski-Rivera. "They were all in the appropriate weight range (between 2 pounds and 2 pounds, 6 ounces) for their gestational age, which is due to their mother's excellent efforts to have the healthiest pregnancy possible. They have made a strong start in life, and we are excited to watch them grow and mature."
The Busby's are grateful, but still a little nervous.
"I'll be going back to work so we've got a lot of changes coming up in the next few days," Adam Busby said. "A lot of adjustments to get used to, figure out what our new norm is going to be."