Idaho murders: Bryan Kohberger's former defense attorney believes evidence could be 'attacked'
MOSCOW, Idaho - Idaho quadruple murder suspect Bryan Kohberger's former defense attorney, Jason LaBar, told a local news outlet that evidence presented in a probable cause affidavit for the suspect's arrest is "strong" but could be "attacked" in court.
Kohberger, 28, has been charged with murder and burglary in connection with the Nov. 13 murders of four University of Idaho students in their home near campus. 
"[I]t certainly was a strong circumstantial case," LaBar told WFMZ-TV of the affidavit, "but I believe that individually taken, the evidence could be attacked."
LaBar – who represented Kohberger during his extradition from Monroe County, Pennsylvania, where his parents live, to the Latah County Jail in Moscow, Idaho – also described Kohberger as educated and calm during their discussions before the suspect's extradition.
The affidavit released after Kohberger's arrest and before his initial court appearance in Latah County places the suspect – a criminology Ph.D. student at nearby Washington State University in Pullman, Washington – around the scene of the crime through phone records and security camera footage of his vehicle around 3 a.m. and 4 a.m., when investigators believe the murders occurred. 
RELATED: Idaho murders suspect made 'every mistake' possible, former FBI investigator says
Kohberger drives a white 2015 Hyundai Elantra registered in his name. Security footage apparently captured a 2015 Hyundai Elantra leaving the area of the crime scene in Moscow around 4:20 a.m. and then returning around 9 a.m.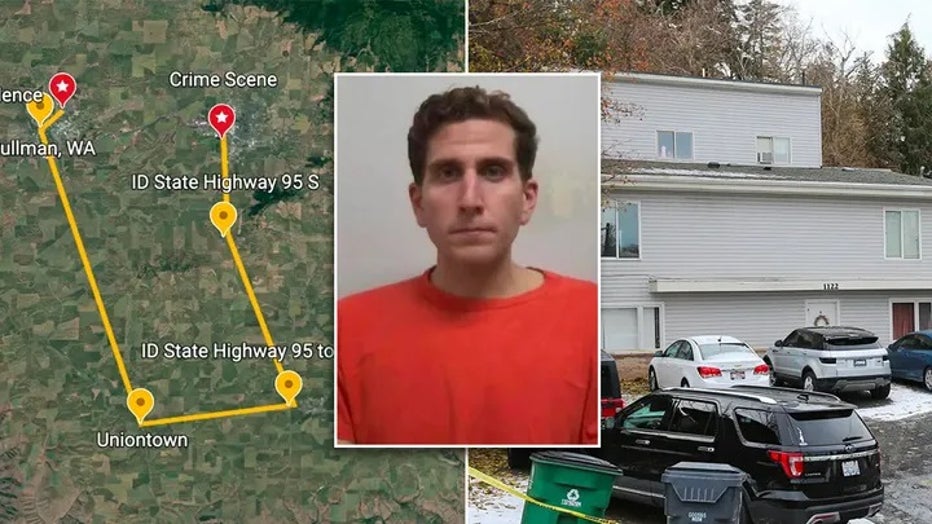 Map on left showing Idaho murder suspect Bryan Kohberger's movement on the morning of Nov. 13 after four University of Idaho students were stabbed in their home. Right is the crime scene at 1122 King Road. Inset is Kohberger's booking photo. (Latah C
His cellphone pinged at his apartment in Pullman and then toward Moscow before it turned off for a period of time between 3 a.m. and after 4 a.m. The phone then pinged south of Moscow and back north toward Pullman around 5 a.m., according to investigators.
Cellphone records revealed that Kohberger's phone pinged near the home where the four victims lived approximately 12 times weeks prior to the murders, according to the affidavit.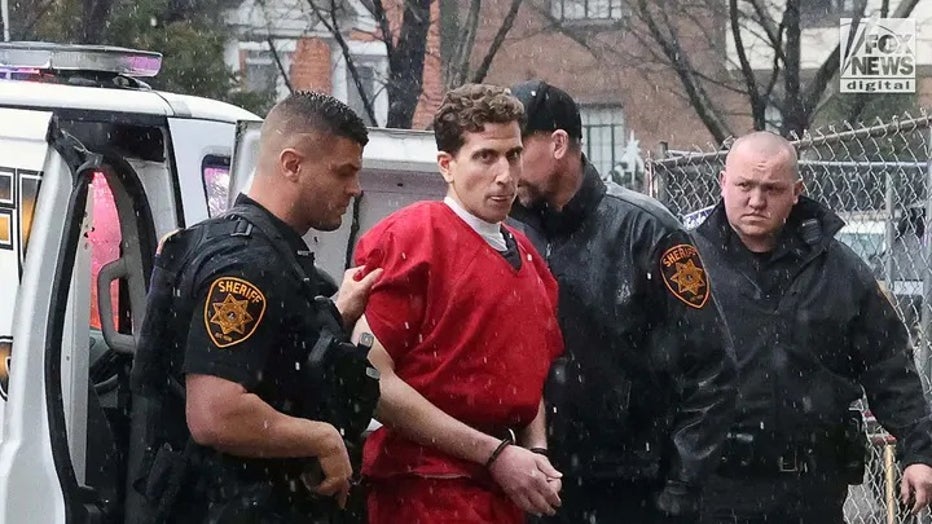 Bryan Christopher Kohberger arrives at the Monroe County Courthouse for an extradition hearing on Jan. 3. (The Image Direct for Fox News Digital)
Additionally, the affidavit states that the button snap of a Ka-Bar knife sheath left by one of the four victim's beds contained a single male's DNA. Weeks later, investigators matched that DNA to items recovered from the trash near Kohberger's parents' home in Pennsylvania, though it was not excluded as Kohberger's father's DNA.
RELATED: Idaho murders: Bryan Kohberger search warrants sealed to prevent 'serious and imminent threat,' court docs
LaBar admitted to WFMZ-TV that he could not explain why Kohberger's DNA would be on the knife sheath found at the scene if he were not involved in the murders.
"The first thing I said to him was 'Bryan, don't tell me anything about the case. I don't want to know any of the facts and circumstances,'" LaBar told the outlet, adding that he informed Kohberger: "[T]hese are the allegations only, you're presumed innocent until proven otherwise, and that's the most important thing, because you don't want to be judged in a court of public opinion, even though you're going to be."
The defense attorney does not believe Kohberger has any kind of "mental illness or disease or defect" that could impact his trial.
As for the suspect's parents, LaBar said "they understand the situation that he's alleged to have committed these murders, and they understand that there's four families suffering loss of their loved ones."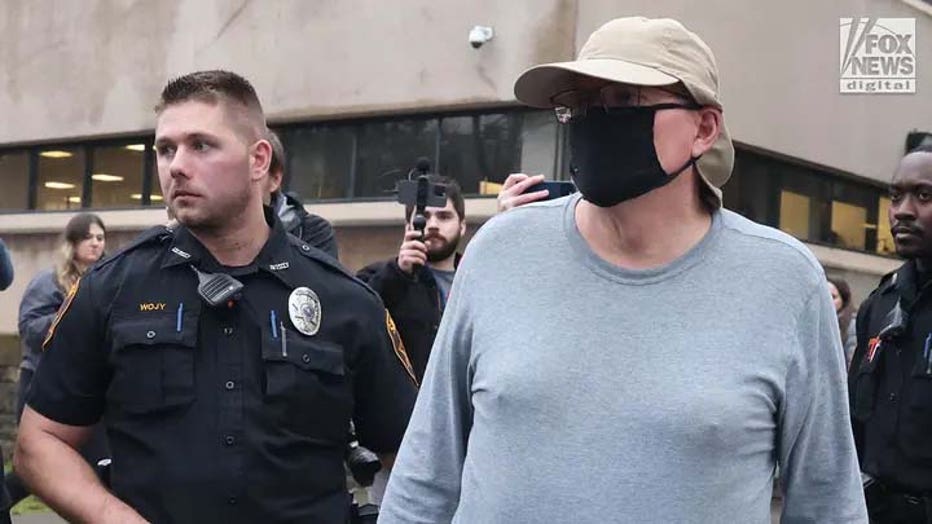 Bryan Kohberger's father, Michael Kohberger, exits Monroe County Courthouse in Stroudsburg, Pennsylvania, on Jan. 3, 2023, after his son's extradition hearing. (The Image Direct for Fox News Digital)
"They pray every day," he told the outlet. "It's very difficult for them."
RELATED: Idaho murder suspect Bryan Kohberger had 'normal conversation' with neighbor: 'You heard about these murders?'
Get breaking news alerts in the FREE FOX 13 Seattle app. Download for Apple iOS or Android. And sign up for BREAKING NEWS emails delivered straight to your inbox.
The four victims of the mysterious Nov. 13 murders are Ethan Chapin, 20; Xana Kernodle, 20; Kaylee Goncalves, 21; and Madison Mogen, 21.
Police have yet to disclose a motive for the killings.