Interior Secretary blames 'radical environmentalists' for wildfires, critics say claims are false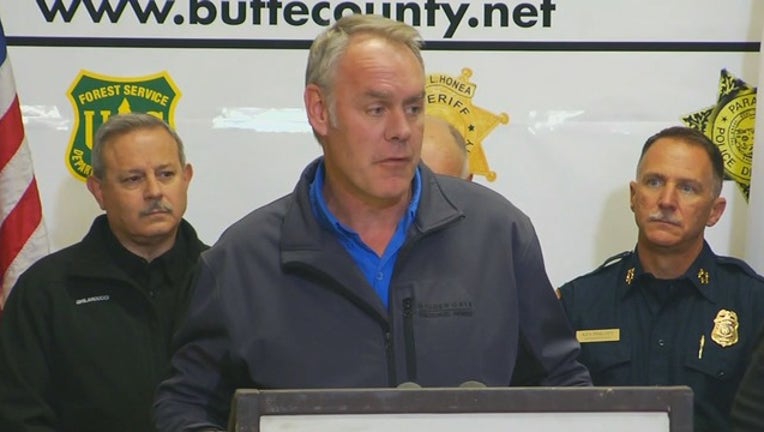 article
OAKLAND, Calif. - Interior Secretary Ryan Zinke blamed "radical environmentalists" for the deadly California wildfires that have left dozens dead, saying they'd rather "burn down the entire forest than cut a single tree."
Meanwhile, an Oakland-based environmental nonprofit said the main reason for devastating wildfires isn't a logging issue; it's one that has more to do with climate change and an increasing number of housing developments being approved in fire-prone areas.
"What Zinke said was misleading and irresponsible," Randi Spivak, public lands program director for the Center for Biological Diversity, told KTVU on Wednesday. "He's just trying to push through harmful logging projects without environmental review and public comment that could actually increase the chance of wildfires." 
Spivak was commenting after Zinke addressed forest management concerns on Tuesday in the wake of the devastating California wildfires, saying that it is a situation that can "absolutely be mitigated," Fox News and other media outlets reported.%INLINE%
He and Agriculture Secretary Sonny Perdue called for more clearing of the fire-prone vegetation that helped spread the Camp Fire, which has so far killed 81 people and scorched more than 150,000 of land in Northern California. 
"Everyone should recognize that the density of dead and dying trees is higher, the density of trees is higher and there is active forest management principles that we should use to mitigate these devastating forest fires," Zinke said.
But, he said, complicating matters is "lawsuit after lawsuit by, yes, the radical environmental groups that would rather burn down the entire forest than cut a single tree or thin the forest." Zinke did not specifically name any environmental group. 
But federal data shows there aren't that many anti-logging lawsuits. Spivak pointed to U.S. Forest Service statistics showing that 576 logging projects were approved in California in Hawaii between 2009 and 2017. Of those 38, or 6.6 percent ,were litigated. And yes, Spivak acknowledged, the Center for Biological Diversity was the plaintiff in some of those suits. "But to my knowledge, the court didn't stop any of these projects," she said. "So, Zinke is not telling the truth. There is no basis for environmentalists blocking any of those logging projects." 
Still, Zinke and Perdue are pushing for amendments to the Farm Bill, currently being debated in Congress, to loosen rules on tree removal and herbicide use on federal timber lands, the San Francisco Chronicle reported. Zinke oversees the Bureau of Land Management and National Park Service while Perdue oversees the U.S. Forest Service.
President Trump came under fire last week in some quarters after making a similar assertion that Californian officials needed to do a better job at forest management. 
But scientists have told KTVU that California's recent fires have not even burned in forests, starting in shrublands instead.