Janice Mirikitani, Glide co-founder and poet, dies unexpectedly
SAN FRANCISCO, Calif. - (KTVU and AP) – Janice Mirikitani, a beloved community activist, nationally recognized poet, social justice warrior and co-founder of San Francisco's Glide Memorial Church, passed away early Thursday morning at the age of 80 after battling cancer. 
The Glide community remembered Mirikitani saying in a statement, "Our hearts are full with both grief and the tremendous love that she embodied. She brought fierce courage and spirit to everything she did. She spoke her truth and inspired others to accept and celebrate themselves, each other and all our differences." 
Janice Mirikitani's journey through life was filled with a keen compassion for helping those most in need. 
She co-founded Glide Memorial Church with the love of her life, her husband Rev. Cecil Williams. From 1964, the couple transformed the Methodist church into a community of nearly 10,000 members. She was Glide's first president.
Mirikitani relished Glide's philosophy of "radical inclusivity" that become world-renowned for bringing together people from all walks of life and providing meals, housing and services in San Francisco's Tenderloin neighborhood. 
"Jan was really one of the pillars of our community. It's hard to even imagine San Francisco without Janice Mirikitani," said State Senator Scott Wiener who knew Mirikitani and Williams for decades, "She was so deeply committed to realize the mission of serving our most marginalized residents in the Tenderloin and elsewhere." 
"Jan Mirikitani was one of our City's true lights. She was a visionary, a revolutionary artist, and the very embodiment of San Francisco's compassionate spirit," said San Francisco Mayor London Breed in a statement, "She served our most vulnerable residents for decades and provided a place of refuge and love for all."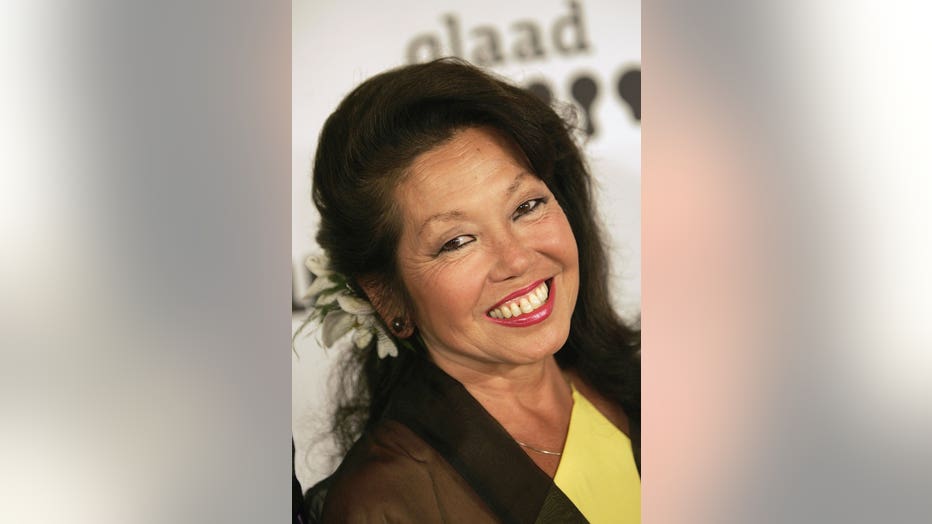 SAN FRANCISCO - JUNE 10: Janice Mirikitani arrives at the 17th annual GLAAD Media Awards at the Marriott Hotel on June 10, 2006 in San Francisco, California. (Photo by David Paul Morris/Getty Images)
The sudden loss was a shock to members of the Glide community, who continued serving meals and providing COVID vaccine shots and other services Thursday as they mourned. 
"Janice was a force of nature," Glide President and CEO Karen Hanrahan said. "She was fearless and transformational in the honesty with which she loved us all and held us all accountable. Janice's legacy and her unique, powerful voice is all around us. It will continue to inspire Glide's work as we transform hearts and minds, and the landscape of poverty and homelessness, in San Francisco."
Mirikitani also was a poet, serving as San Francisco's poet laureate from 2000-2002.
She also was a beloved role model in the Japanese American community. 
Mirikitani was the daughter of Japanese American chicken farmers from Petaluma. She was 1-year-old when her family was swept up in President Franklin D. Roosevelt's executive order to incarcerate American citizens of Japanese descent and Japanese immigrants with no due process and force them into concentration camps during World War II. Mirikitani and her parents were sent off to a camp in Rohwer, Arkansas. That experience informed a lot of her poetry.
In San Francisco's Japantown Peace Plaza Thursday, hours after news of her death, staff with the National Japanese American Historical Society placed a string of traditional origami cranes and Mirikitani's photo in a colorful circle around an obelisk statue where one of Mirikitani's poems is etched in stone. 
"Right now, we're really in shock. It's a really sad day," said Rosalyn Tonai, executive director of the National Japanese American Historical Society, "She was very concerned about the devastation of war and the victims of war and really pushed for peace and a better world."
"She worked with other communities and shared their stories and really difficult stories and subjects that are not easy to talk about, she really brought to the forefront," said Jon Osaki, executive director of the Japanese Community Youth Council.
Her work was recognized internationally by presidents, foreign dignitaries, and foreign governments.
In October 2019, the Japanese government gave her one of its highest awards at the residence of then Consul General Tomochika Uyama. 
Mirikitani closed her acceptance speech by reading one of her poems that included the verse, "Remember the stories we write on our skin...luminous with the light that shines from within."
Janice Mirikitani's light remains, still luminous and still lingering in the hearts of every person she touched.
In the final lines of the poem on the Japantown marker Mirikitani wrote about legacy:
We prevail.
Our future harvested from generations.
From my life...opens countless lives.
The Journey continues...
Mirikitani is survived by her husband Rev. Cecil Williams, her daughter Tianne Tsukiko Feliciano and her grandson Nicholas Feliciano. 
Memorial plans are being arranged with updates posted at the link below. 
Donations can be made in her memory to support GLIDE's Women and Children's programs.
GLIDE MEMORIAL PAGE FOR JANICE MIRIKITANI:
https://www.glide.org/in-loving-memory/
GLIDE MEMORIAL FUND:
https://connect.clickandpledge.com/w/Form/da43fc7a-9cbb-4129-8651-df1d28c38085?_ga=2.130903819.560628269.1627616217-150878985.1627616217