Kidnapped Vallejo couple speak out after $2.5M settlement against city, police: report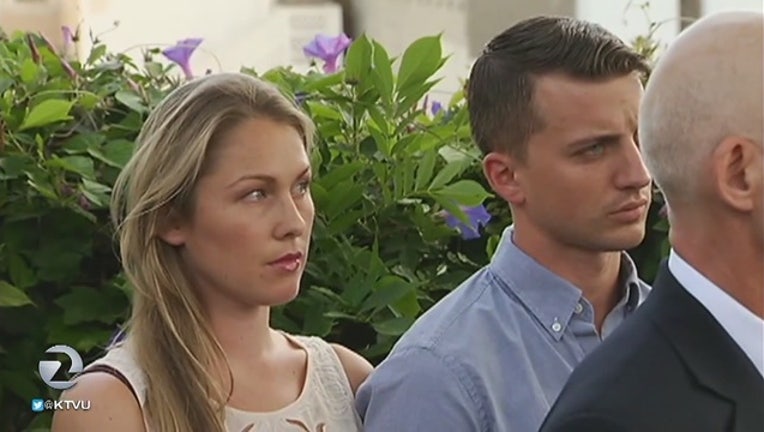 article
The couple at the center of a bizarre 2015 kidnapping case in Vallejo, has decided to speak publicly for the first time since receiving a $2.5 million settlement for a federal lawsuit they filed against the police.
Denise Huskins and her fiance Aaron Quinn spoke in an exclusive interview to ABC News Anchor Amy Robach, which aired in full on "Good Morning America" on Monday morning.
"I don't know how to describe what it's like to sit back silently and watch the world have a conversation ... on the most horrific thing that you've lived through," Huskins told ABC News. 
It was clear that both are still angry at police for not believing their story, and telling the public they thought their claims were so wild that they thought it was a "hoax." But it turned out that they had been telling the truth. Police and the FBI ended up fingering suspect Matthew Muller, a 38-year-old Harvard-educated lawyer for the abduction. Muller ended up pleading guilty and was sentenced to 40 years in prison.
Huskins focused on what happened to her in March 2015 when she was forcibly taken from her Mare Island home by an unknown abductor and a ransom demand was made. She was held for ransom for two days before she was finally released in Huntington Beach in Southern California.
"I could tell that it was dark. I couldn't hear other people around. When he opened the car door I thought, like, 'This is -- this is it.' Like, either I'm going to hear a gunshot and that's it, or I'm going to get pushed off a cliff. I thought I was walking to my death," she told ABC News. "Then I heard a door close behind me. And I pulled up the blindfold. And I saw a toilet and a cement room. And I thought, 'Oh God. He is going to release me.' But until that point I'm like, 'He's just saying this,' and I was just expecting at any moment it was over."
Huskins said that during those two days before she was released by her kidnapper, she fully "expected the worst."
She said at the time she thought her "only hope" was to "show him the human that is in front of him."
"He spoke to me a lot," Huskins said, saying he told her "he just had a difficult time in his life."
"So I kind of shared with him," she added, "something that happened when I was younger."
She said she was hoping that if she told him "that I've already been assaulted" that "he won't want to add to it." This did not stop him from raping her, however, Huskins said.
Ultimately, Huskins said, "he made the decision to release me."
Quinn had his own harrowing story to tell. He was drugged during the home invasion before he contacted police. During two days when Huskins was gone, Quinn said police unfairly turned their focus on him as a suspect instead of searching for the real perpetrator.
"The detective said, 'I don't -- I don't believe you,'" Quinn said, adding that people immediately "started saying I killed Denise."
"I knew they were going to look at me as a suspect," he said. "That's what they should do, I was the last person to see her."
Quinn told ABC News: "This is only strange because the law enforcement made it strange. This was people who broke into my home, threatened my family, threatened to hurt the person they kidnapped, charged a ransom. And if you just look at it that way, it was a kidnapping. They got distracted by other things. And they made it strange. If they came out and said, 'This is a kidnapping,' followed the evidence, got Denise back no one would be talking about 'Gone Girl' or anything like that. They're the ones who made it strange."
Police eventually apologized for their mistake. And the city of Vallejo has admitted no wrongdoing in the settlement.