Take a look at King Charles and Queen Camilla's official coronation portraits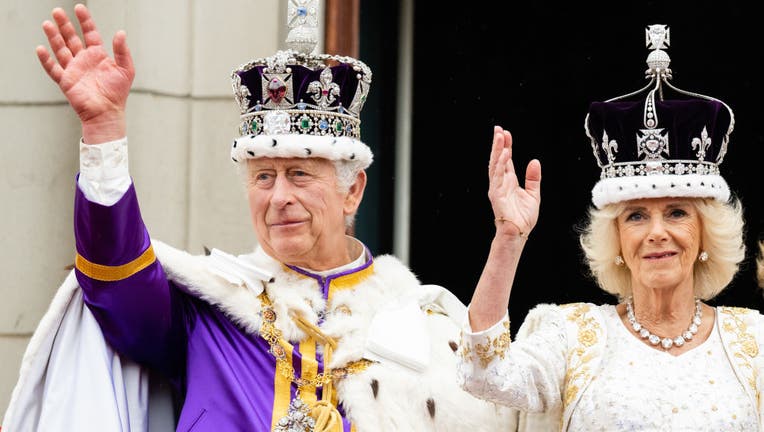 article
LONDON - It's certainly a new era in the United Kingdom after King Charles III was officially coronated over the weekend and the Royal Family debuted his official portrait Monday along with Queen Camilla's
"The first official portrait of His Majesty The King following his Coronation on 6th May.," The Royal Family tweeted. 
The photograph shows King Charles III wearing his crown dressed in full royal regalia while holding Sovereign's Orb and Sovereign's Sceptre with Cross.
Charles was crowned Saturday at Westminster Abbey, in a ceremony steeped in ancient ritual and brimming with bling at a time when the monarchy is striving to remain relevant in a fractured modern Britain.
RELATED: King's coronation: Splash and dash showers could rank supreme in first ceremony in 70 years
At a coronation with displays of royal power straight out of the Middle Ages, Charles was given an orb, a sword and scepter and had the solid gold, bejeweled St. Edward's Crown placed atop his head as he sat upon a 700-year-old oak chair.
In front of world leaders, foreign royals, dignitaries and a smattering of stars, the monarch declared, "I come not to be served but to serve," and was presented as Britain's "undoubted king."
Inside the medieval abbey, trumpets sounded, and the congregation of more than 2,000 shouted "God save the king!" Outside, thousands of troops, hundreds of thousands of spectators and scores of protesters converged.
It was the culmination of a seven-decade journey for the king from heir to monarch.
Charles was anointed with oil from the Mount of Olives in the Holy Land — a part of the ceremony so sacred it was concealed behind screens — before being presented with the Sovereign's Orb and other regalia.
RELATED: Coronation of King Charles: Top 5 viral moments
For 1,000 years and more, such grandiose ceremonies have confirmed the right of British kings to rule. Charles was the 40th sovereign to be enthroned in the abbey — and, at 74, the oldest.
The king does remain the U.K.'s head of state and a symbol of national identity — and Charles will have to work to bring together a multicultural nation and shore up support for the monarchy at a time when it is waning, especially among younger people.
While most Britons view the monarchy on a spectrum ranging from apathy to mild interest, some are fervently opposed to it. The anti-monarchy group Republic said several of its members, including its chief executive, were arrested as they arrived at a protest in central London.
RELATED: Coronation of King Charles: Top 5 viral moments
Large crowds cheered as Charles and Queen Camilla, who was also crowned, rode in the Gold State Carriage from the abbey to Buckingham Palace, accompanied by a procession of 4,000 troops and military bands playing jaunty tunes. From the palace balcony, the king and queen waved to a sea of people who cheered and shouted "God Save the king!"
The Associated Press contributed to this report. This story was reported from Los Angeles.