Korean martial arts class in Oakland brings together seniors, empowering them to push boundaries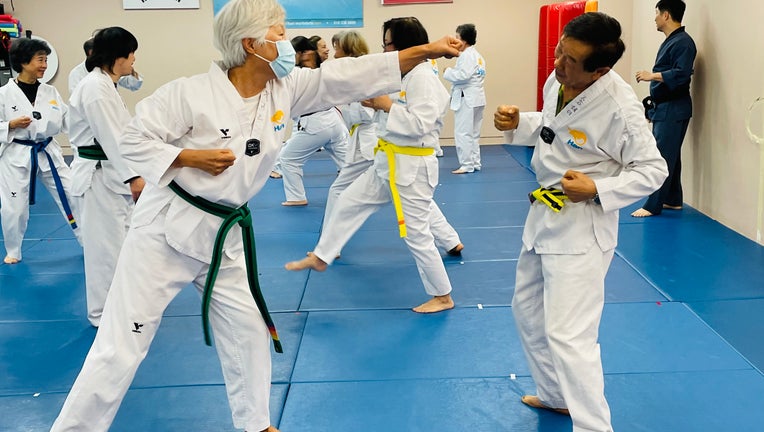 article
OAKLAND, Calif. - They range in age from 65 to 89. And every week, this very special group of students, don their white tae kwon do uniforms, enter their dojo and take to the mat at Han Martial Arts studio in Oakland's Montclair neighborhood.
The students may move slower than their adolescent counterparts who will crowd the studio later in the day after school's out, they may kick with less force or take longer to memorize the tae kwon do movement forms taught by their instructor, but they're full of spunk and energy and eager to learn.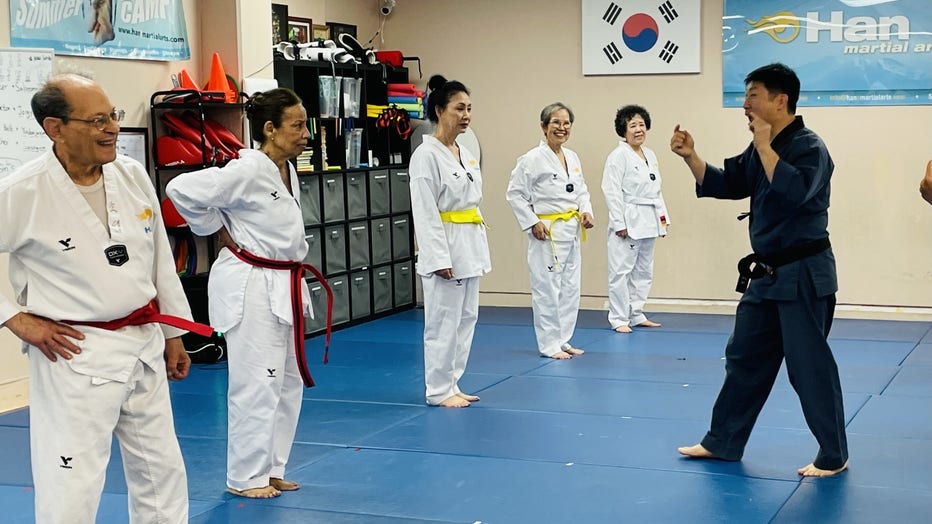 Head Master Jiwhan Han instructing class at Han Martial Arts studio in Oakland, Calif. on Tuesday, May 15, 2023. 
The class, created by the studio's owner and former Olympian, Jiwhan Han, has been tailored specially for those advanced in age. 
But don't call them seniors, Head Master Han will tell you. It's not a term his students necessarily connect with. They're members of "The Grand Class." 
More than 60 "grand" members have enrolled in the program, which began five years ago with just six people. Now every Tuesday morning, the students come together to learn the traditional Korean sport, one of the most popular martial art practices in the world.
Han, a 5th dan black belt in tae kwon do and former judo Olympian for South Korea in 2000, has specific areas he's focused on with these students.
First, he targets exercises that work on balance. Han said balance training was extremely important, especially for older people, to prevent potentially debilitating falls.
But even more important than balance, the instructor said, was his goal to provide his students with challenges, which worked to strengthen not only the body but also the mind. 
"I want to give them new challenges, so they can feel like I'm maybe old, but I can do many things," Han explained, noting that when his "grand" students end up learning that new form or making that nice kick, these new experiences and accomplishment served to enhance their lives and bring empowerment.
The next major goal, he focused on was what he called offering his class a "spark of health."
"After the first class some people are sore, sweaty, many, many people say, 'It's way more than what I thought,'" Han explained, but they've now begun their journey to get their body moving and exercising. That initial step was a spark to engage them in a new lifestyle enhanced by physical activity, which they can now take with them wherever they go. 
"They can look for some exercise, workout, jogging. We showed them how to stretch in the home, how to stretch in bed, how to stretch in the chair, so they can do exercise in their home," Han explained. 
Lastly, he said he focused on movement to build muscle memory. The instructor said instead of having the students just memorize the movements to learn the tae kwon do forms, also known as poomsae, he stressed muscle memory and group-work. "Through muscle memory, they follow [the] routine, count together. It's good for older people," he said.
For students like 76-year-old Joseph Gold, a red belt, who has been with the program for three years, he said being trained by a world-class martial arts instructor has helped him and his fellow tae kwon do trainees to adopt the mindset of champions.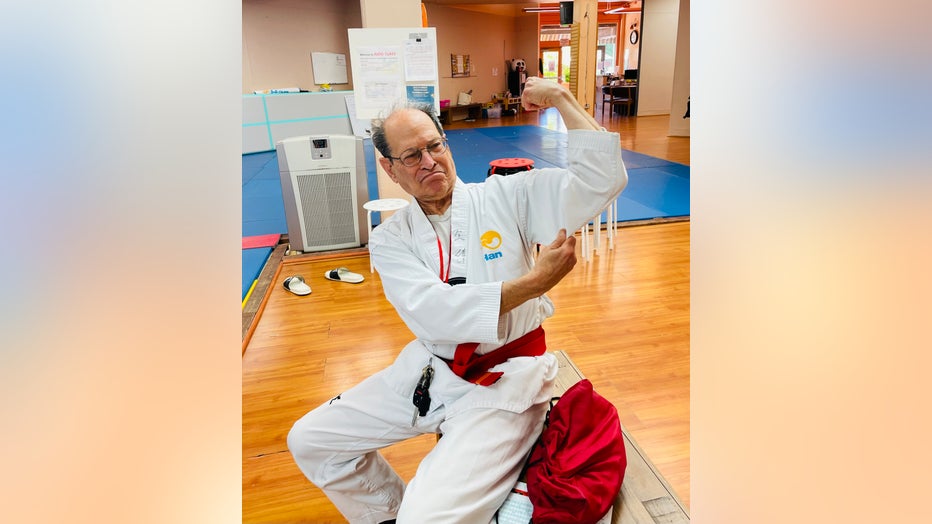 "The Grand" class student Joseph Gold, 76, at Han Martial Arts in Oakland, Calif. on Tuesday, May 16, 2023. 
"To be a champion, which he is, not just that he was in the Olympics, he is a champion in all manner," Gold said, adding, "His influence for everybody is so good. He teaches us respect, discipline, stay-at-it, everything that makes champions." 
SEE ALSO: Martha Stewart, 81, makes history as Sports Illustrated Swimsuit cover model
SEE ALSO: Korean-owned brewery in Oakland serves up culture, Asian-inspired flavors
All of his students ultimately work toward earning a black belt, with trainees going at their own pace. Just last month, Han said, one of his students, a 77-year-old woman, passed the test and became the first to earn a black belt as part of "The Grand" program.   
His students said the class allowed anyone at any level to participate with their own goals in mind. 
"The class is special, simply, because it is tailored to seniors, whether they are very active and physically fit or sit in a chair to exercise. Master Han's positive attitude and ability to modify positions and moves provides everyone the maximum experience," 75-year-old student, Vivian Murphy shared with KTVU.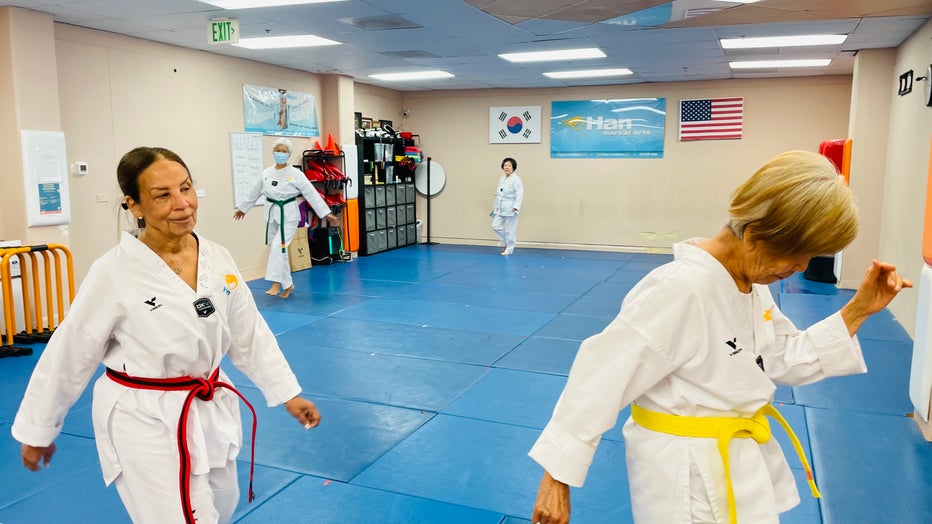 Vivian Murphy, 75, (left) warming up for "The Grand Class" at Han Martial Arts studio in Oakland, Calif. on Tuesday, May 16, 2023. 
Murphy, who's been taking the classes since 2019, is a grandmother of two and first started going to Han Martial Arts to help shuttle her grandchildren to tae kwon do classes there.
While the program has been a wonderful way to work on strength and encourage exercise, Murphy and many of her "grand" classmates would say it's provided so much more, including lessons particularly valuable at their age.
"Nutrition and precautions to eliminate being a target of crime are woven throughout the curriculum," the advanced red belt said. In addition, "Students learn and share about Korean culture," she said.  
Murphy also shared that the class has become about community, something many in their advanced years have said was critical to mental health and well-being especially after having gone through the long periods of isolation during the height of the COVID-19 outbreak. 
Han has witnessed how his older students benefit from these connections. He shared how when pandemic restrictions kept them from being able meet face to face, he decided to get his "grand" students on their first Zoom class. Many had to learn the technology to get on, but managed to do so. And once they got through the class, he noticed that that his "grand" students did not want to leave the online meeting and just kept talking, even after instruction was over.
So he offered them some extended time to just talk through their computers. He left the link open and walked away.  
"I can hear their voices while I'm having lunch. For two hours, they kept talking over and over, and I kept laughing to myself," Han recalled as he said what a special moment it was that they could all get the connection, camaraderie, and the joy that comes with companionship and togetherness. 
For many, the program has also offered a place where the students can turn during difficult times and time of loss. Since its start, the class has lost two of its own, one due to Alzheimer's and another because of cancer. And there have been loss of spouses and other family members as well.  
"Support during illnesses, surgery or even a death in the family is part of the culture," Murphy shared. "Master Han has created a special place for grandparents to focus on their health and exchange information on the changes that we experience in our sunset years."
At the end of each class, the students bow to one another and to their instructor as a demonstration of respect. 
They leave the class gaining more than they began with: overcoming challenges they faced on the mat, connections and laughter they shared while pushing themselves, and knowing that even in their advanced age, they can aim toward something new.
On Tuesday, as their instructor closed out his class, he left them with this: "You have to have a goal, then you can enjoy."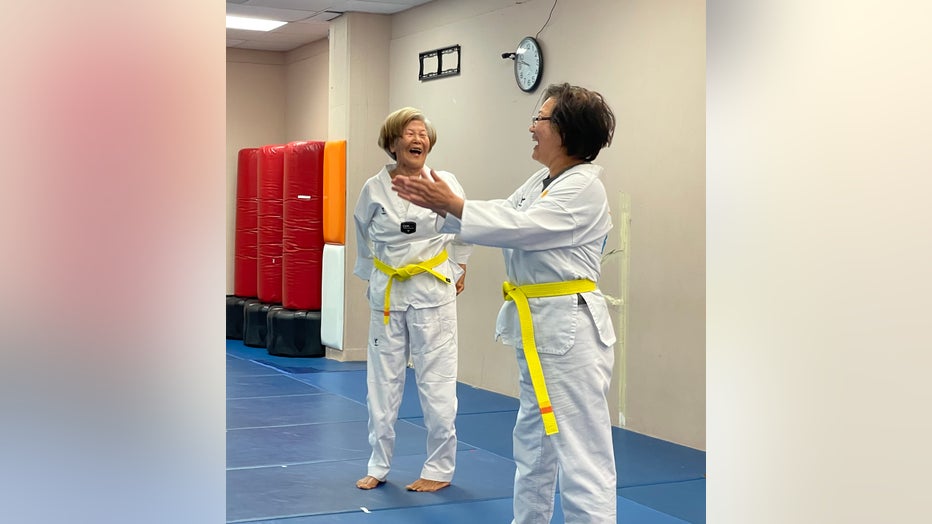 Participants of Han Martial Arts "The Grand" program enjoying tae kwon do class on Tuesday, May 16, 2023 in Oakland, Calif.