KTVU.com talks to Lord Dying guitarist Erik Olson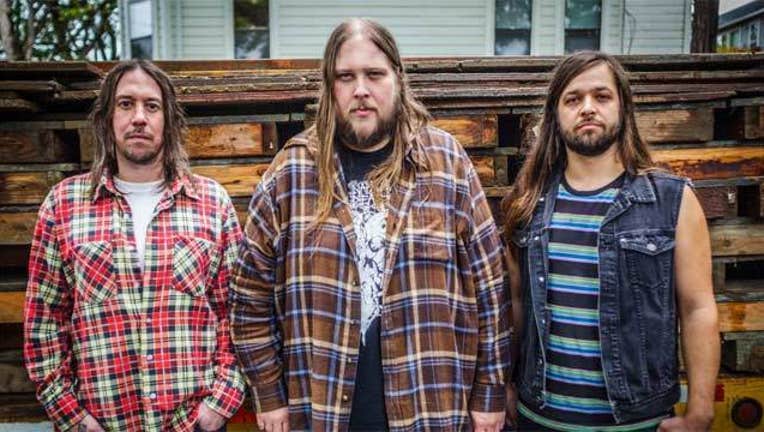 article
One of the best bands to surface from fruitful metal and hard rock scene of the Northwest in recent years, Portland,OR-based group Lord Dying has put its own unique twist on metal sounds with its two albums released through Relapse Records since being signed to the label a few short years ago. 
Boasting members who had played with notable bands like Black Elk , Portals and Le Force, the quartet led by guitarist and singer Erik Olson quickly established a reputation in their hometown and were sharing stages with local heavyweights Red Fang, Witch Mountain and Eugene's doom heroes YOB in addition to touring doggedly with like-minded acts including Valient Thorr, Lecherous Gaze, Black Cobra, Black Tusk, Down, and Ghost. In the summer of 2013, the band released its Relapse debut Summon the Faithless and earned solid reviews for the album's relentless intensity and ferocious sludge-metal attack.
In the spring of last year, Olson, his longtime collaborating guitarist Chris Evans and bassist Don Capuano were dealt a blow when drummer Jon Reid announced he was leaving the band only weeks before they were set to enter the studio to record their sophomore album. Friend Rob Shaffer (of Monarch and Dark Castle fame) stepped in to help the group track Poisoned Altars, an effort that further refines Lord Dying's sound without losing an iota of the brutality. KTVU.com recently spoke with Olson about the album and the band's current Summer of Doom Tour with headlining veterans Crowbar and Metal Blade recording artists Battlecross. The tour stops at the Metro Opera House in Oakland this Sunday, June 7th.
You're just traveling through parts of Texas that have been hit especially hard by storms in recent weeks. Did the weather or aftermath have any effect on the tour with Crowbar?
I guess in some ways San Franciso is partly responsible, because I know friends and bands who have been priced out of here and ended up relocating to Portland themselves...
Oh yeah, absolutely. We know a lot of people who have moved from the Bay Area, which is awesome when they're people who are into music. But the rents are going up like crazy; I think  it's gone up like 17 percent in the last year or something? That's a pretty big jump for one year. The economy there for so many years was based on a lot of young people living in Portland and working in the service industry, artists types and people like that. They could afford it! It's still cheaper in some areas and it's one of the best cities in the world. Portland was the cheapest city to live in on the West Coast, but that's changing now.
Was it your guys' idea to have all the other Portland metal bands in the video?
Yeah, that totally was our idea. All those bands are good friends of ours and we wanted to get them involved. We wanted to make a statement with the dirtbags versus the yuppies and have our friends be the dirtbags [laughs]. We were really happy with how it turned out. It was fun and cool to get our friends involved.