Labor unions gain in popularity, respect as UAW announces targeted strike
OAKLAND, Calif. - Unions have had a lot of successes in recent years, and strikes such as the United Auto Workers and entertainment unions continue to shape the future. What is going on now will help define the next level of work. 
On Friday, President Biden spoke about the Treasury Department's most comprehensive study ever on the overall economic benefits unions provide for their members, non-union workers and the nation. 
"Unions raise workers' wages, they said. Incomes increase homeownership, increased retirement savings, increased access to critical benefits like sick leave and childcare, and reduce inequality, all of which strengthen our economy for all workers," Biden said.
As of last year, there were 14.3 million U.S. union members, working for private companies or government agencies in the U.S. That is down from 17.7 million nearly 40 years ago. 
Union members make up only 6% of the private workforce but 33% of public sector workers. 
Mike Bernick, a former director for California's Employment Development Department, points out the main causes why private union membership is so low.
"Globalization, obviously, and to an extent, technology. But, I would say, these broader forces, more than the political forces, broader economic forces," Bernick said.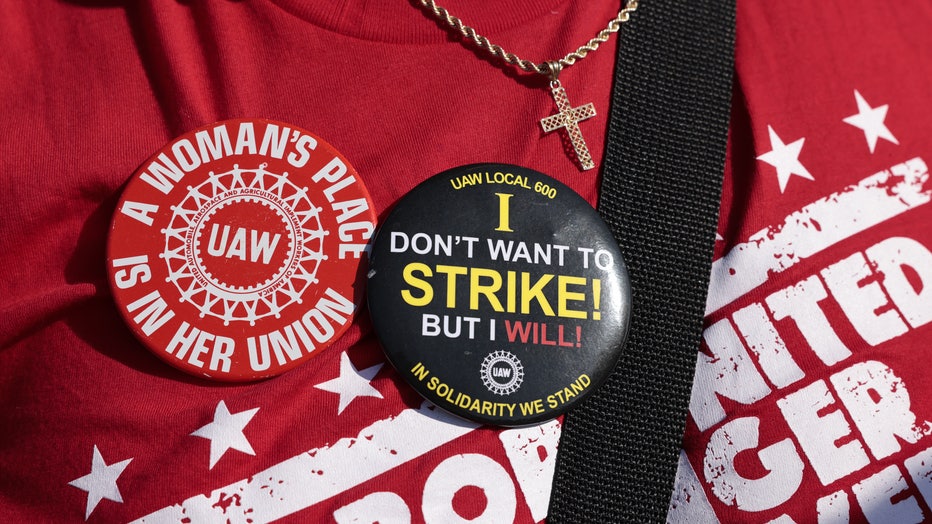 A United Auto Workers (UAW) supporter during a Labor Day parade in Detroit, Michigan, US, on Monday, Sept. 4, 2023. The UAW's 150,000 members are threatening a strike on General Motors, Ford Motor Co. and Stellantis NV, maker of the Jeep and Chrysler
There have been only slightly more labor actions this year from last year to this. But here's the huge difference. 
"The number of workers involved, we've seen a sharp uptick between 2022 and 2023 so far," Bernick said. 
Ken Jacobs, chair of UC Berkeley's Labor Center, says unions are getting more public support. 
"Look at the polling and support for the unions it's the highest it's been since the 1960s," Jacobs said.
Jacobs says another poll shows 75% support the UAW strike, and less than 20% oppose it. 
"The support of young people is even greater than the rest of the population. We are seeing a significant increase in workers interest in unions and engagement in organizing in their workplace," Jacobs said.
In the UAW strike, consider this: The average U.S. car dealer carries just enough inventory to keep them in business for about two months. So, failure to settle this strike fast, will affect supply and demand and eventually drive car prices higher.