Lenovo unveils world's first laptop with a foldable display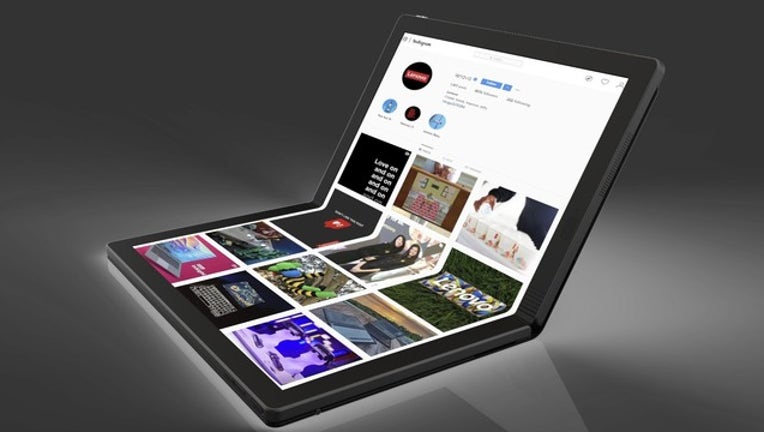 San Jose, Calif. (KTVU): - Smartphones with foldable displays may not be ready for primetime yet, but Lenovo has jumped on the bandwagon with its Thinkpad family of laptops at Accelerate, a Lenovo-organized event in Orlando, Florida.
Announced Monday, the ThinkPad X1 contains a 13.3-inch OLED 2K touchscreen display manufactured by LG that folds into half, into a form factor the size of a book. Lenovo offers a few ideas on how it can be used – as a book, as a clamshell, as a part of a multi-monitor setup, as a note-taking tablet, and more. 
Lenovo has been working on foldable PCs for a while now – it showed off a concept back in 2017.
The device can be paired with an external keyboard and trackpad, or work with the touchscreen keyboard. Lenovo hasn't said much about the specs of the device – apart from the fact that it runs on an Intel chipset and runs on Windows, and comes with a leather cover. It will also be capable of taking input from a pen.
"This is the only device you will need in the future, to be productive all day long. This is a full performance Intel Windows device." said Christian Teissman, Senior Vice President Commercial Business PCSD, Lenovo at the keynote. "I am confident that this will be a new area of personalized computing," he added. 
It's quite exciting to see a device that offers the portability of a tablet or smartphone with the versatility of a laptop. It remains to be seen if Lenovo is able to circumvent issues that plagued the review units of the Galaxy Note, which wasn't able to withstand the smallest specs of dust. The foldable hybrid ThinkPad X1 is slated to be released by 2020.