LNU Lightning Complex Fire in Napa, Solano and Sonoma counties triples to 124,100 acres
NAPA, Calif. - The combination of fires known as LNU Lightning Complex in Sonoma, Napa and Lake counties tripled on Wednesday to cover 124,100 acres by evening, when state officials said all parts were still burning out of control. 
At that point, the state fire agency said in a statement, four civilians had been injured, and the fires had destroyed 105 structures and damaged 70. Another 25,000 structures - homes, businesses, barns and more - were threatened in the largely rural area. 
CalFire's incident page for LNU Lightning Fire Complex 
The largest blaze in the LNU Complex is Napa County's Hennessey Fire, which reached 100,000 acres Wednesday after extending overnight toward Solano County, reportedly burning dozens of homes. Those impacts could not be confirmed. The Hennessey Fire is made up of the merged Gamble, Green and Markley fires. Also in Napa County is the Spanish Fire near Spanish Flat, which stood at 4,100 acres as of 7 p.m. 
Stretching across parts of Napa and Lake counties, the complex also includes Morgan Fire, at 3,500 acres as of 7 p.m.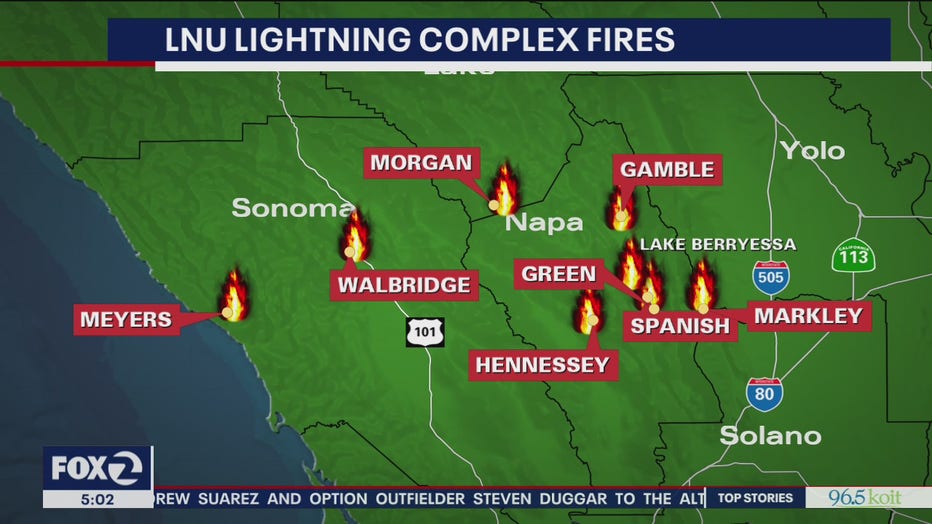 And in Sonoma County, the LNU Complex includes Walbridge Fire west of Healdsburg, at 14,000 acres; Meyers Fire north of Jenner, at 2,500 acres as of 7 p.m.; and a third, smaller blaze, along Skaggs Springs Road to the north. 
Cal Fire's statement listed each blaze in the LNU Complex as "0 percent contained." 
The Walbridge Fire, the largest of the three in Sonoma County, has forced the evacuation of thousands of residents. And assistant Santa Rosa Fire Marshall Paul Lowenthal said at an afternoon news conference that it was pushing southeast towards the Russian River community of Guerneville. 
Earlier in the day, it had entered the north end of the Austin Creek State Recreation Area adjacent to Armstrong Redwoods State Natural Reserve. 
Conditions including low humidity, wind, high heat and dry undergrowth and "incredibly dry fuels" such as grass and brush have been significant challenges, Lowenthal said. 
"We expect to be in a fire fight for the next three to five days," Sonoma County Emergency Services Director Chris Godley Wednesday afternoon. 
Godley said mandatory evacuation orders have been issued to about 7,700 people in Sonoma County, and about 8,000 residents are in zones where an evacuation warning has been issued. Evacuations orders could change that balance. 
About 6,600 Napa County residents had been ordered to evacuate from 2,200 homes, county spokeswoman Janet Upton said mid-afternoon. About 7 p.m., authorities issued another mandatory evacuation order related to the Hennessey Fire that included the communities of Angwin and Deer Park, near St. Helena, which together have about 5,000 residents. 
In Lake Country, the communities of Hidden Valley Lake and Jerusalem Valley were ordered to evacuate Wednesday afternoon. 
Details on the injuries and structure damage were unavailable.  
Evacuations:
Lake County:
Evacuation Order:
The Lake County Sheriff's Office has issued an EVACUATION ORDER for residents living in and around Hidden Valley Lake and Jerusalem Valley areas of Lake County due to a Wildland Fire. This includes residents living North of Butts Canyon Road, South of Hofacker Ln to Morgan Valley Rd, East of Hwy. 29 and West of the Lake/Napa County line. Residents are advised that there is an IMMEDIATE threat to life and property from a wildfire, and are urged to evacuate. Please leave the area. If you are in need of shelter please proceed to a Temporary Evacuation Point (TEP) that has been setup at the old airstrip off of Hwy. 53 in Clearlake. You are asked to stay in your vehicle and wear masks when you arrive at the TEP. A shelter is being established and you will be directed to the shelter by staff at the TEP.
Napa County:
Evacuation Order:
Highway 128 from Lower Chiles Valley Road to Monticello Road
Highway 128 from Chiles Pope Valley Road to Lower Chiles Valley Road
Chiles Pope Valley Road from Highway 128 to Lower Chiles Valley Road
All of Hennessey Ridge Road.
From Moskowite Corner to Wooden Valley Rd, Including the community of Circle Oaks
Atlas Peak from the Bubbing Well Pet Cemetary at 2462 Atlas Peak Rd to the dead end
From Loma Vista Rd / Soda Canyon Rd to the dead end.
All of Steele Canyon Rd from Hwy 128 to and including the Berryessa Highlands Sub Divison
Wragg Canyon Rd - from Hwy 128 to the end of the road, including Pleasure Cove Resort
Chiles Pope Valley Road - From Lower Chiles Valley Road to Pope Canyon Road
Highway 121 (Monticello Road) – from Wooden Valley Road to Silveraldo Trail
Pope Valley Rode – From Aetna Springs Road to Chiles Pope Valley Road
Aetna Springs Road – From Pope Valley to the dead end
Butts Canyon Road – From Aetna Springs Road to the Lake County Line
James Creek Road – From Butts Canyon Road to the dead end
Highway 121 (Monticello Road) – from Wooden Valley Road to Vichy Ave.
Sonoma County:
Evacuation Order:
North of Austin Creek Recreational Area
East of The Cedars
Mill Creek Road west of the intersection of Puccioni Road
South of Stewarts Point Skaggs Springs Road
South of Stewarts Point Skaggs Springs Road
West of West Dry Creek Road and Westside Road
North of Sweetwater Springs Road and McCray Ridge Road
East of the East Austin Creek (the actual creek)
The Evacuation Order on Monticello Road from Vichy Ave to Silverado Trail is now an Evacuation Warning.
Ink Grade – from Pope Valley Road to White Cottage Road
Howell Mountain Road – From Pope Valley Road to White Cottage Road
Evacuation Warning:
West of Meyers Grade Road to the coast
South of Fort Ross Road
North of Russian Gulch State Beach
North of Austin Cree Recreational Area
East of Cedars
West of Mill Creek Rd
South of Stewarts Point-Skaggs Spring Road
Evacuation Center:
Napa County:
Crosswalk Community Church
2590 First Street
Napa, CA 94558
Santa Rosa:
A Place to Play
2375 West 3rd St, Santa Rosa, CA
Schopflin Fields
4351 Old Redwood Highway, Santa Rosa, CA
Healdsburg:
Vets Memorial Beach
13839 Old Redwood Highway
Healdsburg, CA
Bodega Bay:
Westside Park
2400 Westshore Rd
Bodega Bay, CA
Sebastopol:
Ragle Ranch
500 Ragle Rd
Sebastopol, CA
Lake County:
Temporary Evacuation Points: Is setup at the old airstrip off of Hwy 53 in Clearlake
Animal Evacuation Center:
Napa County Animal Shelter
942 Hartle Court
Napa, CA 94559
Road Closures:
Napa County:
SR-121 at Wooden Valley Rd (this was previously the SR-121 at SR-128 closure). This closure will be staffed by an officer. Circle Oaks is being or will be evacuated
SR-128 at Pleasent's Valley Rd. Woodland CHP and Caltrans are staffing this closure. No traffic westbound on SR-128 from this intersection. Traffic can move east on SR-128 and south on Pleasent's Valley Rd
Butts Canyon Rd at Snell Valley Rd. This closure is staffed by a CHP officer. We do not want anyone traveling south on Butts Canyon Rd past this intersection
SR-128 at Silverado Trail. This closure is staffed by a CHP officer and Caltrans
Napa County Roads is working on the following closures:
Atlas Peak Rd at Westgate Drive. No traffic north on Atlas Peak Rd. past Westgate Drive. This section of Atlas Peak is being or will be evacuated
Soda Canyon Rd at Silverado Trail. Soda Canyon Rd. north of Loma Vista Drive is being or will be evacuated. We do not want any traffic on Soda Canyon Rd north of Loma Vista--it's easier to close it at Silverado Trail
Sonoma County:
SR-1 @ Fort Ross Road- No traffic on S/B SR-1 and no traffic E/B on Fort Ross Rd
SR-1 @ Meyers Grade Road- No traffic on N/B SR-1 and no traffic on N/B Meyers Grade Rd
Fort Ross Road at Seaview Road- No traffic on W/B Fort Ross Rd. and no traffic on E/B Fort Ross Rd
Myers Grade Road at Fort Ross Road- No traffic on S/B Meyers Grade Rd
Dry Creek Rd at Dry Creek
Yoaking Bridge Rd at Dry Creek
Lyton Springs Rd at Dry Creek
Westside Rd @ Dry Creek
Wohler Rd at River Rd
Odd Fellows Park Rd at Russian River
Bohemian Hwy at Russian River
Mosscow Rd at Hwy 116
Hwy 116 at Hwy 1 (Move Hwy 1 at Myers Grade)
King Ridge Rd @ Sewell Rd (private Rd with gates)
Skaggs Spings Rd at Sewell Rd (Anvil Ranch)