Longshoremen at Oakland port return to work after nooses found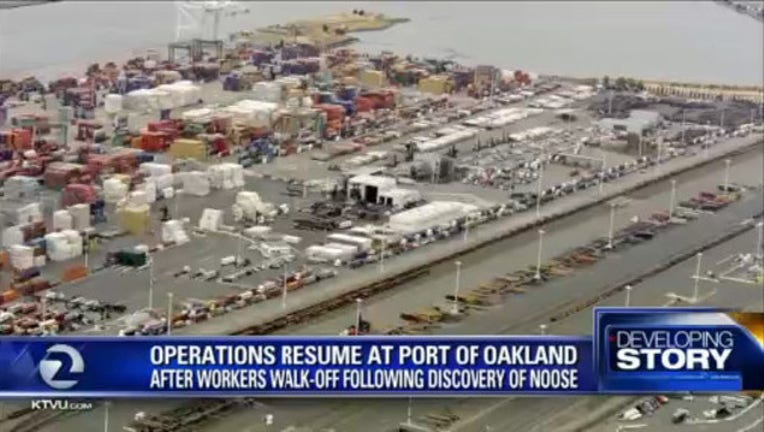 OAKLAND (BCN)-- Longshoremen at one of the Port of Oakland's four active marine terminals have returned to work after walking off the job this morning in response to nooses that were found on the property in recent weeks, port officials said.
The walkout by longshoremen at the Oakland International Container Terminal, which is operated by SSA Marine at 1717 Middle Harbor Road, meant that the terminal had to suspend its operations but it has resumed operations this afternoon, port spokesman Mike Zampa said.
"The Port of Oakland was informed that a symbol associated with racial bigotry was discovered on the terminal property," Zampa said in a statement. "The Port of Oakland does not tolerate bigotry or discrimination of any kind. That is explicit in our policies and in our day-to-day operations."
Referring to SSA Marine, Zampa said, "We've been in close contact with the terminal operator. They are investigating the incident and taking steps to prevent a reoccurrence. They'll apprise us of those next steps."
Robert McEllrath, president of the International Longshore and Warehouse Union, said in a statement, "The display of hangmen's nooses for the second time in two weeks at the worksite are inexcusable and expressly prohibited conduct under the terms of the collective bargaining unit."
"The union is committed to securing a non-discriminatory work environment for all individuals working at the ports," McEllrath said.
He said, "We reject in the strongest possible terms racism in all its forms" and "this matter is being vigorously investigated."