Pair of foxes trapped in 10 foot deep concrete enclosure, rescued on the Peninsula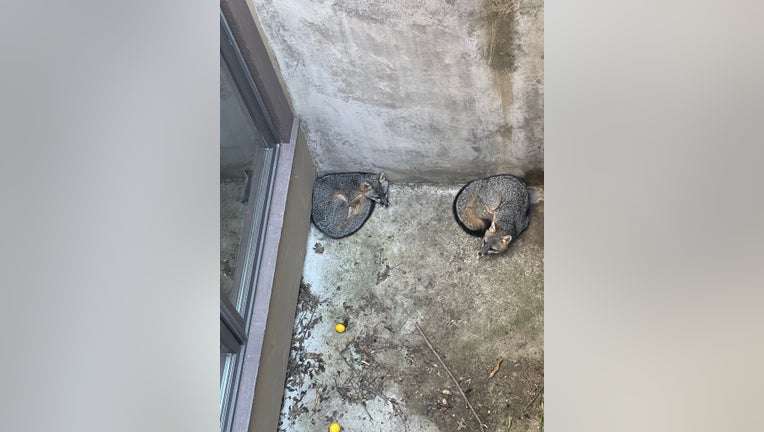 article
PORTOLA VALLEY, Calif. - Two wayward gray foxes have been released back into the wild, after being rescued out of a 10-foot deep concrete window well in Portola Valley. 
The Peninsula Humane Society & SPCA (PHS/SPCA) said on Thursday, the agency was called to a property, where a pair of foxes was discovered by someone who was cleaning windows at the home.
SEE ALSO: Escaped husky leaves behind mess after 'party' at shelter, employees say
SEE ALSO: Alameda frog jumping jockeys compete for $20,000 world record
A PHS/SPCA animal care worker quickly arrived and had to figure out a careful way to free the animals from the deep enclosed space. "The drop into the window well was so high that our rescue staff was initially unable to reach the foxes," PHS/SPCA Communications Manager Buffy Martin Tarbox explained.
The worker decided the best way would be to access the foxes by going through the inside of the home.
"So, with permission from the homeowner, he entered the house, opened the window from the inside of the home to access the window well and was able to securely grasp the foxes putting them in cages and taking them outside for evaluation," Tarbox said. 
The evaluation determined the animals suffered no obvious injuries and the foxes were released into nearby open space, where "they happily fled back into the wild." 
Video shared by the PHS/SPCA showed the animals darting off once their cage was opened. 
PHS/SPCA officials told KTVU it's unclear how the foxes ended up in the well and how long they'd been stuck there. 
The animal welfare nonprofit said that both foxes were determined to be adults but that their genders were unknown, as the evaluation was conducted quickly.
"When dealing with wild animals, we do our best to not stress them out too much with unnecessary procedures and avoid our staff being bit," Tarbox explained. 
Animal care officials said that given how deep the well was, the animals would not have been able to get out of the enclosure on their own and would have likely died there.
"These are two very lucky foxes!" Tarbox said. 
Gray foxes, which are believed to be monogamous, are native to the Bay Area. PHS/SPCA said they play a critical role in the ecosystem, helping to control small rodent populations in the region.