Marshawn Lynch on 'the dumbest call in football history,' Aaron Rodgers, and more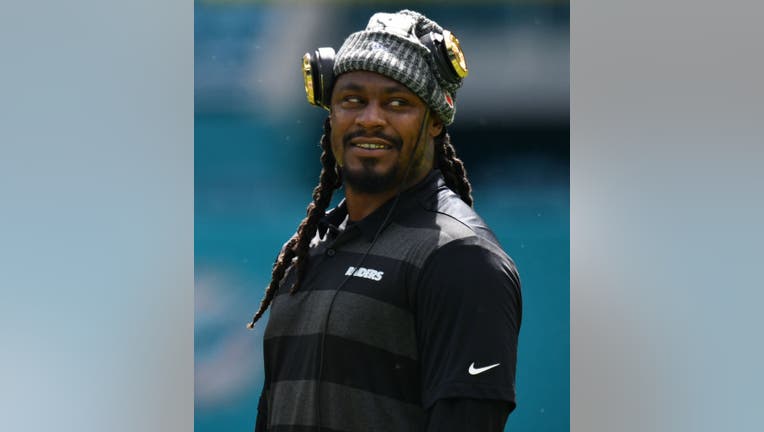 article
OAKLAND, Calif. - Oakland-native and football legend Marshawn Lynch recently gave a very candid interview and Lynch didn't hold back, throwing some verbal punches at his old team the Seattle Seahawks and saying Aaron Rodgers was one of his favorite former teammates. 
Lynch joined Shannon Sharpe, also an NFL great, on Sharpe's podcast and YouTube show called Club Shay Shay.
The duo sipped cognac and discussed a wide array of topics ranging from Lynch's time at Cal with Aaron Rodgers to the Seahawks' infamous Super Bowl loss when coach Pete Carroll decided to throw the ball on the New England Patriots' 1-yard line, which resulted in an interception and a loss.
'The dumbest call in football history'
Lynch was one of the top running backs in the NFL during the 2014-15 season and was having a pretty dominant game at Super Bowl XLIX against the Patriots. 
With 26 seconds left in the game, the Seahawks down 24-28 and the ball on the 1-yard line, nearly everyone thought Lynch was going to get a hand-off and secure the win. But that's not what happened. 
Instead, a pass play was called. 
"To be honest, I looked at nine of the other guys, and they looked at me, like, 'what the fuck just happened?'" Lynch said about the play call. "Man, the look on all my teammates' faces in the huddle, it spoke volumes…. By the time [the call] set in, I'm [like] 'What the fuck did he just call?'"
Once the ball was snapped, Seahawks' quarterback Russell Wilson threw to a wide receiver but the pass was intercepted, thus ending the game. 
"I see [the other team] jumping up and down and cheering, [and go] 'Ohh shit, he just threw a pick,'" Lynch said. 
The Seahawks offense, dejected, walked off the field as the defense came on, and Lynch walked over to Seahawks head coach Pete Carroll.
"I go right to Pete Carroll's face, and I hit his ass with the biggest 'AHH HAHAHA,'" Lynch said. "At that point, I go to the locker room, I'm out. I don't wanna see none of the shit going on."
Sharpe asked Lynch why he thought the coaches didn't call for him to run the ball. 
"Man I have no idea, from the understanding I got nobody was taking accountability for it," Lynch said, adding that Carroll and the offensive coordinator pinned the decision on each other. 
"At the end of the day, that shit was painful," Lynch said. 
Like many players, Lynch told Sharpe that he dreamed of having a Super Bowl-winning touchdown, reminiscing about when he was kid and would imagine the stadium announcer calling out the play-by-play and shouting Lynch's name in jubilation. 
"You put that play together [in your head] so many times," Lynch said. 
"They took a moment away from you," Sharpe responded. 
"A moment? They took a dream," Lynch said. "You took a dream away, you took a moment away, you took a dynasty away. You put us in the history books as the dumbest call in football history." 
Lynch said the infamous interception was the play that ended the Seahawks' dynasty.
"And they're suffering from it still to this day," he said. 
Russell Wilson
Lynch also revealed that he had shaky relationships with the team's top leaders.
"I didn't fuck with Pete [Carroll] and [Russell Wilson] was just a quarterback for me," Lynch said.
"Y'all didn't have no relationship?" Sharpe asked, adding that he often hung out and drank beers with former Denver Broncos quarterback John Elway when the two played together. 
Lynch said that given the interception and Wilson leaving the Seahawks and all that has transpired over the years that anything he says about Wilson may be misconstrued. Lynch said Wilson was a good quarterback, but the two didn't have a relationship outside of football. 
Lynch said he tried to call Wilson after a not-so-good game, but didn't have Wilson's number. He reached out to Seahawks personnel who relayed the message to Wilson and Wilson called Lynch, but it was from a blocked number, so Lynch didn't answer. 
The two eventually talked, Lynch said he told Wilson that he was there for him because Wilson had a bad game. But Wilson essentially gave Lynch a cold shoulder. 
Lynch said he and the rest of the team were later told by Carroll not to contact Wilson with critiques. Carroll told the players that they should reach out to him or the quarterback coaches, not Wilson, for critiques.
"And that was when [the divide] started," Lynch said, adding that he felt Wilson was being put on a pedestal, a figure separate and away from the rest that should be treated different. 
Aaron Rodgers
But Lynch had a great with relationship with another star quarterback.
Lynch and Aaron Rodgers, the former Green Bay Packers and current New York Jets quarterback, played together at UC Berkeley in the early 2000s. Lynch immediately recognized Rodgers' talent. 
"He was the best quarterback I ever played with," Lynch said.
Lynch also credited Rodgers for his career.
"Aaron Rodgers is the reason why I got my opportunity at Cal," Lynch said. 
He said as a freshman player, it was hard to play against the more-seasoned players. On top of that, Lynch had to battle J.J. Arrington, who rushed for over 2,000 yards the previous season. 
During a spring practice game, Lynch got the chance to showcase his skills. The coach called for Lynch to get a hand-off, so he lined up against the starting defense, who were all significantly bigger than he was. 
"Man, I get there, I'm looking across that defense, like, 'Oh, shit, them grown-ups,'" Lynch said. 
The ball was snapped, but Lynch messed up. 
"I done went the wrong damn way," Lynch said.
But Rodgers improvised, and handled Lynch the ball behind his back. 
The coach started yelling at Lynch, scolding him for messing up the play. But Rodgers took the blame. 
"Before [the head coach] could even get over there to open his mouth, I just hear A-Rod telling him, 'Nah, nah, nah, that was me,'" Lynch said. "I'm sitting there, like, 'You solid like that.' Now, me and A-Rod built a level of trust. A-Rod, he really put me in the mix."