May I take your order? Ben Affleck surprises customers at Dunkin' drive-thru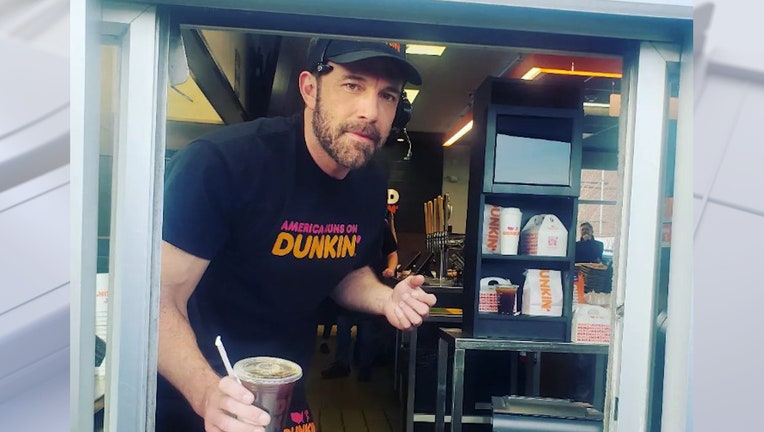 article
MEDFORD, Mass. - It was no ordinary Dunkin' run Tuesday for Lisa Mackay, who spotted and snapped a picture of Ben Affleck handling her drive-thru order. 
"I was getting my morning coffee, and Ben was at the speaker taking my order," the Massachusetts woman told FOX Television Stations. 
"Then [he] was at the window to hand it to me!" she continued. "Super nice, very funny. A nice way to start my day."
RELATED: Ben Affleck's son, 10, gets in Lamborghini driver's seat, backs into BMW in LA
Mackay's photo is now spreading across the internet. It shows the 50-year-old Affleck wearing an "America runs on Dunkin'" shirt with an iced coffee in his hand, wearing a headset at the drive-thru. 
According to WHDH, the Hollywood icon and his famous wife, Jennifer Lopez, were spotted at the doughnut chain in Medford. Affleck later handed out doughnuts and coffee at a nearby fire station. 
According to the news outlet, the Dunkin' location was actually closed for much of the day, but a few early customers got the surprise of their lifetime. 
The company hasn't said why the actor was at the donut shop. FOX Television Stations has reached out for comment. 
RELATED: Jennifer Lopez and Ben Affleck celebrate marriage with friends, family
Affleck's love for Dunkin' is well-documented on social media through pictures. A company executive previously told the Insider Affleck was a "true lover of the brand."
Affleck grew up in Massachusetts outside Boston. 
This story was reported from Los Angeles.