Memorial for fallen officer draws huge crowds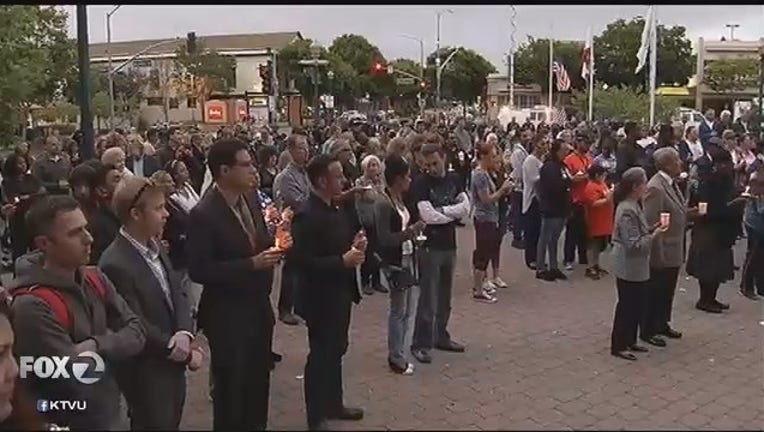 article
HAYWARD, Calif. (KTVU) - The memorial outside Hayward Police Department continued to grow Wednesday night, as a steady stream of people brought flowers, cards, candles, and messages of love and support for slain police Sgt. Scott Lunger's coworkers and family.
The veteran of the Hayward Police department was well-loved and respected by his fellow officers and the community.
In downtown Hayward, one business had a sign outside saying "God bless all Hayward Police officers." Inside, there was a hand-written sign over the bar that read, "R.I.P. Sgt. Scott Lunger."
"They do such a good job every day. I've only been here a short time but I've really gotten to know a few of them. I can't even say how dedicated and amazing they are. And it's shocking to me," said Hayward resident Linda Cardott.
For many people, Hayward is a commuter's crossroads, a drive-by city squeezed between Interstates 880 and 580 at the eastern end of the San Mateo Bridge.
"I have a lot of law enforcement family members and just to know that that could have been one of my family members breaks my heart. We're a really close community here," said Raquiba Herndon-Allen of Hayward.
"People are very sad today, are somber and sad. I think our hearts ache," said Hayward's Mayor Barbara Halliday.
Mayor Halliday says Hayward police have a strong relationship with the public in this city of nearly 150,000 people. Although basically blue collar with some wealth in the hills, a diverse mix of Latino, Caucasian, Asian and Black residents within 63 square miles.
"It's a wonderful cooperation, collaboration that we have in this community with our police department," Mayor Halliday told KTVU.
Down the street from City Hall, Luis Juarez, the owner of Tony's Shoes said he was sad to hear about Sgt. Lunger's death.
"The police department they lose one of their right hands, you know, one of the good workers. It's hard to get some people like him you know," Juarez said.
At the Hayward Police headquarters, an officer from East Palo Alto police came with his son, to honor Sgt. Lunger. The two officers had worked together in the past.
"It means a lot when I see these flowers and I see these folks out here supporting the police department," said East Palo Alto Police Sgt. Nua Lualemaga.
It is show of support, on the day Sgt. Lunger's death, that reflects the love and respect he inspired in his life.
Hayward's mayor says the city is working out details for an official memorial to honor Sgt. Scott Lunger.