Michelle Obama tells Native American students to live their values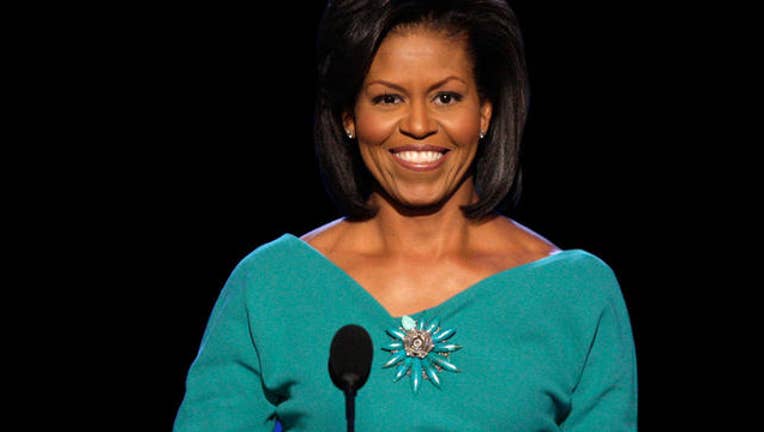 article
SANTA FE, N.M. (AP) — Michelle Obama told graduates at a Native American high school Thursday to take pride in their history and cultures at a time when she says the "loudest voices in the national conversation" suggest turning away from the tribal values that were part of their education.
In a commencement address at Santa Fe Indian School, the first lady's comments appeared to touch on political rhetoric that has emerged in the presidential race, and especially within the GOP, though she did not mention any candidates by name.
"Some of the loudest voices in our national conversation are saying things that go against every single one of the values that you've been living at this school," said Obama, a Democrat. "They're telling us that we should disrespect others because of who they are or where they come from or how they worship."
Seated in the first several rows of a school pavilion, the 104 graduating seniors received their diplomas wearing traditional clothing of their tribes on a stage featuring textiles, drums and baskets from the region's tribes.
The school's curriculum incorporates Native American history, tribal languages and opportunities for the students to learn about Native American issues, including environmental preservation on the nearby tribal lands.
Most of the students live in dormitories on campus during the school year. They come from tribes throughout New Mexico and elsewhere, including Montana and New York, and grew up in tight-knit communities and in cultures that emphasize ties within large extended families.
Obama urged them to stand by those values in the face of challenges from others who say "we should be selfish — that folks who are struggling don't deserve our help. That we should just take what we can from life and not worry about anyone else."
In her first commencement speech to Native American high school graduates, the first lady also shared her personal story of growing up in a household of modest means, with parents who taught her to give back to her community and care for family members — values she indicated she shared with the students.
The speech was delivered as part of an Obama initiative that aims to start a dialogue about creating opportunities for Native American youth, a group that White House says makes up the nation's most vulnerable population.
Now owned and operated by the 19 pueblos of New Mexico, the school was founded in 1890 by the federal government in an era when the United States took hundreds of Native American children from their families and homes to off-reservation boarding schools.
Under policies at the time, students were prohibited from speaking their tribal languages in an attempt to assimilate them into Western culture.
"As we all know, this school was founded as part of a deliberate, systematic effort to extinguish your cultures — to literally annihilate who you were and what you believed in," Obama said. "But today, the Native languages that were once strictly forbidden here now echo through the hallways and in your dorm room conversations at night."
Obama also noted that nearly every member of the 2016 class is college-bound in the fall and together have been awarded more than $5 million in scholarships.
Her Santa Fe appearance marked the latest attempt at spotlighting the challenges facing tribal youth in the final months of her husband's presidency.
Last year, the first lady spoke to nearly 1,000 Native American youth for a first-of-its-kind summit held by the White House under its Generation Indigenous initiative — which emerged from a 2014 trip by the Obamas to North Dakota where they visited the Standing Rock Sioux Reservation.