MMA fighter part of hunger strike at Santa Rita jail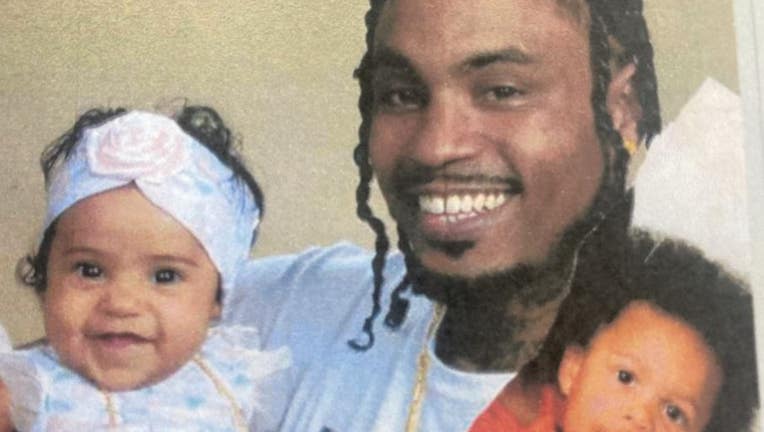 article
DUBLIN, Calif. - A martial arts master along with a handful of others incarcerated at Santa Rita Jail launched a hunger strike over what they describe as poor medical care, inedible food and a vindictive jail staff. 
Jazz Svarda, incarcerated after pleading guilty to stealing painkillers in a federal case, told KTVU by phone from jail on Thursday that he hasn't been eating for the last two weeks. Svarda has been a middleweight MMA fighter.
The exact number of those on a hunger strike isn't known. But Svarda said others in Housing Units 33 and 31 are also on hunger strike. 
The sheriff's spokeswoman confirmed that Svarda began his hunger strike about two weeks ago, and that Wellpath medical staff began to monitor his health. He weighed 198 pounds on April 23, according to Lt. Ty Modeste. 
Modeste said that a deputy saw Svarda eating non-issued jail food, probably bought at the canteen on May 1. He has since bought $100 in canteen food, Modeste said.
She added that a records check showed that no one else was being monitored for a hunger strike in the past two weeks. 
As Svarda tells it, his issues boiled over a week or two ago when he swallowed a staple in his cream of wheat and nearly choked on it. He had to reach down his throat and pull out the small piece of metal, he said.
He claims he was not allowed to see body camera video of who served the food. 
In addition, he suffered a nasal infection and filed a grievance about not getting the proper care to have it checked out. He told KTVU that staff looked at him without using gloves, which likely exacerbated the infection, and that he made his own incision in his lip to drain the infected fluid.
"They're treated like animals in there," his wife Brenda said.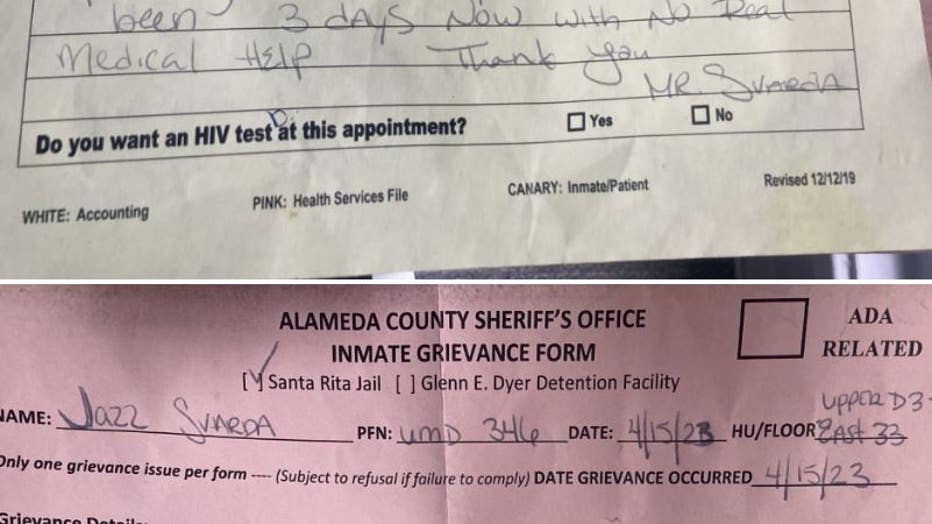 Svarda and others have been compiling complaints, keeping notes of what he said is occurring to him. 
Some of them include: 
Deputies and medical staff showing a lack of regard for human dignity, retaliating against those who filed grievances, and using violence.
Medical care delayed for people having seizures and withheld for patients with infections.
Overflowing toilets, moldy facilities.
Guests have been denied access to visits.
Mail has been either not delivered or withheld.
"Slave-like conditions" for workers serving food.
Svarda's wife, a nursing student, is desperate to help her husband and others who say they are suffering indignities at the jail. She is hoping that some public attention on the matter will bring some change. 
Oakland civil rights attorney Yolanda Huang has long known about these issues.
In 2019, she sued the jail and Aramark over unsanitary and inhumane conditions, and there was a hunger strike back then as well.  She's hoping to get class-action status on her suit to help all those incarcerated at Santa Rita.
She said that because incarcerated people are told to work in the kitchen, there is a lot of handling of the food and often the packages aren't sealed tight enough, which is how a staple could enter a meal.
"Garbage getting into the food is a longstanding issue," Huang said. "They are serving food that's not only inedible but unconstitutional. It's a chronic problem." 
EDITOR'S NOTE: This article was updated on May 3, 2023 with the sheriff's response. 
Lisa Fernandez is a reporter for KTVU. Email Lisa at lisa.fernandez@fox.com or call her at 510-874-0139. Or follow her on Twitter @ljfernandez