Blind social media star Molly Burke shatters stigmas: 'Show the person behind the blindness'
Molly Burke is challenging the way people see beauty. The blind beauty vlogger and social media influencer lost a majority of her vision when she was 14 years old to retinitis pigmentosa (RP). Now, through social media, she is on a mission to educate people about the common misconceptions about blindness, advocate for universal and accessible design and normalize and humanize disability.
She has the personality and pizzazz to be a TikTok trendsetter. But at 14 years old, Burke turned to social media at her darkest point. 
"When I was 14 years old. I had just lost the majority of my vision. I was struggling with depression, I was struggling with bullying. I felt like I didn't have friends anymore to like, go to the mall or talk about make and fashion with," Burke explained. "So I turned to girls on YouTube who were all around the same age as me, and they made beauty and lifestyle content."
Burke was diagnosed with RP when she was four years old. The rare inherited degenerative eye disease causes the progressive slow loss of vision due to freckling of the retina. 
She found the good in social media by finding communities of people with shared experiences and she knew she wanted to help others the way it helped her.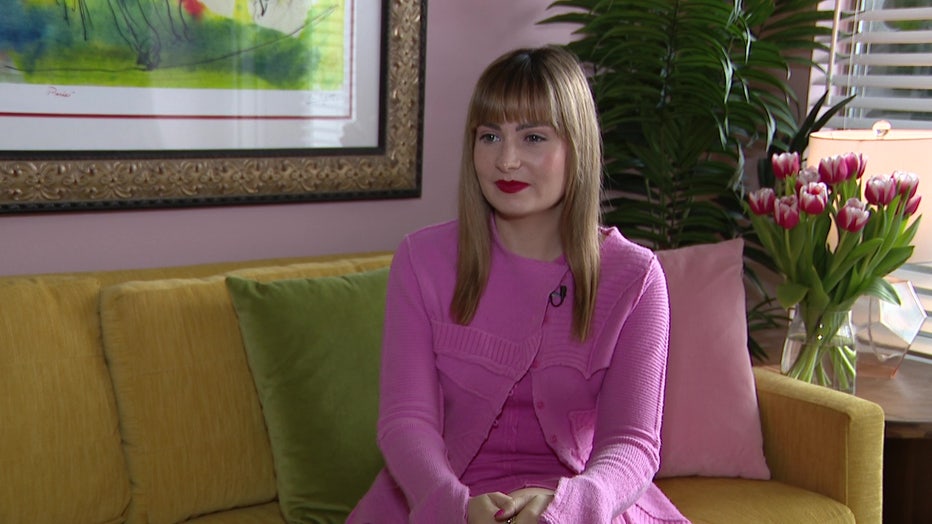 Molly Burke is not defined by her blindness. She is on a mission to help normalize and humanize disability.
Using her platform to normalize disability
Burke said that at the time she started her YouTube channel, she was a full-time motivational speaker. 
"I was always booked to speak about the same things: bullying, mental health, diversity and inclusion, disability accessibility — and all of those things are things I'm very passionate about. But there's also a lot more to me than just that."
She started her YouTube channel to build a space where she could talk about all the things she experiences in life, from makeup, fashion and travel to bad Tinder dates and her guide dog.
"All of the things that make me a normal person because for so long disabled people have been really othered from society and treated like we're an entirely different species when we're not, we're normal people," said Burke. "We eat, we sleep, we breathe, we function, and we have the same things that we like to do as other people. And so I wanted to kind of show the world that beyond just my sensationalized story of going blind and being bullied, I'm also just like a normal 20-something-year-old woman."
Burke said she hopes to use her social media platforms to normalize and humanize disability. 
"Show the person behind the blindness," she explained.
"I also hope to encourage people that no matter what challenge comes their way, you can overcome it and you have an inner strength in you that you don't even know is possible. And if there's one thing I've learned, it's that challenge is inevitable," said Burke. "We're going to continue to face it throughout our lives. Some are going to be bigger than others, but it's something we're going to keep having to overcome. And so I hope to inspire people to know that you can and will overcome whatever comes your way."
Her experience
"I've been completely night blind from birth and I've also been legally blind from birth, but I could still see a lot. And slowly over time, essentially, I developed tunnel vision that slowly closed up and at the same time everything kind of faded away and got dimmer," Burke explained. "So, for example, black started to look gray, yellow started to look white, and things just kind of closed up as they faded out."
Burke says that one misconception people have is that she still has visual memories from her childhood.
"Some blind people do. But for many who go blind, over time, those memories fade. So I actually cannot visually recall colors, faces or what anything looks like," said Burke.
After losing the majority of her vision, Burke said she turned to YouTube, where she found content creators around the same age as her that were creating beauty and lifestyle content. 
"I always knew from then on that I wanted to do that for myself one day — to be able to build a sense of community for other people. The way I felt the creators I loved did for me," said Burke. "And fast-forward, when I was 20 years old, I finally felt like I was ready to start and eight and a half years later, I can't believe where it's taken me."
Creating content looks a little different for Burke, she uses a screen reader on her cell phone and her computer that essentially allows her to use different keyboard commands and navigate seamlessly through technology to be able to do pretty much everything other people can do just through hearing what's on the screen instead of seeing it.
"The only time that it's not possible is when companies don't make the effort to make their applications accessible for screen reader users," Burke explained. "But thankfully, I've been able to use social media for the most part completely independently, to be able to enjoy it as both a viewer as well as a content creator."
Burke says that she loves a lot of things that most people would deem 'visual.'
"I love decorating my home — which I did completely on my own. I love picking out my outfits and going shopping. I love doing my own hair and makeup. I love tattoos, so I love a lot of very visual things, even though I can't see them and I just experience them and enjoy them in different ways," said Burke.
When it comes to fashion, Burke said she really focuses on the texture and the cut.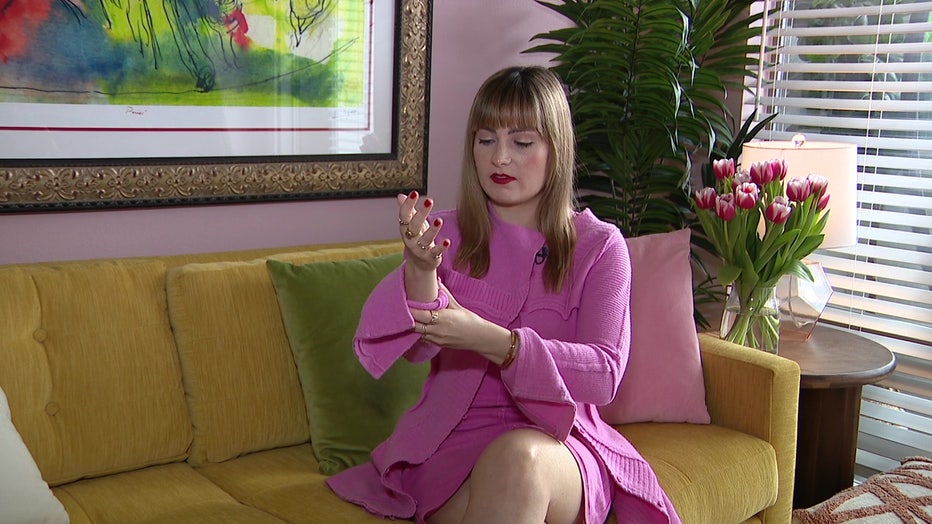 Molly Burke explains how she experiences fashion as a blind woman.
"What I'm wearing right now, it has a lot of details that are textured. It's all one color, but there's actually a lot going on and so I'm still able to enjoy that. And I just know that it's pink. Even though I can't remember what pink looks like, I know that it's pink. I can remember that. And I love the color pink, how it makes me feel, not how it looks," explained Burke.
Her disability made her a target for bullying
"I was bullied through my childhood both in person and as I got older and social media came into play. I was in grade seven when social media first really started taking off with Facebook… that's when online bullying began for me at 12 or 13 years old. And so I was facing it in school and then I'd go home and I'd face it, and it felt like I couldn't escape it," explained Burke.
Burke said that she felt that her blindness made her a target for bullying.
"People are always shocked when they hear that a disabled person was bullied. Everybody is shocked except disabled people in our loved ones because most of us are bullied, unfortunately. And I think it's because kids look for the easy target who they perceive as vulnerable and as a disabled person," said Burke. "Like I did stick out. I had a special teacher that sat next to me. I use a cane. I wrote in black markers in big letters instead of pencils on lined paper. And so I stuck out. I was obviously different, and that made me an easy target."
Using social media for good
Social media can be used for both bad and good, and Burke feels that while the negative stories tend to reach a larger audience, there are a lot of ways that social media creates community for inclusivity and shared life experiences.
"When I was younger, before I started creating content, I found groups for other guide dog users so that when I was going through the death of my first guide dog and I didn't know anybody in my real life who had lost their service dog, I had a group of people online that I never met, they're supporting me through that and helping me through that grief. I found groups for people with retinitis pigmentosa and their loved ones where we share about our diagnoses, our journeys of vision loss, tips and tricks, things that you might want to try or people you might want to talk to to get help," Burke explained. "And it's so incredible. So I think tapping into those positive resources on social media and trying to avoid the negative ones is really important."
"What I always tell people is, you know, you invite people into your life by who you choose to follow. So it's really important that you curate your feed, whether it's on TikTok or Instagram, Facebook, YouTube, that you curate your feed to be people who inspire you, who uplift you, who educate you, who make you feel good about yourself," explained Burke. "If you wake up every morning and you start scrolling Instagram and immediately feel bad about yourself — that's not good. Those are people you need to unfollow or mute and you need to be following people that are uplifting you, getting you excited to start your day and really bringing value to you."
The positive impact she's made
"Over the eight and a half years that I've been sharing my story online. It's been so incredible to receive so much feedback from all over the world, from people telling me that I've saved their life to telling me that they have never met another blind person and they felt like they were the only one, and now they feel so much less alone," said Burke. "I have teachers, medical staff, I have parents who are learning from my content and are better able to help disabled people that they interact with in their lives or teach their children how to better interact with disabled people. And it's just so amazing."
Burke says that she has no plans to stop what she's doing any time soon.
"I still pinch myself every single day that I get to take all of that pain I've experienced in my life as a disabled woman and I get to create purpose out of it and meaning. And I'm just so fortunate. I'm so grateful for all the people who have chosen to follow my journey and I can't wait to see what's next," said Burke. "I'm releasing a podcast later this year and I just hope to continue to work with amazing brand partners who support me in my mission and who believe in me and just keep doing what I do."