Monterey County flooding: progress made along Pajaro River
The effort to fix the levee along the Pajaro River is making progress, but Highway 1 remains closed.
Work crews using heavy machinery have been moving rocks into the large gap where water flooded into the Monterey County agricultural community, forcing residents of Pajaro to flee as their homes and businesses were inundated.
Evacuation orders forced 8,500 people who live near the Pajaro and Salinas rivers to evacuate, the Associated Press reported.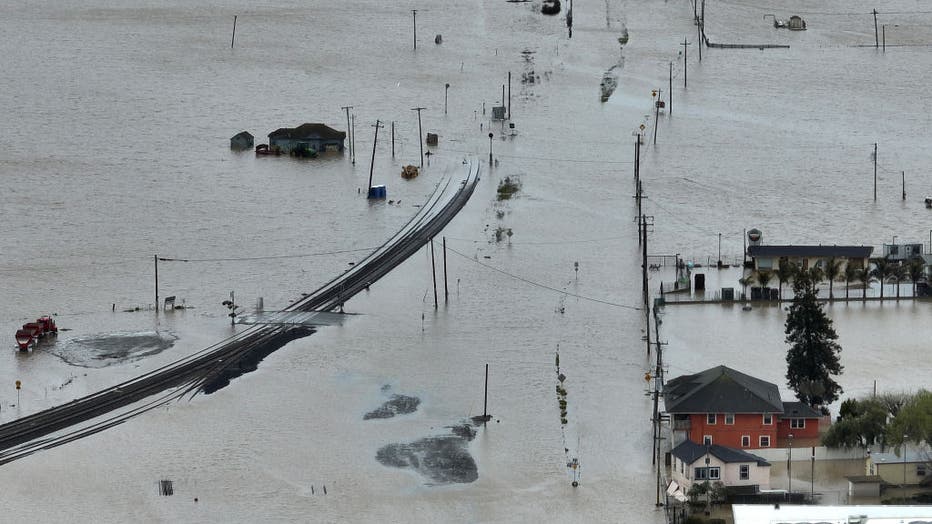 PAJARO, CALIFORNIA - MARCH 14: In an aerial view, floodwaters fill the streets on March 14, 2023 in Pajaro, California. Northern California has been hit by another atmospheric river that has brought heavy rains and flooding throughout the region. The (Getty Images)
The county released a drone video showing the repair work, which goes on around the clock. 
But, city and county officials had been warned for years that the levee was not reliable, the Los Angeles Times reported.
No repairs or improvements had been made, however, because the county did not have funding for it.
Gov. Newsom will be in Monterey County to view damage and speak about how the state will contribute to the recovery.
Meanwhile, Highway 1 is still shut between Watsonville in Santa Cruz County and Castroville in Monterey County because flooding threatens the Pajaro River Bridge.
The levee break has eroded the embankment around the bridge, according to the California Highway Patrol.
Drivers must take a long detour on highways 129 and 101 due to the closure.