Mountain lion spotted in Morgan Hill neighborhood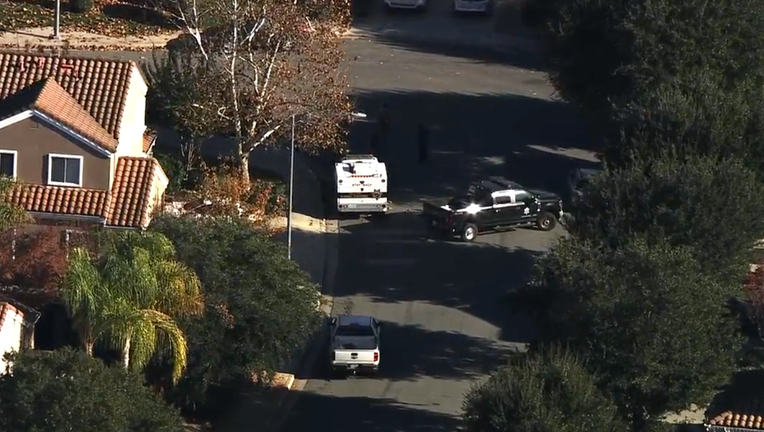 MORGAN HILL, Calif. - On Monday, a rare sighting of a mountain lion raised concern in a Morgan Hill neighborhood. A homeowner spotted the lion hiding behind bushes on a front lawn on White Cloud Drive.
Based on its age and size, California Fish and Wildlife said the young lion does not pose a threat and is equivalent to a large house cat or medium sized bobcat. Many neighbors were in awe of seeing the lion up close.
Esmeralda Robinson received an unexpected guest Monday morning. Her Ring security camera captured a mountain lion coming straight to the front door, hitting the watering can and walking to the bushes. The lion then leaves.
"This neighborhood we have a lot of kids that play," said Robinson. "I love to walk in the neighborhood. That would be pretty scary to come across a mountain lion."
"Sure enough when they walked up and took a look underneath the window sill and it was a 30-pound mountain lion," said Sgt. Carson Thomas of Morgan Hill Police.
Police snapped a photo of the young lion taking refuge a few doors down estimated to be six to eight months old. The lion was found alone, healthy and in good spirits.
"It was kind of basking in the sun," said Sgt. Thomas. "It was just enjoying the warmth of the sun laying underneath the bush and kind of just watching to see what we were going to do."
Police notified the California Department of Fish and Wildlife. SkyFox was overhead as the area was blocked off.
Police said what is rare, the lion was spotted in a residential neighborhood in broad daylight.
"I've worked for this agency now for 13 years," said Sgt. Thomas. "This is the first time we've seen one take a nap in someone's front yard."
Mountain lions have been spotted recently on the peninsula in a San Mateo backyard and roaming San Francisco streets.
"We've just been keeping an eye out on it and making sure it doesn't go anywhere," said Lt. Jeff Heitzenrater of the California Department Fish and Wildlife.
Experts suspect the lion came from the hills east of nearby Santa Teresa Road perhaps looking for food.
"There's less water, there's less feed for the animals," said Lt. Heitzenrater. "Their prey is deer. The deer are migrating down to residential areas."
The strategy is to give the young lion space, hoping not to scare it away. Everyone hopes it will head back to its natural habitat.
"It's a little scary for my cats because they like to be out all night," said Shantih Wensmann of Morgan Hill. "I will probably lock them inside tonight but it's very exciting. It's fun, just gives us a little excitement in the neighborhood."
Fish and Wildlife get one to two calls a year of mountain lions in residential neighborhoods in Santa Clara County. As of Monday evening, this lion is still underneath the bushes. Game wardens plan to check in with homeowners Tuesday morning.