At least four hospitalized in Bay Bridge, Carquinez Bridge Thanksgiving crashes
OAKLAND, Calif. - Two separate crashes on heavily trafficked Bay Area bridges sent at least half a dozen people to the hospital and dashed Thanksgiving Day plans for countless more travelers. 
According to California Highway patrol, six cars were involved in a crash on the Bay Bridge, just before 1 p.m., at least two were taken to the hospital. 
The San Francisco Fire Department said six people were trapped in cars and had to be rescued.
Shayna Kelly, who was driving at the time of the crash, said a Tesla was abruptly stopping and swerving just before the crash.  
"He just made a sudden stop," Kelly said. "There was nowhere to go, you couldn't go left, right, nowhere."
Officials say 16 people were involved in the crash, eight adults and eight kids. 
All damaged cars were towed to the Oakland side of the bridge. 
As of 4:30 p.m., all lanes of the Bay Bridge had been reopened. 
The cause of the pile up is under investigation.
Two hours earlier up to eight cars were involved in a multi-vehicle crash on the Carquinez Bridge.
Despite the outward damage to the cars, the fire department said just two patients transported to local hospitals.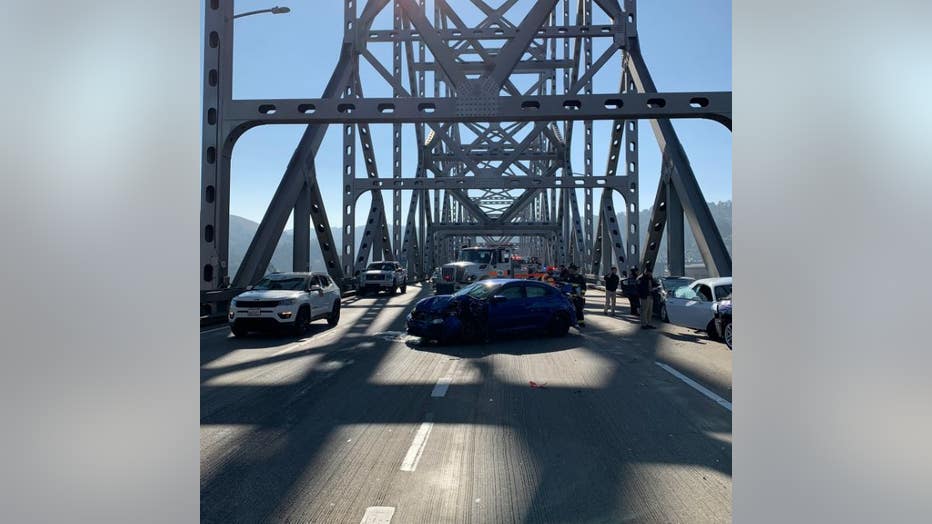 Multi-car crash on Carquinez Bridge. Nov. 24, 2022