Mystery deepens surrounding fatal Milpitas hit-and-run victim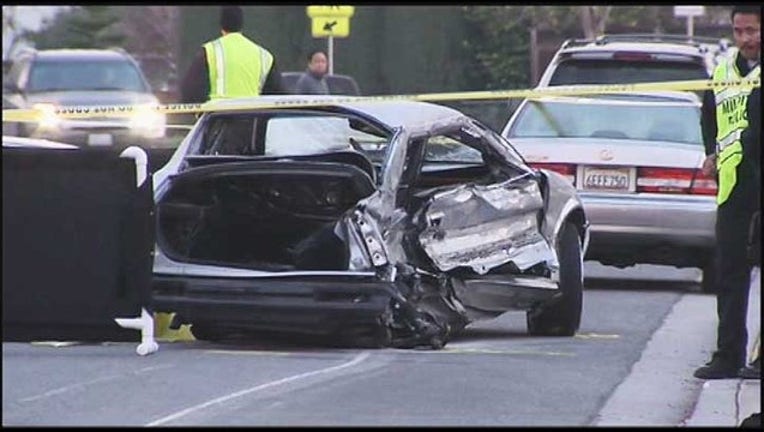 article
MILPITAS (BCN) -- A female who died following a mysterious hit-and-run accident in Milpitas has been identified as 14-year-old Cynthia Ramirez Becerra, according to the Santa Clara County medical examiner's office.
Becerra, a San Jose resident, died due to multiple blunt force injuries from a motor vehicle accident, a medical examiner's office employee said.
Milpitas police continue to follow leads on what happened during and after the crash including why the teenaged girl, who was too young to hold a driver's license, was the person found lying behind the silver two-door 1997 Cadillac.
"We're still looking everything, the timeline, was she a passenger, was she the driver," police Sgt. Bryan Hinkley said. "We don't have any of that information yet."
"It's still a mystery to us as well," Hinkley said.
According to police, at 3:36 a.m. Wednesday, the Cadillac was moving at the intersection of North Milpitas Boulevard and Jacklin Road when it crashed into a garbage truck.
The driver of the Cadillac drove away from the scene, but police officers followed a trail of debris for about a quarter of a mile and located the car stopped at a curb in the 800 block of Coyote Street, police said.
On the ground beside the Cadillac they found the girl lying down with visible severe injuries.
Personnel from the Milpitas Fire Department reached her side but pronounced the child dead at the scene.
Neither of the two people in the garbage truck was injured in the crash, both remained behind and cooperated with police and there was no evidence of drug or alcohol use by the truck's driver, Hinkley said.
"A lot of stuff doesn't add up," said Sgt. Hinkley. "We recognize that and are still trying to put the pieces together and figure out what happened, timelines, how many people were in the car and was she the only person in the car."
Police would not say who the car was registered to other than they're in the process of finding out. The girl's injuries were consistent with being in a major car crash.
Police are investigating how she ended up outside that car and exactly who was driving. KTVU has learned traffic cameras at that major intersection don't work and haven't been replaced due to budget woes.
Neighbors are just as puzzled. Ed Packer has lived in Milpitas for 30 years.
"I'm just curious how the story really unfolded and why there was such a severe consequence," said Packer.
Anyone who witnessed the collision or who has information on it is being asked to call Milpitas police (408) 586-2400. Anonymous tips can also be made by calling (408) 586-2500.