NASA craft circling Ceres in first visit to dwarf planet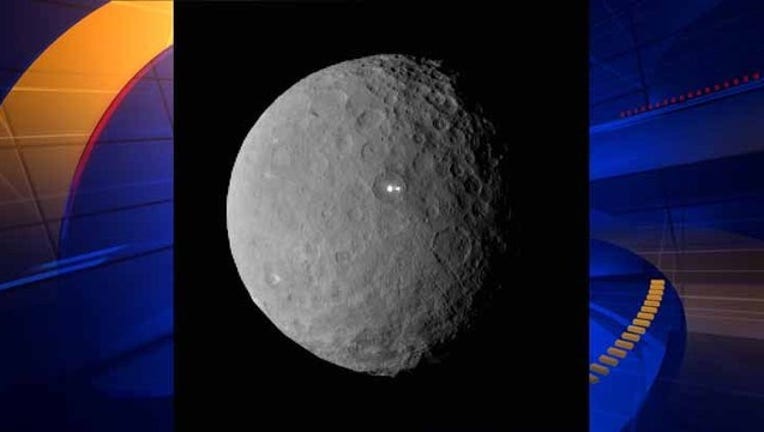 article
LOS ANGELES (AP) -- A NASA spacecraft for the first time has arrived at a dwarf planet to begin a 16-month exploration.
The space agency on Friday confirmed that the Dawn craft entered orbit around Ceres in the asteroid belt between Mars and Jupiter.
"It went exactly the way we expected. Dawn gently, elegantly slid into Ceres' gravitational embrace," said mission chief engineer Marc Rayman at NASA's Jet Propulsion Laboratory, which manages the $473 million mission.
Ceres is the last and final stop for Dawn, which launched in 2007 on a voyage to the main asteroid belt, a zone littered with rocky leftovers from the formation of the sun and planets some 4.5 billion years ago.
Dawn will spend the next 16 months photographing the icy surface. It previously spent a year at Vesta exploring the asteroid and sending back stunning close-ups of the lumpy surface before cruising onto the Texas-sized Ceres, the largest object in the asteroid belt.
The 3-billion mile trip was made possible by Dawn's ion propulsion engines, which provide gentle yet constant acceleration and are more efficient than conventional thrusters.
As Dawn approached Ceres, it had beamed back puzzling images revealing a pair of shiny patches inside a crater -- signs of possible ice or salt.
Scientists hope to get a better glimpse when the spacecraft spirals closer to the surface to study whether previously spotted plumes of water vapor continue to vent.
Dawn is currently in Ceres' shadows and won't take new pictures until it emerges in April, Rayman said.
"The real drama is exploring this alien, exotic world," he said.
Dwarf planets lately have become the focus of exploration.
This summer, another NASA spacecraft -- New Horizons -- is set to make the first visit to Pluto, which was demoted to dwarf planet.
Dawn almost never made it out to the inner solar system. The mission endured funding-related project cancellations and launch delays before it received the green light to fly.