NASA 'human computer' Katherine Johnson celebrates 100th birthday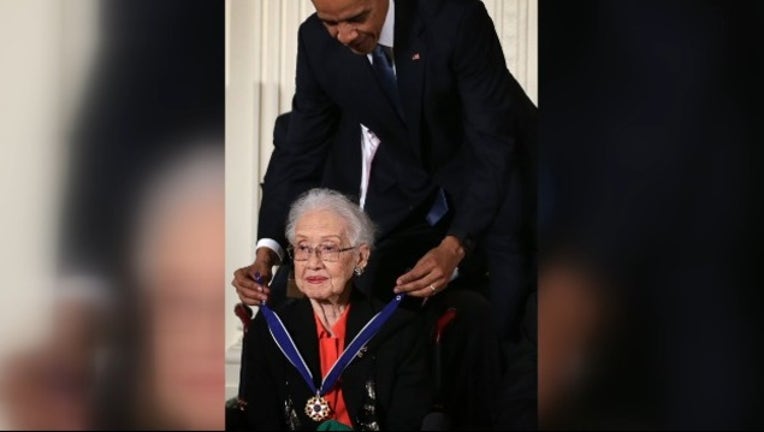 OAKLAND, Calif. (KTVU) - A role model to many, Katherine Johnson, the woman who hand-calculated the trajectory of America's first trip to space, was born one hundred years ago today. 
Johnson and three other women crunched numbers at the NASA Langley Research Center in Hampton, Virginia. They worked in the pre-computer age, calculating rocket trajectories and orbits for the earliest American space flights. 
As a graduate of West Virginia State College, Johnson completed a Bachelor of Science in mathematics and French with summa cum laude honors before getting her start as a "human computer" at NASA Langley. The college honored Johnson Saturday night with a bronze statue and scholarship dedication.
Johnson hand calculated the trajectory that sent Alan Shepard to space in the Freedom 7 mission of 1961, making Shepard the first American in space. Other notable feats include hand calculating the flight path of John Glenn's orbital mission. 
In 2015, Johnson received the Presidential Medal of Freedom Award by former president Barack Obama in 2015 for "exceptional technical leadership, calculating and verifying trajectories that took the first Americans to space and to the moon."
At the naming ceremony of the Katherine G. Johnson Computational Research Facility at the NASA Langley Research center, she was awarded the Space Flight Awareness Silver Snoopy, an award given to those who make "outstanding contributions to human spaceflight safety." 
Johnson is also recognized for her life's work, along with her African-American colleagues at NASA, in the 2016 Oscar nominated film "Hidden Figures." 
The Associated Press contributed to this report.