New details revealed about Dublin prison cook who fondled woman in pantry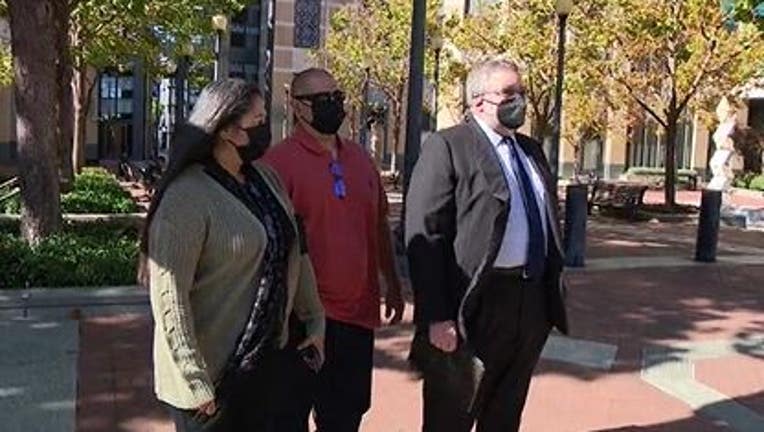 article
OAKLAND, Calif. - More details were revealed around the actions and childhood background of a former Dublin prison cook who admitted to fondling a woman in a food pantry ahead of his sentencing this week. 
In court documents filed in U.S. District Court, prosecutors said Enrique Chavez, a former kitchen worker at the Federal Correctional Institute in Dublin, told an incarcerated woman that he had "magic fingers" and that he was into her breasts and feet. 
Chavez would grab her breasts about three times a week when they were alone, prosecutors allege. And in 2020, Chavez took her into the pantry, kissed her and put his hands down her underwear, prosecutors allege. There is surveillance video of Chavez kissing the woman and then kicking her in the butt, court papers indicate. 
On Oct. 27, 2022, Chavez pleaded guilty to one count of abusive contact with a woman, though prosecutors alleged he victimized many more. Some of these details have not been made public before. 
U.S. Attorneys Mollie Priedeman and Andrew Paulson are asking the judge to sentence Chavez to 16 months in prison. His defense counsel is asking for six months, and they're denying some of the facts that prosecutors said he pleaded guilty to. 
Chavez's sentencing is scheduled for Thursday morning in Oakland. 
Chavez's lawyer, Steven Kalar, is hoping that the judge will feel compassion for his client, who was injured as a Marine veteran during Operation Desert Storm and who suffers PTSD as a result. 
Kalar told the judge that Chavez was abused as a child; his parents beat him with belts, whips and rose bush stems. 
Chavez's father was an alcoholic and knocked out his mother's teeth. His mother responded by throwing a knife at his dad's picture, according to his court statement. 
Chavez moved to Selma, Alabama, after his parents divorced and he felt abandoned.
He turned to the Marines as a replacement for his dysfunctional family, his lawyer told the court.
He excelled in the military, his lawyer said, but was shot at in Jordan, which resulted in a spinal cord and head injuries, which still cause him pain. 
Despite all this, Kalar said that Chavez is a "loving, kind and responsible" family man, someone who diffuses tense situations and who has a "genuine desire to do what is right, even if it's hard." 
Chavez is the third of five prison officers at FCI Dublin charged with sex crimes to plead guilty. 
Only one of those five, former prison chaplain James Theodore Highhouse, has been sentenced to prison. 
Highhouse also was an Army veteran who said he suffered PTSD.
The judge in that case didn't buy that as an excuse for leniency when he ordered him to spend seven years in prison, calling what he did "sustained predatory behavior against traumatized and defenseless women in prison."
In addition, in December 2022, a jury found former warden Ray J. Garcia guilty of eight counts of sexual abuse and lying to the FBI in December 2022. Garcia is supposed to be sentenced in March, but his lawyer his since moved for a mistrial. 
Lisa Fernandez is a reporter for KTVU. Email Lisa at lisa.fernandez@fox.com or call her at 510-874-0139. Or follow her on Twitter @ljfernandez