New Omicron subvariant becoming dominant COVID strain in U.S.
A new Omicron variant known as XBB.1.5 is reportedly spreading quickly nationwide as doctors say COVID-19 continues to evolve.
The XBB variant is reportedly different from the original coronavirus stain. This comes three years after COVID-19 prompted massive shutdowns, testing, vaccines, boosters and more.
READ MORE: US to require COVID-19 testing for travelers from China
XBB reportedly evades antibodies formed from previous infections and vaccinations. The Wall Street Journal says, "repeated vaccinations may make people more susceptible to XBB."
Unlike previous variants, Omicron has fueled additional variants. Even so, some in the medical community warn these newest studies about XBB should not deter people from getting the COVID-19 vaccines and boosters.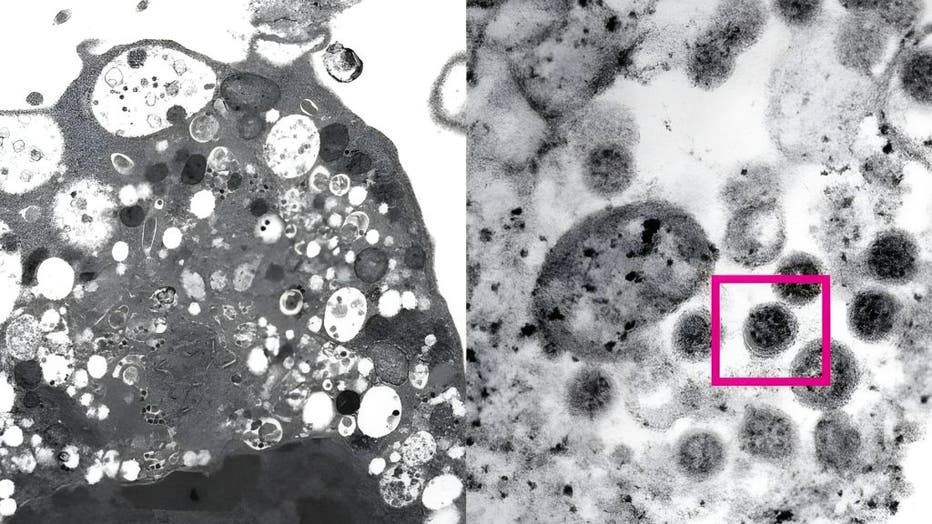 (Left) Low magnification electron micrograph of a monkey kidney cell (Vero E6) after infection with the SARS-CoV-2 Omicron variant showing cell damage with swollen vesicles containing small black viral particles. (Right) High magnification electron m
FOX 5 spoke with the senior medical advisor for PM Pediatrics, Dr. Christina Johns. She urges everyone to be vigilant with hand washing and more as many return back to school and work.
One published study says the emergence of multiple variants is unprecedented. Despite the study, hospitalizations and deaths due to COVID-19 are reportedly down.