No federal bailout for collapsed Silicon Valley Bank: Treasury Secretary Yellen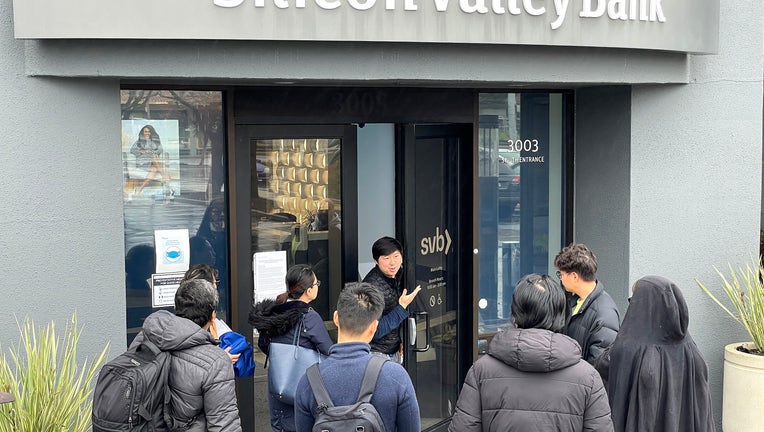 article
Treasury Secretary Janet Yellen said Sunday that the federal government would not bail out Silicon Valley Bank, but is working to help depositors who are concerned about their money.
The Federal Deposit Insurance Corporation insures deposits up to $250,000, but many of the companies and wealthy people who used the bank — known for its relationships with technology startups and venture capital — had more than that amount in their account. There are fears that some workers across the country won't receive their paychecks.
No plan had been announced on Sunday afternoon with hours to go until Asian markets opened. There were widespread hopes that Silicon Valley Bank would be acquired, but it was unclear if a buyer would emerge.
Federal officials set a deadline of 2 p.m. for potential buyers to submit bids in a government auction for the bank, according to a person familiar with the matter. The person requested anonymity to talk about private conversations. Bloomberg was first to report the auction.
Yellen, in her Sunday morning interview with CBS' "Face the Nation," provided few details on the government's next steps. But she emphasized that the situation was much different from the financial crisis almost 15 years ago, which led to bank bailouts to protect the industry.
"We're not going to do that again," she said. "But we are concerned about depositors, and we're focused on trying to meet their needs."
With Wall Street rattled, Yellen tried to reassure Americans that there will be no domino effect after the collapse of Silicon Valley Bank.
"The American banking system is really safe and well capitalized," she said. "It's resilient."
San Jose Mayor Matt Mahan, was critical of Secretary Yellen's response, and said they were insufficient half-measures that put employees at risk. 
"The Secretary's approach is weak, half-hearted and wrong," said San Jose Mayor Matt Mahan. "We don't have time to wait for a white knight to swoop in and acquire the bank. Half of Silicon Valley's startups are at risk of missing payroll in the days ahead if the FDIC doesn't guarantee and give immediate access to their deposits."
California Senator Dave Cortese, on Sunday called on the FDIC to grant depositors access to their money as soon as possible. 
"We are deeply concerned about all the depositors of SVB," said Cortese. "Immediate action by the FDIC is needed, not just for workers at the center of Silicon Valley's innovation hub, but for the entire banking system in the greater Bay Area, and all the workers and families that system touches. Let's not waste a minute."
Silicon Valley Bank, based in Santa Clara, California, is the nation's 16th-largest bank. It was the second-biggest bank failure in U.S. history after the collapse of Washington Mutual in 2008. The bank served mostly technology workers and venture capital-backed companies, including some of the industry's best-known brands.
Silicon Valley Bank began its slide into insolvency when its customers, largely technology companies that needed cash as they struggled to get financing, started withdrawing their deposits. The bank had to sell bonds at a loss to cover the withdrawals, leading to the largest failure of a U.S. financial institution since the height of the financial crisis.
Yellen described rising interest rates, which have been increased by the Federal Reserve to combat inflation, as the core problem for Silicon Valley Bank. Many of its assets, such as bonds or mortgage-backed securities, lost market value as rates climbed.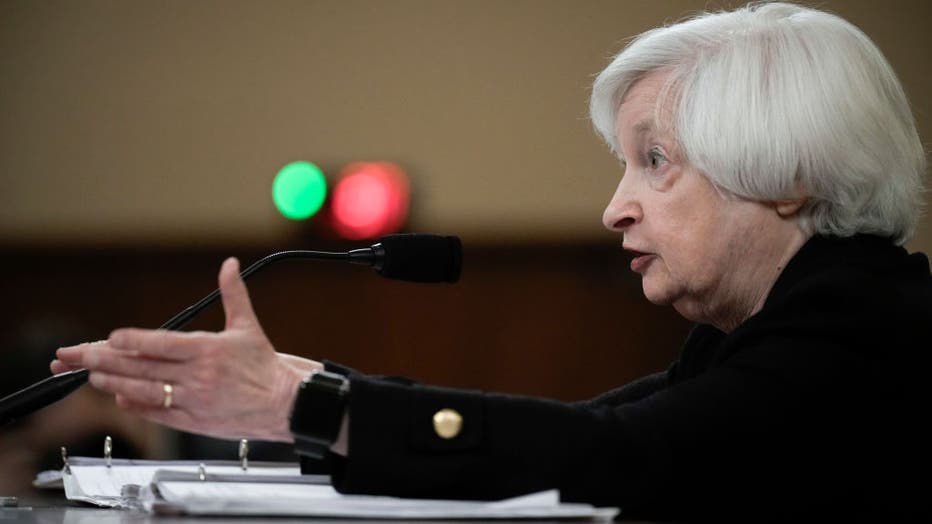 WASHINGTON, DC - MARCH 10: U.S. Treasury Secretary Janet Yellen testifies during a House Ways and Means Committee hearing on Capitol Hill March 10, 2023 in Washington, DC. The hearing focused on President Joe Biden's fiscal year 2024 budget plan. (Ph
"The problems with the tech sector aren't at the heart of the problems at this bank," she said.
Yellen said she expected regulators to consider "a wide range of available options," including the acquisition of Silicon Valley Bank by another institution. No buyer has been announced.
Sheila Bair, who was the FDIC chair during the 2008 financial crisis, recalled that with almost all the bank failures during that time, "we sold a failed bank to a healthy bank. And usually, the healthy acquirer would also cover the uninsured because they wanted the franchise value of those large depositors so optimally, that's the best outcome." But with Silicon Valley Bank, she told NBC's "Meet the Press," "this was a liquidity failure, it was a bank run, so they didn't have time to prepare to market the bank. So they're having to do that now, and playing catch-up."
Regulators seized the bank's assets on Friday. Deposits that are insured by the federal government are supposed to be available by Monday morning.
"I've been working all weekend with our banking regulators to design appropriate policies to address this situation," Yellen said. "I can't really provide further details at this time."
House Speaker Kevin McCarthy, R-Calif., told Fox News Channel's "Sunday Morning Futures" that he hoped the administration would announce the next steps as soon as Sunday.
"They do have the tools to handle the current situation, they do know the seriousness of this and they are working to try to come forward with some announcement before the markets open," he said.
McCarthy also expressed hope that Silicon Valley Bank would be purchased.
"I think that would be the best outcome to move forward and cool the markets and let people understand that we can move forward in the right manner," he said.
Democratic Rep. Ro Khanna, whose district includes the city where the bank has its headquarters, said it was imperative that the government guarantee all depositors and that they "have full access to their accounts Monday morning."
"Time is ticking," he told CBS.
Sen. Mark Warner, D-Va., said in an interview with ABC News' "This Week" that he was concerned that the bank's collapse could prompt nervous people to transfer money from other regional banks to larger institutions.
"We don't want further consolidation," he said.
Warner suggested there would be a "moral hazard" in reimbursing depositors in excess of the $250,000 limit and said an acquisition would be the best next step.
"I'm more optimistic this morning than I was yesterday afternoon at this time," he said. "But, again, we will see how this plays out during the rest of the day."
He added: "What we've got to focus on right now is how do we make sure there's not contagion."
President Joe Biden and Gov. Gavin Newsom, D-Calif., spoke about "efforts to address the situation" on Saturday, although the White House did not provide additional details on next steps.
Newsom said the goal was to "stabilize the situation as quickly as possible, to protect jobs, people's livelihoods, and the entire innovation ecosystem that has served as a tent pole for our economy."
___
Associated Press reporter Hope Yen in Washington contributed to this report.