Oakland A's power past Rangers 8-2 for 4th straight victory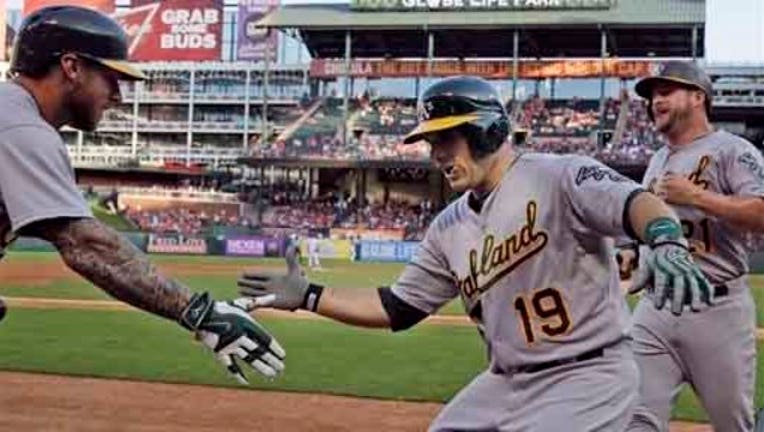 article
ARLINGTON, Texas (AP) — Kendall Graveman enjoyed watching and waiting to go to the mound, especially with the Oakland Athletics giving him a five-run lead before throwing his first pitch.
Brett Lawrie hit a grand slam, Josh Phegley homered for the second night in a row and the fast-starting A's beat Texas 8-2 on Wednesday night for their fourth straight victory.
Lawrie's third career slam, an estimated 422 feet into the Oakland bullpen in left-center, made it 5-0 in the first.
"It's just fun to watch those guys hit," Graveman said. "It helps (me) relax to be able to have confidence in throwing the fastball early in the count and try to get ahead of people."
Graveman (4-4) allowed two runs pitching into the eighth inning. It was his fourth consecutive game to pitch at least seven innings while allowing two runs or less, but had been 0-2 in the previous three.
The right-hander gave up eight runs in 3 1-3 innings against the Rangers in April and struggled in his first four starts before going back to Triple-A Nashville. He has been strong in seven starts the past month.
"It's the guy we saw in spring training, he just needed a little break after a few starts, and went down there and made use of his time," manager Bob Melvin said. "Didn't go down there and hang his head, was motivated to come back, pitched well there. Came back and hasn't missed a beat."
A's rookie center fielder Billy Burns led off each of the first two innings with doubles, and scored both times on hits by Stephen Vogt. Burns also singled in the third and has a 14-game hitting streak, with hits in 26 of his last 27 games.
Phegley's two-run homer in the second to make it 8-0.
Carlos Corporan had a two-run double for the Rangers, who have lost four in a row for the first time since April 27-May 1.
Texas had won its last six games started by Rodriguez, who had allowed three runs or less in each of those games. The lefty gave up 11 hits and eight runs while throwing 94 pitches in four innings against Oakland.
"All my pitches were in trouble. I feel good, but today I felt like my ball had no speed. I tried to throw hard, but something, I don't know," Rodriguez said. "I just had bad location on my pitches. I can't do anything with this one so I ask God to help me do well next outing and try to win, and win the game."
UPON FURTHER REVIEW
The Rangers challenged the play ending the fifth inning, when Rougned Odor was called out on a force play at second base. After a replay review of more than 2 1-2 minutes, the call stood. Had Odor been safe, Texas would have had the based loaded for Prince Fielder.
"I felt like we had an opportunity right up until the replay," Rangers manager Jeff Banister said.
Graveman and Melvin called it a huge play.
"One went our way," Melvin said. "Based on what we've seen on replay, (it) should have gone our way."
BRUISED UMPIRE
Second base umpire Dale Scott sustained a bruised left thigh and was out of the game for 2 1-2 innings after being struck by Lawrie's liner with two outs in the fourth inning.
"I was surprised he came back. That was a pretty good shot," Melvin said. "I'm guessing that one's going to leave a mark."
The crew chief walked gingerly off the field after briefly conferring with a Rangers trainer. Scott grimaced in pain, but never left his feet. The umpires worked as a three-man crew until Scott returned for the start of the seventh inning.
Scott won't work Thursday's game and will be replaced.
TRAINER'S ROOM
Athletics: Vogt returned to the lineup, at first base instead of catching for his first game since a cortisone injection in his left elbow Sunday. It was his 10th start at first, but Melvin expects Vogt to make his 48th start at catcher in the series finale Thursday.
Rangers: LHP Matt Harrison pitched six innings for Double-A Frisco, his fifth rehab start in his recovery from spinal fusion surgery last year. ... Slugger Josh Hamilton (strained left hamstring) played in that same game, going 1-for-3 with a double, a walk and a hard liner for an out. Hamilton will join Triple-A Round Rock on Thursday.
UP NEXT
Athletics: Sonny Gray (8-3), whose 1.95 ERA is best in the AL, has allowed only one run over 31 1-3 innings in his four previous starts at Texas. He threw two shutouts there last year.
Rangers: The Rangers try to avoid a series sweep and their first five-game losing streak this season. Scheduled starter Colby Lewis is 3-0 with a 2.79 ERA his last four starts.