Pro-Jewish billboards vandalized in Oakland
OAKLAND, Calif. - Two pro-Jewish billboards in Oakland were vandalized over the weekend, a group named JewBelong confirmed to KTVU. 
JewBelong aims to help Jewish people feel connected, informed and proud of their Jewish roots. The group has installed hundreds of pro-Jewish billboards across the United States in the past several years.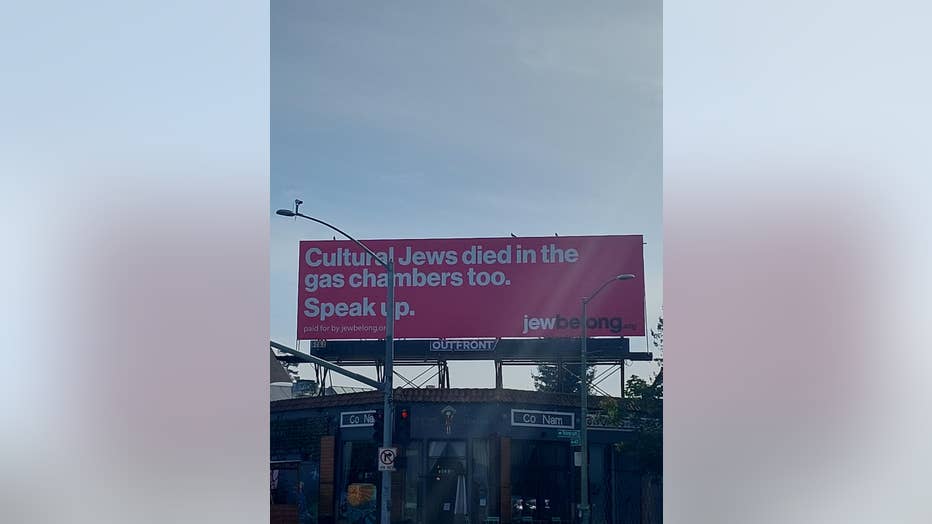 A billboard on Telegraph Ave. & 40th St in Oakland, Calif. The display was installed at the end of October.  (Photo courtesy of JewBelong)
JewBelong says that of the nearly 500 billboards it has run across the country, only seven have been vandalized. Of those seven vandalism incidents, five were here in the Bay Area. 
Three billboards have been vandalized since the attack in Israel on Oct. 7, JewBelong said in a statement. A billboard in Berkeley off University Avenue was vandalized in January, along with two others in the area, JewBelong tells KTVU. 
A photo shared with KTVU shows a billboard that reads, "Cultural Jews Died in the gas chambers too. Speak up." The word Jews is partially covered by graffiti that says "Palestine."  Images shared on X also show another JewBelong billboard covered with the words "Free Palestine."
ALSO: Jewish-led group holds protest at IDF gala in support of Palestinians
JewBelong tells KTVU these incidents appear to be a part of the growing anti-Semitism in our world. 
"This is a marked uptick in antisemitic activity that mirrors the uptick seen in the country and world at large," JewBelong said in a statement.