Oakland Raiders' offensive tackle Trent Brown hit with domestic violence lawsuit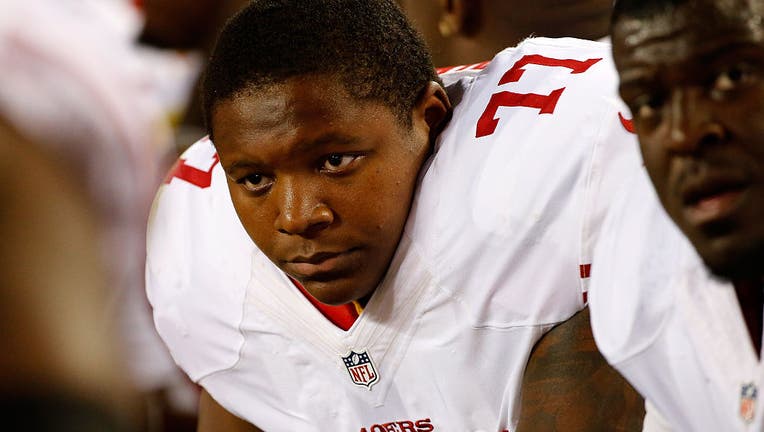 article
OAKLAND, Calif. - The girlfriend of Oakland Raiders player Trenton Brown is suing him, alleging that the offensive tackle made her live in fear because of his pattern of alleged domestic violence and breached his fiduciary duty to her after she suffered multiple bruises and broken ribs. 
The civil suit was filed in Alameda County Superior Court on Tuesday by attorney Waukeen McCoy in San Francisco on behalf of Diorra Marzette-Sanders. The suit alleges assault, battery, fraud and breach of non-marital partnership and fiduciary duty. 
"There needs to be more attorneys helping women who have been victimized by men in power," McCoy said in an email. "I am proud that my client is taking a stand and setting an example for all women who are in a similar situation."
He said that Marzette-Sanders would not be speaking publicly about the suit.
Efforts to locate Brown's attorney were not successful on Wednesday and none of the Raiders media team responded to an email seeking comment. As practice began Wednesday, Brown was not on the field but working with the training staff in the outdoor rehab pool with injured teammates Arden Key and Marquel Lee, according to the Mercury News. 
Brown has not been charged with any known crime in Alameda County and according to the McCoy law firm, a police report was filed against him in June in Bastrop County, Texas. The report stems from an instance where Brown and his girlfriend were fighting over paying the bills and he allegedly grabbed her arm during breakfast and slapped her in the face, which resulted in police coming to their home in Texas, the suit alleges. 
KTVU on Wednesday called the sheriff there and a clerk could not find Brown's name in the system. A phone call to the District Attorney there was not immediately returned. 
As Marzette-Sanders, a native of Oakland, told the story, she and Brown met on Instagram in 2016, when he was playing for the San Francisco 49ers. They met in person for the first time in March 2017, the suit states.
They fell in love, and they made an agreement to start a family.
Marzette-Sanders agreed to "give up the life" she had in Oakland to "take care of their future children, maintain the household" and support Brown, both emotionally and physically, according to the suit. Brown vowed to financially support her and their future family "for the rest of their lives," the suit states. 
They bought cars together, paid bills together and took vacations together. They also shared a home.
When Brown went to play for the New England Patriots, he continued to support his girlfriend and his two young children, the suit states. The couple agreed at this time to move to Texas, where Brown's mother would help raise the children.
Three months later, Brown signed a four-year $66 million contract to play for the Oakland Raiders. According to ESPN, the deal made Brown the highest-paid offensive lineman in NFL history. 
But before they returned to the Bay Area, the pair had a huge argument, the suit alleges. It was so "hostile," that Marzette-Sanders' mother had to call the police. After the fight, Brown refused to keep supporting the mother of his children, kicking her out – in breach of the partnership agreement they had made, the suit states.
But this wasn't the first offense.
Brown has a pattern of practicing domestic violence against Marzette-Sanders, the suit alleges, where last year, for example, he allegedly slapped her across the face outside a restaurant at 4 a.m., leaving her with a bloody mouth and a bruised face. 
On another occasion, Brown told her that he would "shoot yo ass in the f---ing head before you walk out the door with my son," the suit states. And yet on another occasion, Brown choked out Marzette-Sanders until she couldn't breathe, leaving a ring of bruises around her neck and in Hawaii in April, Brown slapped her and punched her in the ribs, the suit alleges. 
Brown took to Twitter to defend himself against the allegations calling them "false" and saying, "I beilive in the court system where I will clear my name."
The NFL did not respond to questions regarding Brown's case. But there is now a  six-game suspension for players found to have committed abusive acts against a spouse or partner.
Since 2014, the NFL has provided financial support to the National Domestic Violence Hotline, which is to help people affected by relationship abuse.