Oakland's $30 million housing grants show mixed results: 2 facilities thrive, 1 struggles
OAKLAND, Calif. - Matthew Harris knows firsthand what life on the streets is like. 
He knows about the cold, wet nights, about the never-ending search for a place to stay and all too much about heroin. 
Harris became addicted to heroin when he was 20 years old, after years being prescribed pain and anxiety medications. He was prescribed Xanax for his anxiety and Percocet and Vicodin for pain management due to an advanced case of acne that left abscesses on his body.
His addiction is also what brought him from San Diego to the Bay Area nearly 10 years ago when he hopped into a stranger's truck and road tripped here.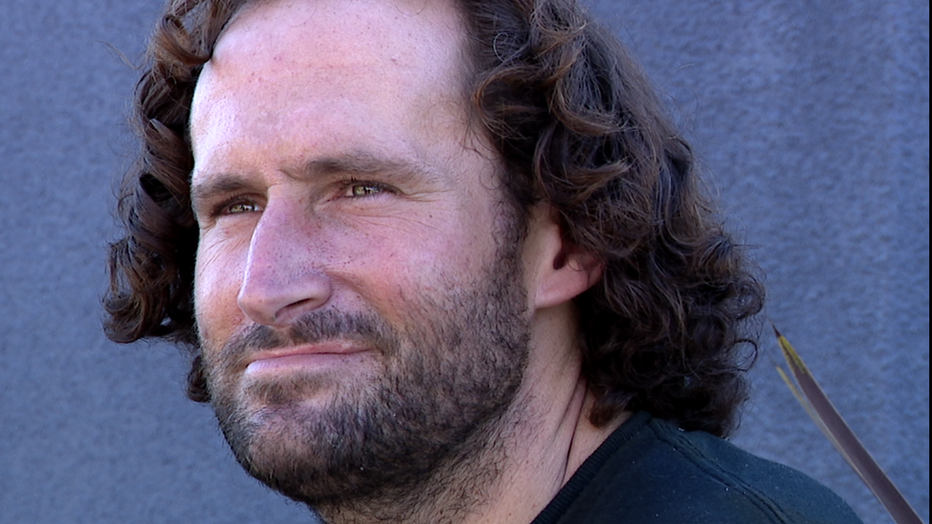 Matthew Harris, 33, sits outside the Piedmont Place Hotel on July 19, 2023. Harris said finding housing at the facility has changed his life.
For the past few years Harris has called the streets of Berkeley home; there and his nearly 20 visits to Santa Rita jail for petty theft, burglary and other crimes. He mostly stole bikes and scooters to fuel his addiction, and said he and most Berkeley homeless encampments are preyed on by drug dealers who swarm the camps at the first of the month when benefit checks are deposited. 
But four months ago Harris decided to chart his life in a new direction. He had heard about a place in Oakland called the Piedmont Place Hotel – a place where he could have his own room, and one where he could access services for the formerly homeless. 
It's changed his life.
"I might be in jail, or prison maybe. If I wasn't locked up, I would probably be in Berkeley dodging the cops, you know, all that stuff," Harris, 33, told KTVU just outside the Piedmont Place Hotel, a new housing facility for the formerly homeless that opened on MacArthur Blvd. in November of last year. 
In 2022, Oakland received over $30 million in grants from a state program called Homekey, a $2 billion initiative that hopes to combat homelessness by providing money to local entities and developers. 
The $30 million that Oakland received in 2022 went to three projects; and two of the three are thriving while the third is still empty nearly a year after former Mayor Libby Schaaf said it would open.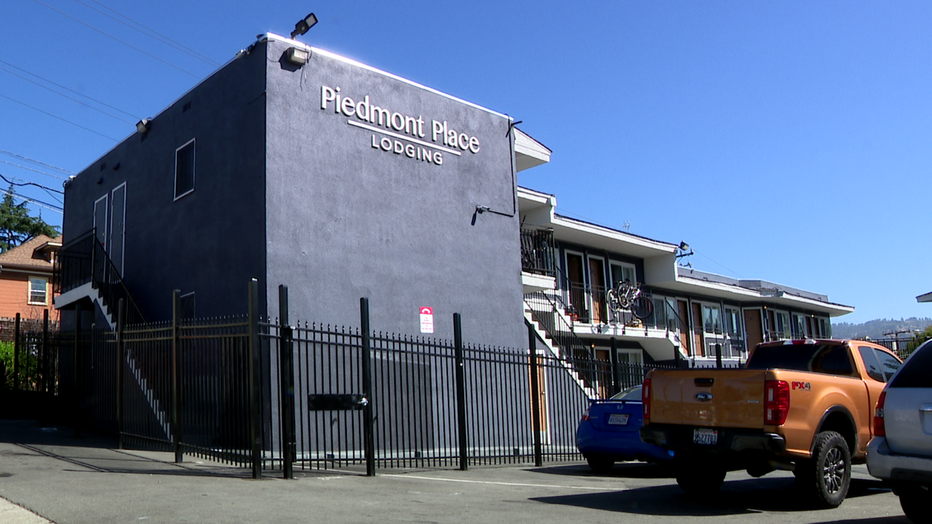 The Piedmont Place Hotel on Macarthur Blvd. is a permanent supportive housing facility for the formerly homeless that received $14.8 million in state funds. 
The Piedmont Place Hotel received $14.8 million to rehab its 45-unit facility. 
The Kingdom Builders Transitional Housing program received $5.6 million to upgrade its facility on International Blvd. that currently houses between 75 and 100 formerly incarcerated men. 
The third facility, the Inn by the Coliseum on Coliseum Way, received $11 million to convert motel rooms into long term stays for unhoused and low-income residents who can pay a small subsidized rent. 
However, unlike the first two, the Inn by the Coliseum is currently unoccupied. Former Mayor Libby Schaaf announced in a May 2022 press release that the project expected to "welcome residents by late Fall 2022." 
But when KTVU visited the site in mid-July, there were no residents and construction had not yet begun. There wasn't even any construction material or machinery onsite either. The only person onsite was a security guard hired to watch over the property. 
The slowdown for the Inn by the Coliseum project can be blamed on unpaid permitting fees by the developer, according to a spokesperson for the City of Oakland. 
"It appears that the planning permit was approved but that there are outstanding fees associated with the two building permits that must paid before they can be worked on," a City of Oakland spokesperson said in an email. "Several items are on hold until the fees are paid. The applicant has been notified of the outstanding fees."
Danco Communities is the developer for the project and said they are working on finalizing the permits. 
"We are currently in the process of getting the project permitted. We have submitted one set of plans and are meeting with the City on their comments in the next week," McKenzie Dibble, development project manager for Danco Communities, told KTVU in a statement on July 19.
Danco hopes to begin construction within the next two months and the process is expected to last six months to rehabilitate and convert 36 motel rooms into units for long term stays, the company said.
The attention to the three Homekey projects in Oakland comes at a time when homelessness has increased 131% between 2015 and 2022
It also comes after current Oakland Mayor Sheng Thao ordered the recent closure of the Wood Street encampment and amid Thao's promise to close all of Oakland's encampments "hopefully by next year," she said at a public event hosted by the Bay Area Council in late June. 
Thao, however, seemingly walked back that promise, telling the Chronicle that in order to end homelessness in Oakland an inter-governmental approach with surrounding cities is needed. She's proposed charging other cities a homeless fee if their residents move to Oakland. 
The Bay Area as a whole has received over $600 million from the state government in 29 contracts that are being used to create 2,106 units, the most recent state data shows. 
Alameda County alone has received six awards totaling $98 million that have created 332 units. 
But if homelessness is going to be adequately addressed, permitting, for at least one project, needs to speed up. 
And as the Inn by the Coliseum project languishes, the other projects are thriving. 
Just a few miles north, Harris is just one of dozens of residents at the converted Piedmont Place Hotel, which was bustling with residents when KTVU stopped by. 
"I feel very blessed to have this opportunity to live here in this room," Harris said. "They help here with getting general assistance, food stamps, disabilities. They have case managers here with all sorts of stuff. They're very helpful."
The Piedmont Place Hotel is considered "permanent supportive housing," meaning residents are on their own lease, like a traditional apartment complex, but have the added benefit of onsite coordinators who can help with the transition.
These types of permanent supportive housing projects have proven to be quick, successful ways to help address homelessness, according to experts like Jonathan Russell, chief strategy and impact officer with Bay Area Community Services (BACS).
"It's a very special model," he said. "It's a way to address part of our housing gap quickly by saying, 'Let's use this funding to acquire hotels and create more housing for folks experiencing homelessness while we're doing bigger, longer new development projects.'"
Russell said studies suggest that permanent supportive housing projects across the Bay Area are successful and can see about 90% of their residents remain adequately housed for more than a year and often for the rest of their lives.
"A 90-plus percent success rate in any field is amazing," Russell said. "And that's what housing provides for people. So I think we can safely project the same sort of success rate that other programs that have existed for longer… have had."
The Piedmont Place Hotel was in rather good condition when BACS acquired the facility last year, Russell said. Most of the $14.8 million BACS received in Homekey funds went to acquiring the property and to touch up some of the living conditions for the residents. The more extensive work that needs to be done includes converting the parking lot into a community space. 
A few miles east of the Piedmont Place Hotel, sits Oakland's second successful Homekey project: The Kingdom Builders Transitional Housing program. Founded in 2009, Kingdom Builders has dedicated its housing services to help formerly incarcerated men. 
It currently has one facility on International Blvd. that used to be a hotel used for "illicit uses" before Kingdom Builders took it over in 2017, Pastor LJ Jennings told KTVU. 
The facility now houses between 75 and 100 men who are on parole or probation.
"We make sure that they get their medical in place, we make sure that they have their ID, make sure they have a social security card, which are the things that they need to get gainful employment," Jennings said, adding that Kingdom Builders provides services even to their former residents who need them. 
Kingdom Builders used the $5.6 million it received to upgrade its rooms with new flooring, bedding, windows and paint. Essentially an update to the quality of life for the residents and to maintain the longevity of the building, Jennings said. 
The money also allows Kingdom Builders to maintain its current success rate. 
Jennings estimated around 77% of the residents eventually find their own housing, 89% are employed and around 65% usually get off of probation or parole within 12 months after leaving their program. 
Although Kingdom Builders is a faith-based organization, Jennings said residents are not required to follow their gospel or convert.
"We just demonstrate it and live it," he said. "We believe that by living the example, rather than talking about the example, is why we're so successful at really working with these guys to help them change trajectory."
Kingdom Builders, the Piedmont Place Hotel and the Inn by the Coliseum all received funding during the second round of Homekey allocations. The state program is currently accepting applications for a third round, and if Oakland wants to quickly address its rising homeless population, it seems projects like these are a key part of the solution. 
And for people like Matthew Harris, it's a life changer. 
"I just wish I could have done it a little sooner maybe," Harris said. "I could have had more time, I guess, to make something better."
Freddy Brewster is a reporter for KTVU. 
Email Freddy at freddy.brewster@fox.com or follow him on Twitter @freddy_brewster