Obama gives monument status to 100-mile range near Lake Berryessa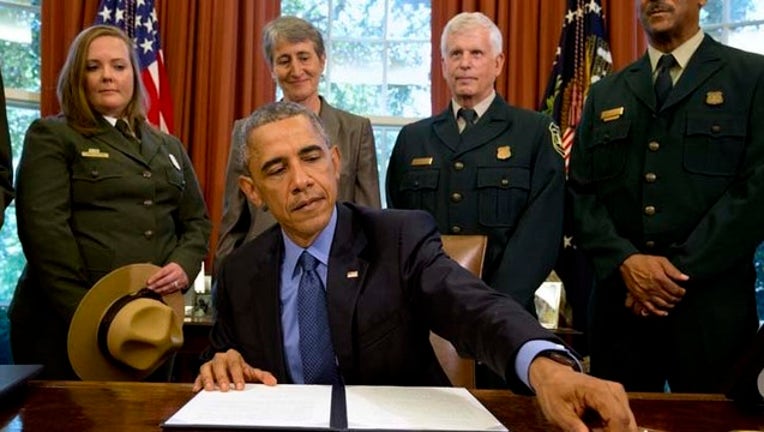 article
BERRYESSA SNOW MOUNTAIN NATIONAL MONUMENT, Calif. (AP) -- As a stretch of gold and green coastal range spanning more than 100 miles became California's newest national monument on Friday, geologist Bob Schneider couldn't stop himself from jigging for joy.
 
   "I'm doing little Snoopy dances," Schneider said just before the ceremony in Washington where President Barack Obama established the Berryessa Snow Mountain National Monument -- 331,000 acres that cover inner-coast mountains, wetlands and waterways and are home to bears, otters, eagles and a host of other wildlife.
 
   With the preservation from development that the designation as a monument brings, "I'm happy that my grandchild will be able to come here and visit this place" in decades to come, said Schneider, who has climbed the region's peaks for half a century. 
 
   Obama created the new California national monument Friday along with one in Texas and another in Nevada, altogether protecting more than 1 million acres. With Friday's signing, Obama now has made 19 national monuments, using his executive powers after opposition from some Republican lawmakers slowed congressional designations of new conservation areas.
 
   Schneider and other members of a Northern California preservation group called Tuleyome successfully campaigned for monument status -- with broad support from federal lawmakers and local officials -- in part by assuring hunters and others they would not push to limit recreational use of the area.
 
   There's boating, kayaking, hiking, bird-watching, U.S. Rep. John Garamendi, a Democrat from Fairfield, said by telephone from Washington. "Just about every kind of recreation."
 
   On Friday, gray fog hugged the range's ridges of summer-yellow grass and oak trees swathed in dried moss. 
 
   Climbing from reedy marshes to mountain peaks more than 6,000 feet above, the monument will give bears, badgers, otters, mountain lions, bald and golden eagles, and other wildlife room to move as climate change alters habitat, supporters said.
 
   The monument designation excludes the landmark for which the area is best-known locally -- Lake Berryessa, a reservoir created in the 1950s by damming Putah Creek. Photographers Dorothea Lange and Pirkle Jones chronicled the damming in a book called "Death of a Valley."
 
   For some Californians who most associate the area with the manmade lake, ringed by signs advertising bingo, jet-ski rentals, and "mobile villas," the monument designation Friday was puzzling.
 
   "Yes, we're in the country, we have animals, but to make us a monument?" asked Marcia Ritz, behind a counter at a general store on the edge of the reservoir. "What have we done to deserve that?"
 
   Schneider, by phone, spoke of standing on the ridge where the North American and Pacific tectonic plates meet, and of 12,000-year-old Indian sites that the public could now more easily learn about.
 
   "When you designate something like this, you create a sense of place," he said. "This isn't about Yosemite. It doesn't have that grandeur like Half Dome and El Capitan. But it does have incredible places. And there are stories here."
 
   In Putah Creek on the new monument's far edge, first-time visitor Rick Grant, 62, reeled in fish after fish Friday, releasing them each time.
 
   "I got the two largest trout I ever got in my life," Grant said, and pointed at another one lurking in water a few feet away. "They're beautiful."
 
   Friday's monument designation was news to Grant. He was good with it, on condition, he said.
 
   "I like some areas being left the way they are," unbuilt, he said. "As long as people can visit them."