On tax week, Obama scoffs at GOP plan to repeal estate tax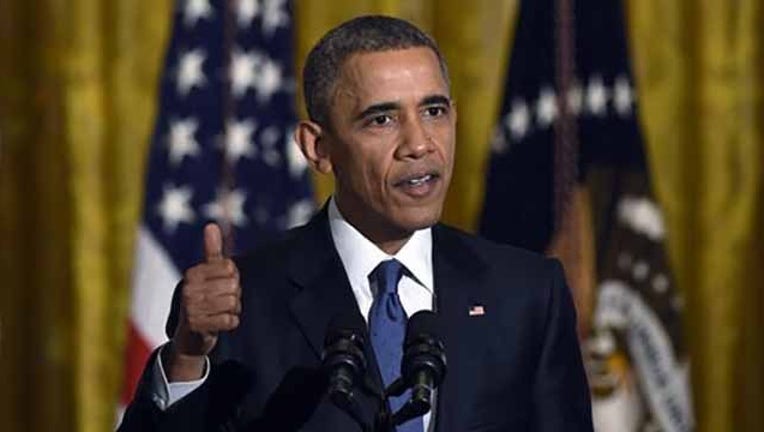 article
WASHINGTON (AP) - As Americans race to meet this week's tax deadline, President Barack Obama has accused Republicans of trying to boost the richest Americans at the expense of poorer taxpayers.
Obama plans events all this week aimed at rallying support for his own tax proposals while detracting from Republicans' plan to repeal an inheritance tax on large estates. Wednesday is the deadline for Americans to file income tax returns for those who don't receive an extension.
The president kicked off the effort Monday with a series of interviews with local television stations in Pennsylvania, Wisconsin, South Dakota, Ohio and Maine. Obama told WGAL in Lancaster, Pennsylvania, that his own proposed middle-class tax cuts would reach 44 million Americans, while the GOP is proposing a $270 billion tax cut that would help only 5,000 families across the nation.
"A budget that I sign has to help the folks who need help," Obama told WBNS in Columbus, Ohio. "It can't be that we're going to provide additional tax breaks to folks who make more than $5 million a year at the expense of folks who are really struggling."
The estate tax repeal is among a series of tax-related measures that the GOP-controlled House plans to vote on this week. Obama said the Republican proposals would add hundreds of billions to the deficit, but Republicans said it was Obama, not the GOP, who was failing to keep deficits under control.
"Under President Obama's budget plan - that never, ever balances - many middle-class families will actually pay more in taxes," said Cory Fritz, a spokesman for House Speaker John Boehner, R-Ohio. "Republicans are the only ones offering a balanced budget that paves the way to new jobs and a fairer, simpler tax code for all Americans."
Obama planned to continue the push Tuesday with an event promoting equal pay. On Wednesday he planned to travel to Charlotte, North Carolina, to meet with women about budget policies to support families. And on Thursday he was to hold a White House event on family-friendly workplace policies.
The weeklong drive comes as Hillary Rodham Clinton, in the first days of her 2016 presidential campaign, is focusing on policies that she says would benefit the middle class. White House spokesman Josh Earnest said Obama's efforts weren't designed to bolster Clinton's message.
In the aftermath of last year's midterm elections, Obama and Republicans both spoke of tax reform as one of the likeliest areas for both parties to work together and find consensus. Yet those efforts have petered out and there has been no serious push by the White House to pursue tax reform with the GOP.
"There's no reason there shouldn't be room for common ground here," said Jason Furman, chairman of the White House's Council of Economic Advisers. "But in order for there to be common ground, we need the priority to be about the middle class, not a fraction of the top 1 percent."