Orrange leads No. 18 Stanford women past California 59-47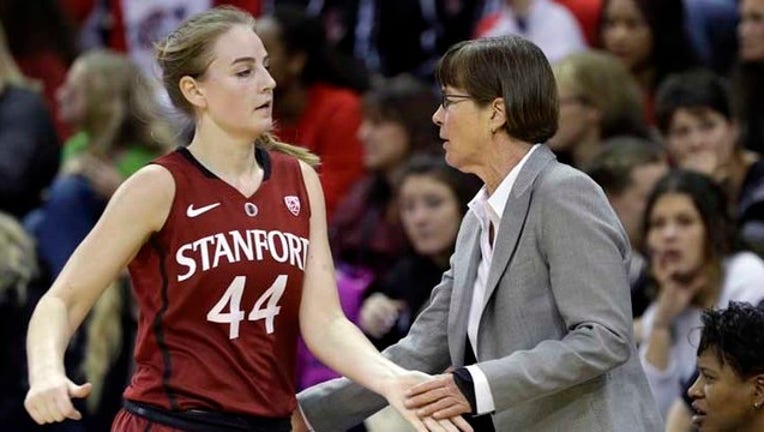 article
BERKELEY, Calif. (AP) — Amber Orrange keyed a decisive second-half run and finished with 19 points, and No. 18 Stanford used a dominant second half to hold off California 59-47 on Wednesday night in the first of two meetings between the rivals in a five-day span.
Lili Thompson added 18 points and seven rebounds for the Cardinal (20-7, 12-3 Pac-12), who have won three straight since being swept at the Arizona schools earlier this month. Freshman Brittany McPhee gave Stanford nine points and six rebounds off the bench.
Mercedes Jefflo led Cal (19-7, 11-4) with 14 points, but the Golden Bears went the final 12:55 without a field goal. They shot 11.1 percent over the final 20 minutes.
Both teams are in a key stretch to end the season, with their only meetings against the Oregon schools to close out the conference slate next week — including dates with No. 7 Oregon State in Corvallis.
Orrange scored six straight points during a decisive 13-0 run midway through the second half that put the Cardinal ahead 52-44 with 6:58 to play. Cal was 0 for 13 during that stretch in the first edition of the Battle of the Bay.
After Brittany Boyd's basket with 12:55 remaining, Cal went cold.
The teams also played twice in a short span two years ago, with Stanford winning by nine points on Cal's home floor in Haas Pavilion before the seventh-ranked Bears snapped No. 5 Stanford's 81-game conference winning streak with a 67-55 win at Maples Pavilion.
Coach Lindsay Gottlieb gathered her team together for a film session with popcorn between games, then her Cal team went on to reach the program's first and only Final Four.
Jefflo scored seven points as Cal used a 19-2 run — including 15 unanswered points — to turn a 15-11 deficit into a 30-17 lead late in the first half on the way to a 32-23 lead at the break. The Bears adjusted defensively to deny the Cardinal open looks from the perimeter while also clogging the middle, forcing five turnovers in a nearly five-minute span that included a shot clock violation.
Cal scored the game's opening basket then missed six straight field-goal tries before their next hoop 6 ½ minutes later. That included starting 0 for 5 on 3s.
Bonnie Samuelson missed two long 3s in the opening four-plus minutes, one from eight feet beyond the 3-point arc on the left wing. Stanford began just 1 for 8 from long range — a key part of its game.
Samuelson, who was coming off career-high eight 3-pointers in a win against UCLA last Sunday, had six points.
Coach Anne Donovan of the Connecticut Sun and Washington Mystics coach Mike Thibault were among the WNBA representatives in attendance. Boyd is attracting plenty of attention as a projected top-five pick.