Part of Joe Rodota Trail closed temporarily to relocate homeless encampments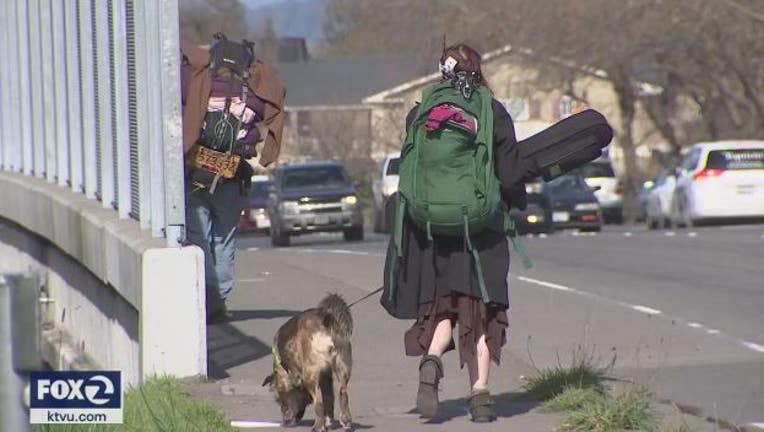 article
SANTA ROSA, Calif. - Part of the Joe Rodota Trail was temporarily closed on Friday to remove homeless encampments and to remove safety hazards, Sonoma County officials say. 
The trail, which stretches 8.5 miles, runs alongside Highway 12 between Santa Rosa and Sebastopol. It has a popular bicycle and pedestrian path. Workers with Sonoma County Regional Parks put up fencing to close the trail between Hampton Way and Dutton Avenue.
The county said shelter was offered to those who are living in the encampment. 
"The trail was closed due to concerns about the encampments' impact on the safety of people using the pathway as well as the health and environmental hazards created by the encampments. By law, county officials must offer alternative shelter to individuals camping on public property before an encampment can be cleared, if the individuals do not have the means to sleep elsewhere," said Sonoma County communications manager Paul Gullixson. 
The county is aiming to get the trail reopened by Jan. 27. 
As many as 30 people were camped along the trail. Officials said Sonoma County Department of Health Services' Homelessness Services Division are working to identify shelter for the homeless. A separate team, with resources for the homeless, will begin moving the unhoused to shelter locations next week. It is unclear where the shelters will be located. Officials said if they opt for alternative shelter, they would receive assistance from county staff to relocate their belongings. 
Residents of the encampment who choose not to relocate, began receiving notices on Friday to vacate by 10 a.m. Tuesday, Jan. 24. 
"Once all encampment residents have been relocated, Sonoma County Regional Parks will begin cleaning up the surrounding area," Sonoma County officials said. 
The same trail was closed to clear homeless encampments over the summer. 
Parts of the Bay Area, including the North Bay, are under a freeze warning beginning at midnight through Saturday morning at 9 a.m. 
An earlier version of this article incorrectly reported the freeze warning was in effect through Saturday night. A correction has been made.