Photos: June snow brings overflowing waterfalls, brimming reservoirs in California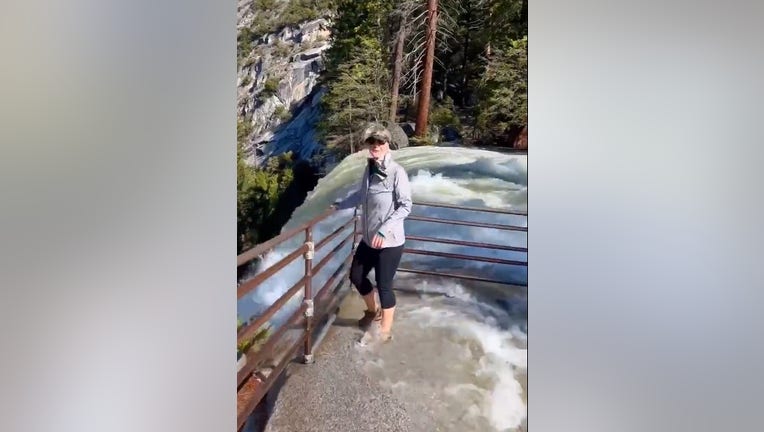 article
OAKLAND, Calif. - Heavy rains from the early months of 2023 and meltwater from an above-average mountain snowpack has caused a notable turnaround in California waterways.
And there's more to come, as late season snow dumped in the eastern Sierra this week.
Photos shared on Twitter showed Caltrans plowing walls of snow accumulation near Tioga Pass eastern entrance Wednesday. 
That might be a common scene during the winter.
But in June? 
The pass normally opens by Memorial Day, but this year officials say it won't open until July.
Remaining snow in the High Sierra is over 300 percent of average for this time of year, according to the California Department of Water Resources. And it's all coming down to various parts of the state.
KTVU's Mark Tamayo shared a video of Vernal Falls in Yosemite where a force of water gushed around walkways. A woman looking over a rail at the waterfall appeared shocked by the water rushing around her feet.
A photo from Cook's Meadow Loop showed the popular wood pathway completely covered by water, turning the vast field into a lake. 
Further north, satellite images shared by NASA show dramatic changes in Shasta Lake, California's largest reservoir, between 2022 and 2023. 
The series of images shows the progression of the lake's rebound. A thin bathtub ring was still visible on January. And in May, water has filled into areas that were completely exposed last year, as lush green terrain frames the lake.
The color changes in the water are also notable. 
NASA authorities wrote that the color of the water in the center image likely appears greener because of suspended sediment, and in the right image, some portions of the lake surface appear lighter due to an optical phenomenon known as sunglint.
Shasta has reached levels in 2023 not seen in four years, according to authorities.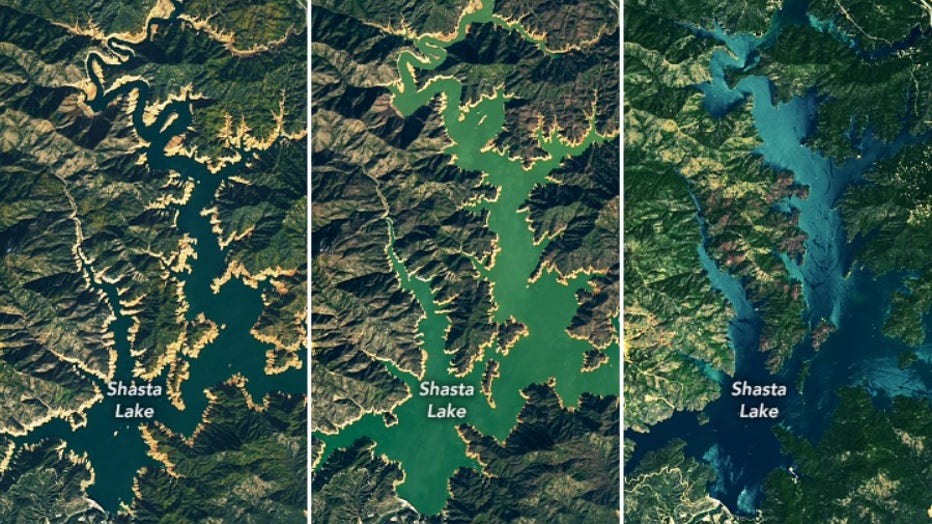 November 18, 2022 - May 30, 2023 Photo credit: NASA
The state's Department of Water Resources also revealed Tuesday that Tulare Lake, the body of freshwater that unexpectedly re-emerged in the San Joaquin Valley, has reached its peak. 
Last week in the South Yuba River a bear was caught trying to swim across the white water. After the force of the water forced it down stream, the bear eventually made it to the other side as onlookers cheered. 
The state's rivers are running frigid and strong amid the big spring melt. Officials have warned of dangerous conditions over the past few weeks that could last well into the summer.
Sara Sedillo is a digital reporter for KTVU. Email Sara at sara.sedillo@fox.com.