Police chief: woman pointed revolver at Emeryville officers before she was shot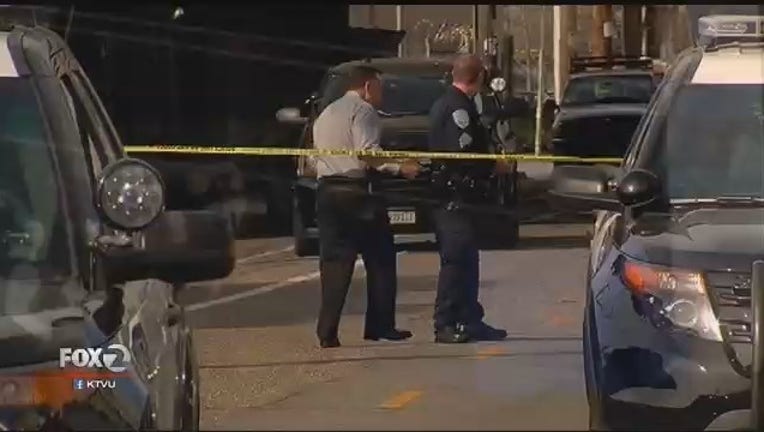 article
OAKLAND, Calif. (KTVU and wires) -- A woman shot and killed by Emeryville police in Oakland on Tuesday afternoon allegedly pulled a gun on Home Depot security guards before fleeing and trying to carjack three different drivers, the Emeryville police chief said Wednesday.
The revolver she was carrying was loaded and she raised it toward the two Emeryville police officers but did not fire a shot, Emeryville police Chief Ken James said. The two police officers fired a total of seven rounds, killing her and blowing out the windows of a bystander's car.
Loss prevention officers at the Home Depot at 3838 Hollis St. first contacted Emeryville police at 12:35 p.m. to report a woman who had been stealing knives and other items. She put the items under her purse in a shopping cart and wheeled it out without stopping to pay, James said.
When the Home Depot officers confronted her outside and asked her to come back to the store, she became combative. At one point she fell to the ground and hit her head, and when the Home Depot security officers picked her back up off the pavement, she broke away from them and pulled something wrapped in a towel from her purse, James said.
She removed the towel and the guards noticed it was a revolver and backed away. The woman ran down Hollis and the loss prevention officers called police back to report the woman was armed, James said.
While running down Hollis, she attempted to carjack at least three different drivers, James said.
One of those drivers was 65-year-old Oakland resident Russ Whitehead's partner, Whitehead said today. He and his partner had driven separate cars to the Extra Space Storage facility at 3406 Hollis St., just over Oakland's border with Emeryville to drop off some boxes.
As he pulled in ahead of his partner, he heard a woman screaming frantically behind him, Whitehead said.
Whitehead couldn't see her well as she was coming behind him, and couldn't make out what she was yelling. He said the woman pointed a revolver at his partner's face, prompting him to throw the car in reverse and drive away from the woman.
Whitehead was blocked from driving in reverse and remained in the driver's seat. He then heard police arrive and yell commands at the woman, he said.
When the two officers arrived, the woman turned her gun at them, James said. They fired a total of seven shots between the two of them. One officer, a woman, fired only once while the other, a man, fired six times.
The officers moved in to provide first aid and an ambulance was quickly behind them. They had already called for medical assistance after hearing the woman had fallen and hit her head during the confrontation with Home Depot security.
She was pronounced dead at the scene. James declined to release her name, saying that police have not yet contacted her family, but said she was in her late 30s. She had a criminal history including prior arrests for theft and fraud, but no history of violence, James said.
The gunfire blew out the windows of Whitehead's Ford Focus as he ducked for cover. He was not struck by the gunfire and suffered only minor scrapes from the shattered glass.
Once the shooting was over, Whitehead said the woman's body lay next to the driver's side door of his car. He had to step over it as police escorted him away from the car.
James said that the female officer moved her vantage to avoid striking Whitehead's car, but the officers were not aware Whitehead was in the vehicle.
Both officers have been placed on leave during the investigation. The male officer was wearing a body camera at the time of the shooting as part of a field-testing program, but forgot to turn it on until after the shooting, James said.
Both officers have about seven years of experience with the department, according to James. Their names have not been released.
Just as the recent deaths of Michael Brown by a Ferguson, Missouri, police officer and Eric Garner by a New York police officer have drawn protests, about 100 protesters gathered at the scene of the police shooting Tuesday night, according to police.
Whitehead said that when he returned to pick up his car from the storage facility, he was confronted by the protesters, some of whom yelled threats and profanity at him and would not allow him to move his car.
The protesters later marched into Emeryville, where they smashed the windows of the Home Depot, according to police.
The shooting is being investigated by the Oakland police homicide section, the Alameda County District Attorney's Office and Emeryville police.
James said this is the third fatal shooting by an Emeryville police officer since he joined the department in 1975. While Oakland police have not had a shooting involving an Oakland police officer in about 20 months, the woman's death is the third suspect shot in Oakland by an officer with an outside agency since August.
On Aug. 3, 23-year-old Jacorey Calhoun was shot and killed by an Alameda County sheriff's deputy after a pursuit that ended in the area of 105th and Edes avenues.
On Dec. 7, San Leandro police shot and killed 27-year-old Guadalupe Manzo-Ochoa when she allegedly tried to ram her way out of a cul-de-sac in the 9800 block of Springfield Street after police chased her there from San Leandro.
Anyone with information about Tuesday's shooting has been asked to contact the Oakland police homicide section at (510) 238-3821.