Police: Tesla in fatal San Francisco crash was not on autopilot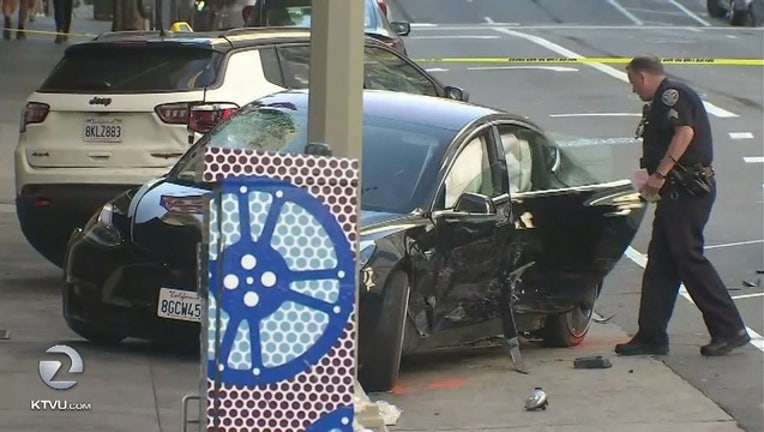 SAN FRANCISCO (BCN) - San Francisco police said Wednesday that preliminary evidence shows that the Autopilot feature in a Tesla vehicle was not in operation when it struck two pedestrians on Sunday, killing one of them.
Investigators are now preparing search warrants and working with Tesla Inc. to obtain documentary evidence, police said.
Investigators have also removed the Tesla's data storage device.
Data from the device could provide them with information that can help investigators determine the actions and events that led up to the collision.
Police said the Tesla struck 39-year-old Benjamin Dean of Clovis and his wife as they crossed the street within the crosswalk at Taylor and O'Farrell streets shortly after 2 p.m. Sunday.
Officers arrested the Tesla's driver, 21-year-old Kelsey Mariah Cambridge, at the scene on suspicion of vehicular manslaughter and running a red light.
Cambridge was allegedly driving the Tesla north on Taylor Street when she ran a red light at the intersection with O'Farrell Street.
The Tesla struck a Mini Cooper, causing both vehicles to lose control.
The Tesla then also struck Dean and his wife.
Dean died of his injuries at a hospital and his wife was in critical condition as of Tuesday.
The married couple was celebrating their wedding anniversary in San Francisco.
In light of Dean's death and another fatal collision last Thursday that killed 54-year-old Michael Evans, Supervisor Matt Haney on Tuesday introduced legislation declaring a state of emergency for traffic safety in the city.
The legislation seeks to immediately implement measures to increase safety in the city's downtown area like increased traffic enforcement, speed safety cameras, lower speed limits and additional red light cameras, according to Haney.